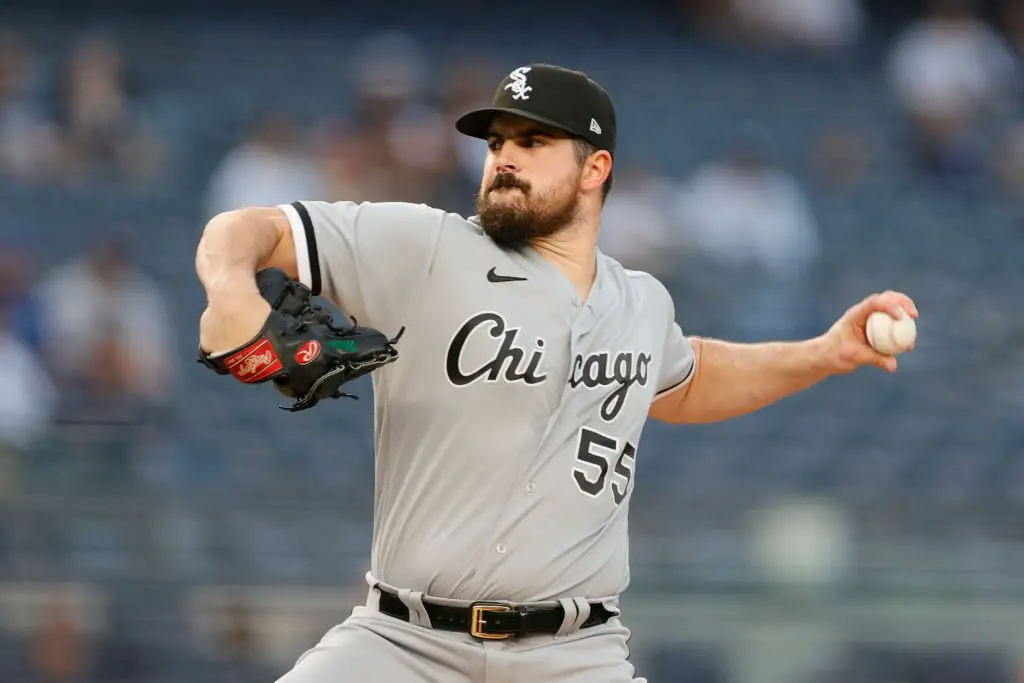 Dodgers Team News
Dodgers Offseason: Laying Out LA's Biggest Need, MLB Insider Suggests LHP Carlos Rodón
The hot stove has gone cold. MLB owners enacted a player lockout and all trades and signings came to a halt. Still, there's hope for the 2022 season to start on time and that means there's reason to prognosticate on possible roster needs and moves for the Dodgers.
So far, it's been an offseason of loss for LA. Corey Seager is out. Max Scherzer is out. Clayton Kershaw and Kenley Jansen highlight several key free agents still out on the market. The team did re-sign Chris Taylor to a nice deal, but there remains one glaring area of need on the 40 man roster.
Major League ready starting pitching.
The 2021 season opened with Walker Buehler, Clayton Kershaw, Trevor Bauer, Julio Urias, and Dustin May in the starting rotation. Then the arms started dropping like flies. May's elbow gave out and he was lost for the season. Bauer missed the second half of the season while facing sexual assault allegations that still haven't been resolved. And a forearm issue for Kershaw limited him to just 15.1 innings after July 3rd.
As of now, Urias and Buehler are all that remain to lead the starting rotation next season. And, as good as they are, that's obviously not enough to survive a full 162 campaign.
Of the internal options that could and will help in 2022, Tony Gonsolin will be months removed from shoulder issues that hampered him all year long. The Dodgers brought in left-hander Andrew Heaney with the hopes of turning him into a serviceable innings eater for the back end of the rotation. As has been widely speculated, it's hard to imagine Bauer seeing time on the active roster in LA with punishment from the Los Angeles District Attorney as well as Major League Baseball still in play.
David Price, Mitch White, and Andre Jackson are other pitchers with starting experience in their careers, but it's still unclear what their roles will be for the Dodgers next year.
Most of the top free agent arms were scooped up when the hot stove scorched ahead of the lockout spurred by the expiration of the collective bargaining agreement. Recently, ESPN MLB insider Alden Gonzalez suggested free agent left-hander Carlos Rodón as an option on a "short-term, high-AAV (average annual value) contract" for the Dodgers. But Andrew Friedman would more likely explore the trade market over overpaying for a free agent arm. Same as he has done in the past.
Gonzalez laid out one best case scenario trade that fans in LA are certain to love.
Acquiring a top-shelf starter by trading more prospects seems unlikely, but Friedman and his front office could also get creative with the major league roster. One path towards doing so, which has Dodgers fans salivating: Signing Freddie Freeman, a move that would free up the ability to trade for a top-flight starting pitcher and significantly alter the complexion of this division.
In a scenario like that, Gavin Lux could become expendable along with another piece or two from the farm system. Freeman started being heavily linked to the Dodgers just before the lockout. Still, all of this reads as a far-fetched fantasy, at least at the moment.
So, let's explore the Rodón angle.
The 28-year-old is coming off his best season as a big leaguer in 2021. The lefty went 13-5 with a 2.37 ERA (2.65 FIP) over 24 starts with the White Sox. He also tossed a no hitter last April, just narrowly missing out on a perfect game after hitting a batter in the 9th inning. Although that hit by pitch did come with some controversy. 
He's a free agent for the first time but his market was seemingly unclear in the first half of the offseason. Notably, he does not have a qualifying offer attached to him this winter.
Why LA Should Consider Signing Rodón to Fill Rotation!
The pitcher doesn't come without question marks. Before 2021, Rodón owned a career ERA over 4 (4.14) in 536.2 IP. He's also struggled to stay on the field. Next year, he'll be nearly two full seasons removed from May 2019 Tommy John surgery. He's also dealt with shoulder issues in the past.
Over his seven seasons in the big leagues, Rodón has just one season where he's thrown more than 150 innings and that came as a 23-year-old back in 2016. He tossed just 132.2 in 2021.
As Gonzalez suggests, if the hurler could be had on a short-term, high money deal, that could make sense for the Dodgers. But it still leaves the rotation fairly thin if another injury or two pop up early. Especially if Clayton Kershaw retires or signs elsewhere.
NEXT: LA is Top Team for Freddie Freeman if He Doesn't Re-sign With Braves!