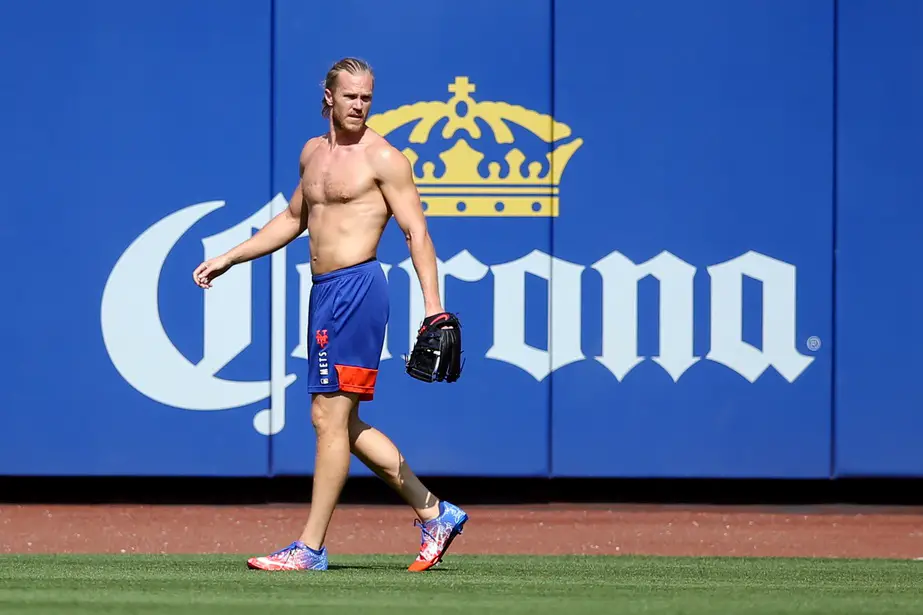 Dodgers Team News
Dodgers Offseason: What's Next for LA After Noah Syndergaard Signing?
The Dodgers signed Noah Syndergaard on Wednesday to a one-year, $13 million contract. Syndergaard figures to slot into the rotation as L.A.'s fifth starter behind Julio Urias, Clayton Kerhsaw, Tony Gonsolin, and Dustin May. Syndergaard took less money to come to Los Angeles, looking to be the latest in a long string of pitchers who revived their careers with the Dodgers.
While the direct implications on the rotation are pretty clear, the Syndergaard signing raises some other questions for L.A.
Are they done shopping for pitching?
Carlos Rodon is still out there as a free agent. On the less-expensive side, so is Seth Lugo, whom some had speculated could be converted back to starting if the Dodgers signed him. Corey Kluber, Rich Hill, Wade Miley, and Michael Wacha are some of the other starting pitchers still out there.
Could the Dodgers be in on any of them? It's not out of the question. Most of the L.A. rotation has some unknowns, whether it's Gonsolin's forearm injury from last season or May's return from Tommy John. Syndergaard has a pretty lengthy injury history, and Kershaw hasn't started 30 games in a season since 2015. Even Urias, as outstanding as he's been the last two years, had never pitched more than 80 innings in a big-league season before consecutive 175+ years, so you have to allow for the possibility he might need a break at some point in 2023.
The Dodgers went with a six-man rotation at times last season, and they could do it again. Whether they'd go outside the organization for the sixth starter or use that slot to get big-league action for their prospects, I don't know. But it's safe to say Syndergaard doesn't close the door entirely on the free-agent pitchers.
How's their budget looking?
Syndergaard's contract puts them around $202 million in luxury tax payroll, $31 million below the first tax threshold. That would seemingly leave them plenty of money to maneuver, but there's still Trevor Bauer's suspension appeal hanging over their heads. If Bauer's suspension is overturned, not only would the Dodgers owe him about $30 million in backpay for last year, they'd also be on the hook for over $35 million in 2023. Bauer's luxury tax number is $34 million (the average annual value of his three-year, $102 million contract), so if Bauer is deemed eligible for the 2023 season, that would put Los Angeles about $3 million into the tax.
Interestingly, that might actually make the Dodgers more likely to spend some money now. They're at the point where they'll definitely be in the tax if Bauer's suspension is shortened or overturned, so they can kind of put that out of their mind as a factor in free agency. There's not much point staying around the $200 million mark, so they might as well push up close to the $233 million.
So whatever needs they still have, whether at shortstop, the outfield, or pitching, they have room to make some moves.
What about Bobby Miller and Gavin Stone?
The Dodgers aren't going to let the signing of Syndergaard slow down the development of Miller and Stone. Whether they go with a six-man rotation or just give guys two-week injured list vacations now and then, Miller and Stone will get their chances in the big leagues. What the Syndergaard signing does, though, is it allows the team to set the timeline for those guys.
Both Miller and Stone were promoted to Triple-A at mid-season last year, so they could both benefit from some more time in OKC (especially Miller). Rather than having their hand forced by injury or other circumstance, L.A. is now in a better position to bring those prospects up on their own terms.
Have you subscribed to our YouTube Channel yet? Subscribe and hit that notification bell to stay up to date on all the latest Dodgers news, rumors, interviews, live streams, and more!