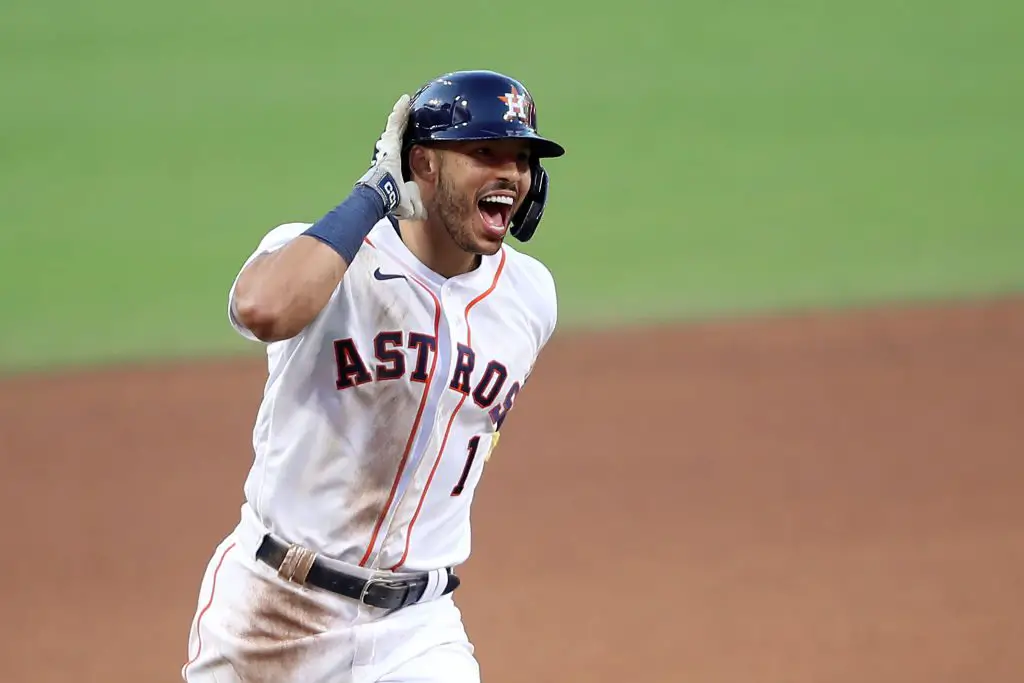 Editorials
Dodgers Offseason: Would Fans Accept Carlos Correa in LA?
In the span of just a few hours, the Los Angeles Dodgers learned that their top two free agents Max Scherzer and Corey Seager were signing elsewhere. First, Scherzer agreed to a three-year contract with the New York Mets worth $130M, setting an MLB record for the highest average annual value. Then, it was announced that Corey Seager agreed to a ten-year deal worth $325M with the Texas Rangers.
The Dodgers reportedly made competitive offers for Scherzer and Seager, but both ultimately opted for more lucrative deals with their respective new clubs. So far, the Dodgers have signed free agent pitchers LHP Andrew Heaney, RHP Beau Burrows, RHP Daniel Hudson and re-signed super utility man Chris Taylor. Now LA must decide how aggressively they will pursue the remaining big name free agents left on the board once a new CBA is hopefully reached within the next two months.
If the team decides it wants to go big, they could make a run at signing the game's top free agent this offseason, in shortstop Carlos Correa.
For many Dodgers fans, the prospect of adding a key member of the 2017 Houston Astros team that was implicated in the sign-stealing scheme that rocked MLB is unthinkable. Not only was Correa one of the faces of the club that stole the 2017 World Series title from the Dodgers, but he's also considered by most fans to be the most loathed member.
Since the scandal broke, Correa has acted as the de facto spokesperson for the 2017 Astros, as he's taken it upon himself to defend his teammates and coaches that took part in the scandal. Correa once in an interview with Ken Rosenthal of The Athletic, looked directly at the camera to tell Cody Bellinger to 'Shut the F— Up', after Bellinger told reporters that he and 'everyone in The Show' had lost respect for the players implicated in the scandal.
Fast forward to the 2020 season, Joe Kelly reached folk hero status with Dodgers fans, after appearing to go head-hunting vs. the Astros and Carlos Correa, in the team's first series against each other since the scandal broke. And while the vitriol towards the 2017 Astros may never dissipate, there are Dodgers fans that are open to the idea of signing the polarizing shortstop.
Dodgers Interested In Carlos Correa, Will LA Try To Extend Trea Turner, Would Fans Accept Correa?
We recently ran a poll on the Dodgers Nation Twitter account, asking fans 'if LA should go after Correa in free agency.' 76% said no, while 24% said yes. So based on the nearly 7,000 fans that participated in the poll, as of right now it's safe to say that most Dodgers fans are against the idea of signing the two-time All-Star.
Should the Dodgers go after Carlos Correa?

— Dodgers Nation (@DodgersNation) November 30, 2021
However, if time truly does heal all, Correa's deal would likely be a minimum of ten years, so LA fans would have plenty of time to get past what happened in 2017. A potential Correa deal with the Dodgers still feels like a longshot at this point, but if it somehow materializes, a well-executed public relations campaign and a different tone from Correa regarding the scandal would be vital to winning over a fanbase that is far from healed from what happened in 2017.
Further, if there's one commonality among Dodgers fans, it's that we all love a winner and if Correa produces like a star and helps deliver a World Series title to Los Angeles, they could warm up to him in due time. Plus, the Dodgers have been linked to Correa by multiple insiders now and as frenzied as this offseason has been, nothing would get the hot stove sizzling like the Dodgers potentially signing the consensus top free agent.
Personally, I would attempt to extend the elite shortstop that's already on the roster in Trea Turner, before investing $300+ million in Carlos Correa, but if LA feels like Turner is reluctant to commit long-term, then signing Correa could be a viable option.
NEXT: Chris Taylor Wasn't Looking for the Massive Contract this Offseason