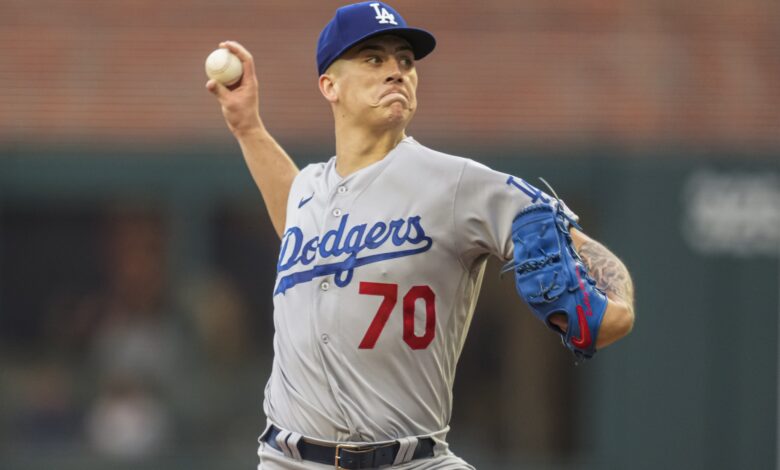 Dodgers Team News
Dodgers, Phillies Set Pitching Matchups for Weekend Series in Philadelphia
The Los Angeles Dodgers head to Philadelphia for a three game series against the Phillies this weekend. Coming off a series against the Cincinnati Reds, where they dropped two of three games, Los Angeles will be looking to get back on track.
Philadelphia has some star power but they have underperformed to start the season. However, the Phillies have been playing better lately so the Dodgers can't take them lightly and need to make sure they bring their A-game.
The Dodgers and Phillies have their pitching matchups set for the upcoming weekend series, so here's each matchup, and everything you need to know about all the pitchers set to start.
Grove on the Road
Michael Grove takes the ball in game one against Philadelphia and the young pitcher has been much better lately. He will face off against Ranger Suarez for the Phillies.
Grove has seen his ERA drop each of his last three starts and he looked good against the Yankees last weekend. He struck out seven batters — his highest total of the year — and now gets a Phillies lineup full of power hitters. He made his Major League debut last season against the Phillies and gave up four runs, none earned, over 3.2 innings.
On the other side, Suarez has an elevated ERA but has looked good in his last two starts. He's only allowed three runs over his last 13.2 innings so the Dodgers bats will need to make sure to come prepared.
It's Miller Time!
On Saturday, rookie sensation Bobby Miller takes the mound for the Dodgers and he will be facing off against Aaron Nola of the Phillies. Miller has been spectacular through his first three starts with the team and will be looking to keep his spot in the rotation with another strong outing. Through the three starts, Miller has a 1.06 ERA and 16 strikeouts. He has faced some powerful teams in the Braves and Yankees, making it that much more impressive.
As for Nola, he has had a weird season. He is the ace of the Phillies but hasn't completely looked like it so far this year. Nola did round back into form in his last start against Detroit, going seven innings with no runs allowed, so the Dodgers will need to be careful here. Nola owns a record of 2-0 with an ERA of 3.86 and 54 strikeouts in 8 appearances against Los Angeles in his career.
Reinforcements Are Here!
Julio Urías is set to return from the injured list Sunday and take the mound against Philadelphia. It's much needed as the Dodgers rotation has been decimated by injuries this season. Urías has had a good season so far but has been prone to being lit up at times so he will need to keep command against this powerful Phillies lineup. Earlier this season, Urías shut Philadelphia down as he went seven innings and only allowed one run, while striking out 10.
Philadelphia rolls out Taijuan Walker in this one. Walker has allowed three or fewer runs in six of his last seven starts, despite his ERA being in at 5.04. He knows the Dodgers well, as he has seen them 12 times in his career. He owns a record of 3-4 against Los Angeles, including getting blown up for eight earned runs earlier this season at Dodger Stadium.
First pitch for Friday's game is at 4:05 p.m. PT; first pitch for Saturday's game is at 1:05 p.m. PT; and first pitch for Sunday's game is an early one at 10:35 a.m. PT.
Have you subscribed to our YouTube Channel yet? Subscribe and hit that notification bell to stay up to date on all the latest Dodgers news, rumors, interviews, live streams, and more!