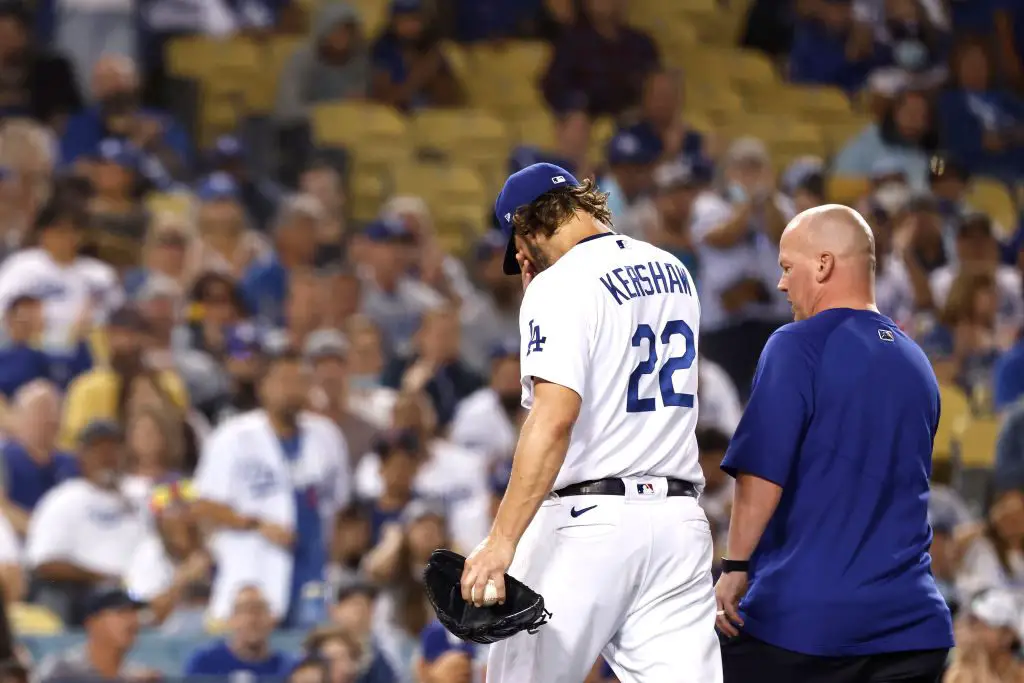 Dodgers Team News
Dodgers Players Discuss Difficulty of Moving On After Watching Clayton Kershaw Exit
You could feel the energy being zapped out of the stadium on Friday night. As Dave Roberts came out with the trainer to check on Clayton Kershaw, there was suddenly no division race. There was no October baseball, there were no worries about sweeping the weekend, and there were no thoughts of the World Series for Dodgers fans. 
All that mattered for a brief moment was the health of the guy that has stood the test of time. Kershaw has been the face of the Dodgers for over a decade now, and Kershaw Day has become very special at the Ravine. 
So when he came out of the game clearly in pain, it hurt everyone in the stadium. That includes Dodgers players. After the game, Trea Turner talked about the difficulty of shaking off that image and getting back into the swing of a division race. 
Yeah, I think that was definitely a tough one. You never want to see one of your guys, especially an unbelievable teammate like him. I haven't known him for a long long time, but I can already see why he's a leader in this clubhouse, and why he's had a great career, and why he's going to continue to be a big part of our team on the field or in the dugout. He's special, so you never want to see anyone like him go through that.
To their credit, the Dodgers did their part. They overcame a 5-1 deficit and beat the Brewers 8-6 to keep their division hopes alive. Turner was a big part of that, hitting a game-tying grand slam that followed his solo HR in the first inning. 
And now the Dodgers move on. Even if Kershaw is done for the year, you can bet that he will be in that dugout every single game that he can be. He's one heck of a player, but Clayton Edward Kershaw is an even better teammate and person. 
Clayton Kershaw Injury Update, Who Will Be Dodgers 4th Starter, Can LA Win World Series Without Him?
Dodgers: Clayton Kershaw Very Doubtful That He Will Be Able to Pitch in the Postseason