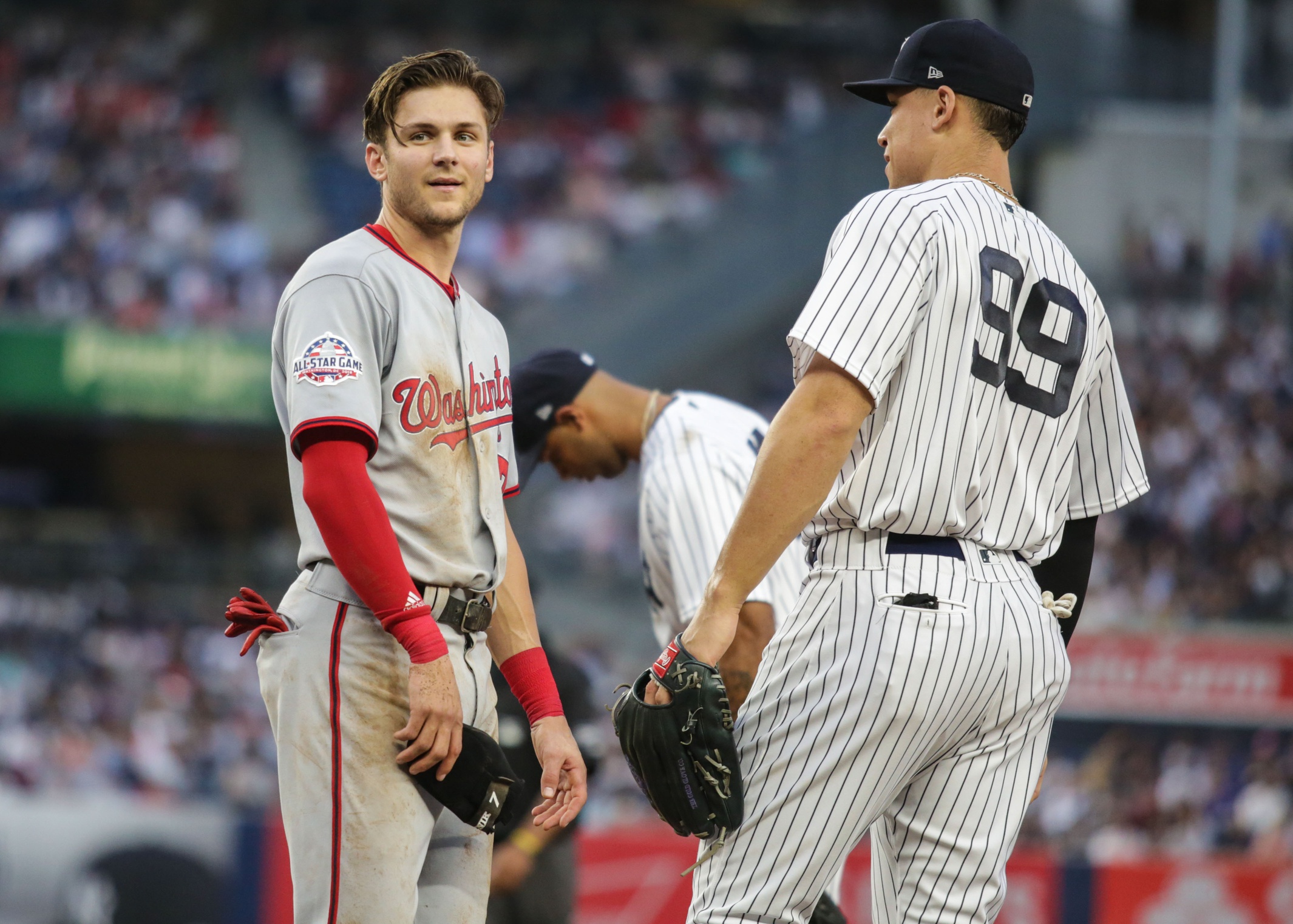 Dodgers Team News
Dodgers Poll: Fans Prefer Trea Turner to Aaron Judge Signing This Hot Stove Season
With an early entrance into the postseason, the Dodgers and their fans have a few weeks before free agency starts to think about all the many hard decisions will be making this offseason.
Two of the biggest questions are 1) Will Trea Turner be back in Dodger Blue? And 2) Might the Dodgers pursue Yankees outfielder Aaron Judge?
So we threw those two questions into one Twitter poll: If the Dodgers could only sign one or Trea or Judge, who would you want?
Over 9,000 of you answered, and the results were close but clear.
If the Dodgers could only sign one, who would you want?

— Dodgers Nation (@DodgersNation) October 18, 2022
Over 57 percent of respondents said they'd rather have the Dodgers pursue Turner. Some of the stated reasons:
I think trea hits for average and adds the speed element. Judge is just a homerun hitter but that can be fleeting from year to year. Pitchers will adjust

— Jed Kris (@bandit_55757) October 18, 2022
Even tho he single handedly gave away at least 1 game in a 5 game playoff, gotta have Trea back and get just a good center fielder. I love Beli but we need someone with at least a chance at the plate. I sincerely hope he can find it again elsewhere

— jonson222222?? (@FightOnDodgers) October 18, 2022
Judge voters were fewer in number but much more passionate in their opinions.
Judge easily. Top 2 player in baseball

— Franky (@clappedfranky) October 18, 2022
Judge. We are missing a big home run hitter in the lineup. Move Lux to short, Betts – Freddie – Judge at the top of the lineup is deadly.

— Lil Uzi Curt (@TrandoshnTrojan) October 18, 2022
If you say trea you don't know ball

— Ari (Levy out) (@AridodgersCoys) October 18, 2022
Judge is coming off a season for the ages that saw him his 62 homers and come within five batting average points of winning the AL Triple Crown. Turner is coming another solid season that was looking a lot better than solid until an offensive slump over the last month of the season. Judge is 14 months older than Turner, but he also averages 8.2 WAR per 162 games compared to 5.7 for Turner. The final question is durability — Judge has only played 70 percent or more of his team's games in three of his six full seasons; for Turner, it's four out of seven.
If nothing else, at least we know Dodger fans will be passionate about whatever Andrew Friedman and Brandon Gomes do (or don't do).
Have you subscribed to our YouTube Channel yet? Subscribe and hit that notification bell to stay up to date on all the latest Dodgers news, rumors, interviews, live streams, and more!