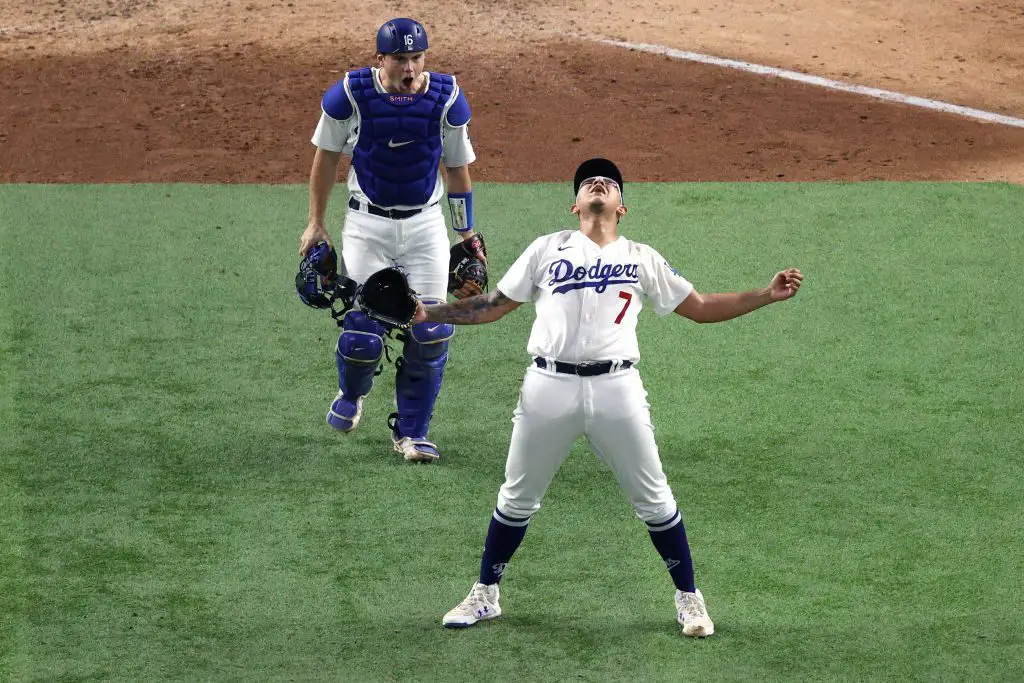 Editorials
Dodgers Postseason: A Perfect Option At Closer For Wild Card Game
The Dodgers play in a do-or-die game on Wednesday against the Cardinals and Max Scherzer is going to be the starting pitcher. In the bullpen, the Dodgers will have Kenley Jansen and Blake Treinen ready. However, the best option might be a 2020 postseason hero, Julio Urías. What he was able to accomplish last season in his relief opportunities was nothing but elite.
On Wednesday the Dodgers will have the best closer in baseball available. pic.twitter.com/d75tzwkhrd

— Tim Rogers 2080 ??subscriber: (@TimRogers2080) October 4, 2021
As a reminder, coming out of the bullpen last October, Julio pitched 13.1 innings and gave up just four hits. He did not give up any runs, issued only one walk, and struck out 15 batters. He stepped up once Dave Roberts lost faith in the primary closer, Kenley Jansen.
Let's take a look at some of the objections or issues that should be addressed.
Julio Is A Starter
One of the biggest objections has been, basically, "Julio is a starter". Well, yes he is and he was excellent in 2021. He is probably scheduled to pitch on either Friday or Saturday IF the Dodgers reach the next round. Again, that is a big "IF". If they do not win the game against the Cardinals on Wednesday the season is OVER. It cannot emphasize enough that they cannot lose on Wednesday and all options must be available, especially an option that is so good in a bullpen role for one game.
Hopefully they don't need him but it would align fine with his bullpen session between starts if it was only for a batter or inning. Would still be available for Game 2 Sat.

— Brian (@BriRobitaille) October 4, 2021
We Have Kenley Jansen and Blake Treinen
Both Jansen and Treinen have been excellent in 2021. Neither of them was close to what Julio did in the 2020 post-season when the pressure is beyond measure. In the 2020 post-season, Jansen pitched seven innings and gave up four earned runs while giving up two walks. Treinen pitched 11.1 innings and gave up six earned runs with nine hits and one walk. It wasn't close as Julio was the stud reliever as the post-season pressure did not get to him. Until Treinen and Jansen can prove that they are elite in the post-season, I have to go with Urías if there is a one-run lead against the heart of the order in the 9th inning.
When Would Julio Be Used?
As I stated above I would have him close a one-run game. However, what if the game goes extra innings? Julio is in a perfect position to put in more than one inning as he'll have a full three days rest since his start on Saturday. This would not be ideal but, again, this is truly a must-win game. The rotation will need to work out for game two (probably Tony Gonsolin) if they win but if they make it they can line up Scherzer, Urias, and Walker Buehler for the last three games of the next round. I like our odds a lot.
Ideally, the Dodgers can just have Scherzer go six or seven innings and Treinen and Jansen can close the game easily.
Final Thoughts
It's not ideal that the Dodgers have to play in a one-game Wild Card series. It truly is a do-or-die game for the Dodgers and they will need to pull out all the stops. The hope is that the Dodgers will have an easy win against the Cardinals but we know that never happens. I can almost guarantee that the Dodgers will have Julio Urías as a bullpen option to get past the Cardinals.
NEXT: Did Blown Call Cost LA the Division? How MLB Should Change its Postseason & More