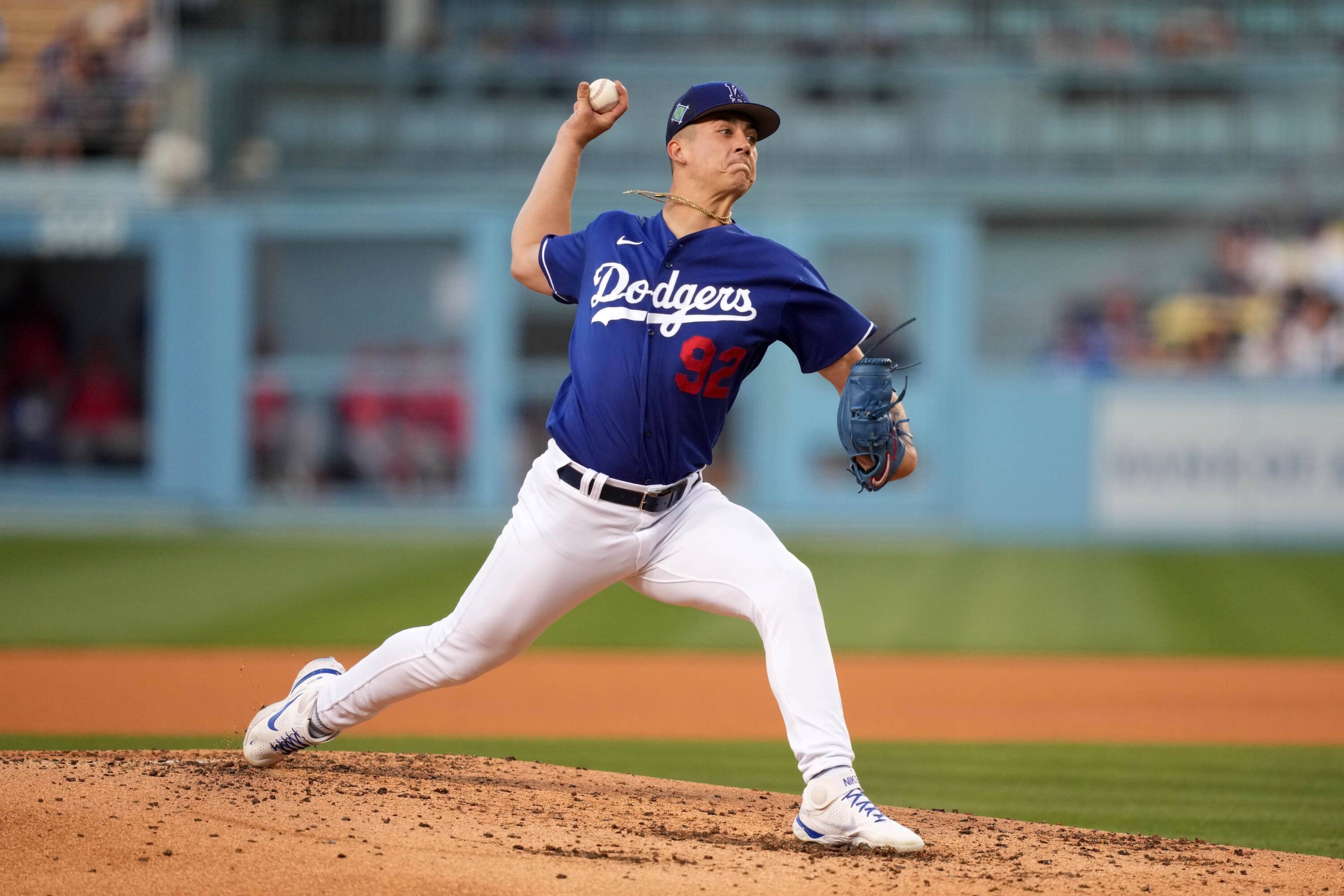 Dodgers Team News
Dodgers Prospects: Bobby Miller's Calling Card May Be His 'Fourth Best Pitch'
Dodgers pitching prospect Bobby Miller has a good fastball. A really, really good fastball. Just ask a bunch of hitters, including Shohei Ohtani.
Bobby Miller gets Shohei Ohtani looking at 100 MPH gas for his first K at Dodger Stadium. ?

It's Bobby's World! #Dodgers

— Doug McKain (@DMAC_LA) April 6, 2022
That fastball is a big part of the reason Miller is L.A.'s No. 2 prospect according to both MLB Pipeline and Baseball Prospectus. But as BP's Jeffrey Paternostro says in his write-up of Miller on their Dodgers prospects list (definitely worth the read), the fastball isn't even his best pitch.
Miller's fastball might legitimately be his fourth-best pitch, sitting in the upper-90s with decent ride, and he'll occasionally show you a power sinker wrinkle as well. The command and strike-throwing with the pitch still aren't quite sharp enough though and that can lead to a few too many walks or just general inefficiency. Both of Miller's breaking balls are easy plus. … Miller's changeup isn't as visually impressive, but the 10-15 mph gap off the fastball leads to plenty of whiffs despite less than impressive depth or fade.

So by my count that's four plus-or-better pitches in the repertoire. Yeah, the command isn't great, and he may be a frustrating starter at times, but Miller is going to be a starter, and a good one.
Okay, so Paternostro might have been exaggerating when he said the fastball was the fourth-best pitch, because the changeup is only as good as it is because of the fastball. But a pitcher with four "plus-or-better" pitches — and remember, "plus" in scout speak means "good," and "plus plus" means really good — could be a nightmare on opposing hitters.
Looking at Miller's results in the minors, it's clear he still has a few things to figure out about pitch sequencing and command, but the tools are there to make Miller a legitimate ace within the next few years. It doesn't get much more exciting than that.
Have you subscribed to our YouTube Channel yet? Subscribe and hit that notification bell to stay up to date on all the latest Dodgers news, rumors, interviews, live streams, and more!