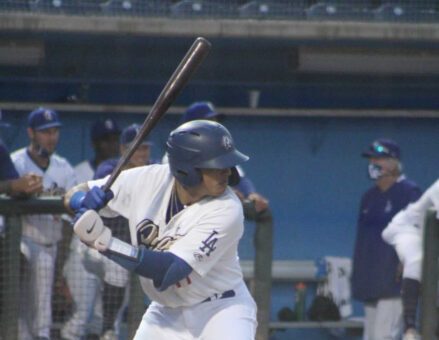 Editorials
Dodgers Prospects: Diego Cartaya Dominates With The Quakes
The Dodgers signed Diego Cartaya as an International Free Agent in 2018 as a 16-year-old. They thought so much of him that they gave him a $2.5M bonus. Clearly, he was a top target for many teams and the expectations for him are quite high. Cartaya has been a well-regarded prospect since he signed.
2019
The Dodgers started Cartaya slowly in 2018 and he did not appear with any games for them until 2019. He began the season with their Dominican rookie league team for 13 games and then went to Arizona for the rest of the season. Overall, he played in 49 games with 185 at-bats. He ended up slashing .281/.343/.432 (AVG, OBP, SLG) for the season.
Not bad for a 17-year-old.
Despite the 2020 season being canceled for minor leaguers, he ended up getting invited to the alternate site to get some type of playing time.
2021
Cartaya was originally targeted to start the season at Low-A with the Quakes but, instead, he stayed back at Spring Training. We don't know why but it could have been an injury. However, he finally was sent to the Quakes on May 25th.
With the Quakes, Cartaya is killing it. After his first six games, he is slashing .435/.519/1.475 which includes 3 home runs. The pattern is, Cartaya starts two games, then sits for a game. He now bats cleanup and already has a walk-off grand slam. Cartaya seems to be smooth defensively but I did not see anyone try to steal off of him. I want to see more of him defensively.
Diego Cartaya hit a walk-off grand slam this weekend.

Seriously.

The Dodgers prospect ranks among the 20 hottest in baseball despite playing just four games last week ??https://t.co/RTq4fVFFni

(? @RCQuakes)

— Baseball America (@BaseballAmerica) June 1, 2021
The performance is already amazing and I do expect him to be promoted to High-A within the next few weeks,
The Person
I have heard good things about him personally. In 2020 I met him briefly at Spring Training. He was kind enough to pose for a picture and was very polite. Many stories are similar. Before the Quakes games I have witnessed him at, he is very open and friendly to the fans while still observing all the COVID-19 restrictions. He waves and smiles, poses for pictures (at a distance for now), and seems to be enjoying the fans and his teammates. Diego seems to have that star quality that makes him also very likable.
It looks like he "gets it" and could be a fan favorite in the future.
Scouting Information
From MLB Pipeline:
Cartaya demonstrates advanced feel for hitting and strike-zone awareness for a teenager. He has a good approach and focuses on making hard contact to all fields from the right side of the plate. He drives the ball in the air and once he starts to pull more pitches, he should develop average or better power.
Often compared to Salvador Perez because of his size and profile, Cartaya moves well behind the plate and has the soft hands to become at least a solid receiver. He also has the plus arm strength and throwing accuracy to control the running game. He earns kudos for his maturity and already shows promise with his game-calling and leadership.
From FanGraphs:
He's not an advanced receiver, so a large slice of the confidence in Cartaya staying behind the plate is derived from the assumption that we will soon have an automated strike zone. But his run-stopping arm strength and accuracy, as well as his prodigious field general presence, mean he's likely to have a defensive impact. Cartaya is not afraid to backpick runners, which is rare for a catcher this age, especially when the infielders are typically not reliable recipients of such lasers. For such a large catcher, his exchange is very quick and remarkably consistent. He's out of his crouch fast and in one fell swoop, unfurls, releases, and then folds forward, bent at the waist, as the ball sizzles on a line to the base.
Cartaya is also a balanced, explosive hitter with feel for hitting the ball in the air. He expands the zone a bit too much right now, but he has the physical ability to hit and hit for power, which is rare for catchers and catching prospects. The rate of failure for teenage catchers is high but Cartaya has an All-Star ceiling.
The Future
Diego Cartaya is still only 19-years-old and will probably reach a peak of High-A this season. The Dodgers already have Will Smith and Austin Barnes at the Major League level. Keibert Ruiz should be in the big leagues but he is stuck in Triple-A. He is clearly a major league-ready player. My guess is that he will be in Double-A in 2022 and Triple-A in 2023. That puts him on track for his Major League debut sometime in 2023.
How quickly he moves up will be a combination of continued success on offense and learning the fine points of catching. If you recall, the Dodgers ended up sticking with Austin Barnes in the last two games of the World Series. Barnes handles the staff well and is very steady behind the plate. It takes a long time to be a reliable catcher like Barnes. Few players come right out of the minors and become beloved by the pitching staff. From the scouting reports above it seems he has leadership capabilities (I saw that a bit also) and throws well. It all comes down to calling pitches and receiving the ball well.
Final Thoughts
So far, Diego Cartaya has lived up to the hype. He has played quite well in his short stint with the Quakes and he has the type of personality that will make him a fan favorite. There is no doubt in my mind he will be promoted away from the Quakes soon so please go see him while you can. By the end of this season, he will be one of the most well-regarded prospects in baseball. He's only 19-years-old and is impressing everyone. Again, the Dodgers are loaded, especially at catcher.
NEXT: When Will Corey Seager Return to the Lineup?