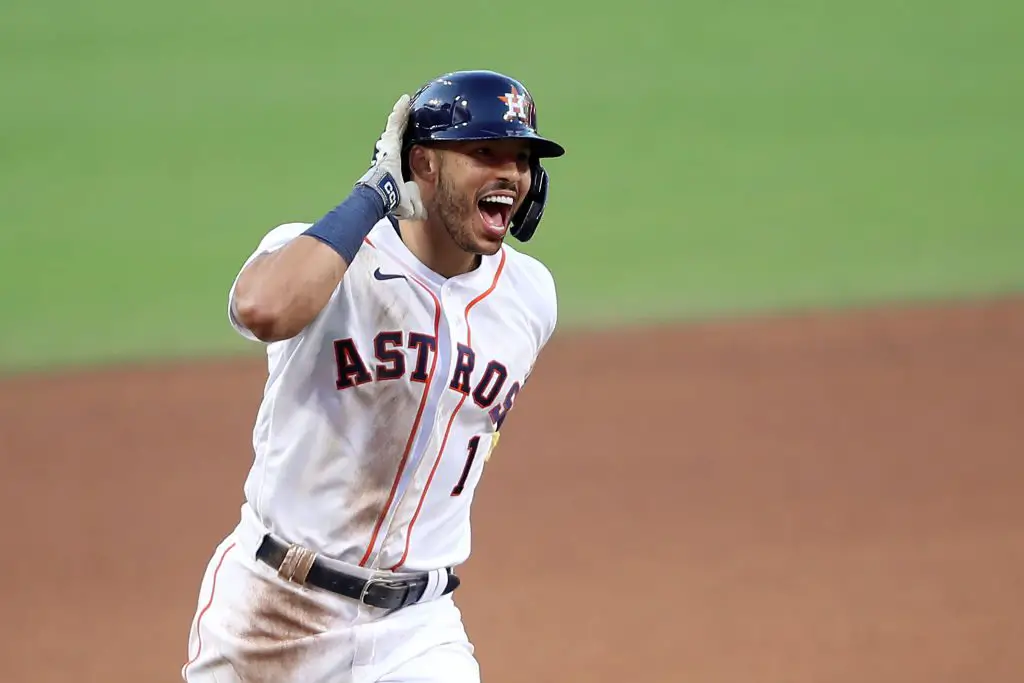 Dodgers Team News
Dodgers Rumors: Detroit Reportedly Offered Carlos Correa Massive Deal Before Signing Baez
While player movement is frozen at the moment thanks to the MLB lockout, we're still learning a few things about what has transpired so far this offseason. Ahead of the December 2 freeze, teams spent nearly $1 billion in free agent contracts, including a $325 million deal for former Dodgers shortstop Corey Seager, who took his talents to Texas. 
At various points this offseason — both before and after Seager had reportedly signed — Los Angeles had been linked to other top talent in free agency, including Freddie Freeman and (much to the chagrin of many Dodger fans) Carlos Correa. The market for Correa has seemingly struggled to blossom. The talented shortstop does come with some baggage as one of the top offenders in Houston's sign stealing scandal. Still, he's posted 34.1 bWAR over his 7-year career, which usually makes it easier to swallow when teams are engaged in contract talks.
But perhaps not in this case. 
At the outset of the offseason, there were a few teams with obvious needs at shortstop — the Rangers, New York Yankees, and Detroit Tigers to name a few. The Rangers got their man with Seager. The Yankees are rumored to be holding out hope that the market stalls and they can ink a shortstop for a bit less than premium. And the Tigers went out and signed two-time All-Star, Javy Baez.
With the focus staying on the Tigers, ESPN's Buster Olney revealed that Detroit was in on Correa before pivoting to Baez. On Thursday, the MLB insider said that the Tigers had an offer on the table for 10-years and $275 million, according to a source. Detroit instead signed Baez for a 6-year, $140 million deal just before the lockout went into effect.
Now, Correa finds himself in a precarious position once a new collective bargaining agreement comes together and the lockout is lifted. His clearest path to a job is a return to the Astros where he famously rejected a 5-year, $160 million extension last season.
But, again, Correa has also been linked to the Dodgers in rumors this winter. Olney added a bit more to the rumor pile on Thursday with this excerpt.
It's unclear whether Trea Turner will remain with the Dodgers beyond the fall of 2022, when he'll be eligible for free agency, and some player agents believe it's possible that LA could now turn to either [Trevor] Story or Correa.
Some fans have already shared their thoughts on Correa to LA. Assuredly, more would wonder why the Dodgers wouldn't just pony up the difference to re-sign Corey Seager instead. Correa is rumored to be seeking a deal in the $300 million range. However, given that the Dodgers essentially traded for their Seager replacement last July with the addition of 2021 All-Star Trea Turner, chances are slim that they come together on a deal with Carlos Correa.
But, stranger things have happened. 
Dodgers Rumors: Carlos Correa Free Agency Decision Could be Between Dodgers & Astros Per Insider
Have you subscribed to our YouTube Channel yet? Subscribe and hit that notification bell to stay up to date on all the latest Dodgers news, rumors, interviews, live streams, and more!
NEXT: What Would a Trea Turner Contract Extension Look Like?