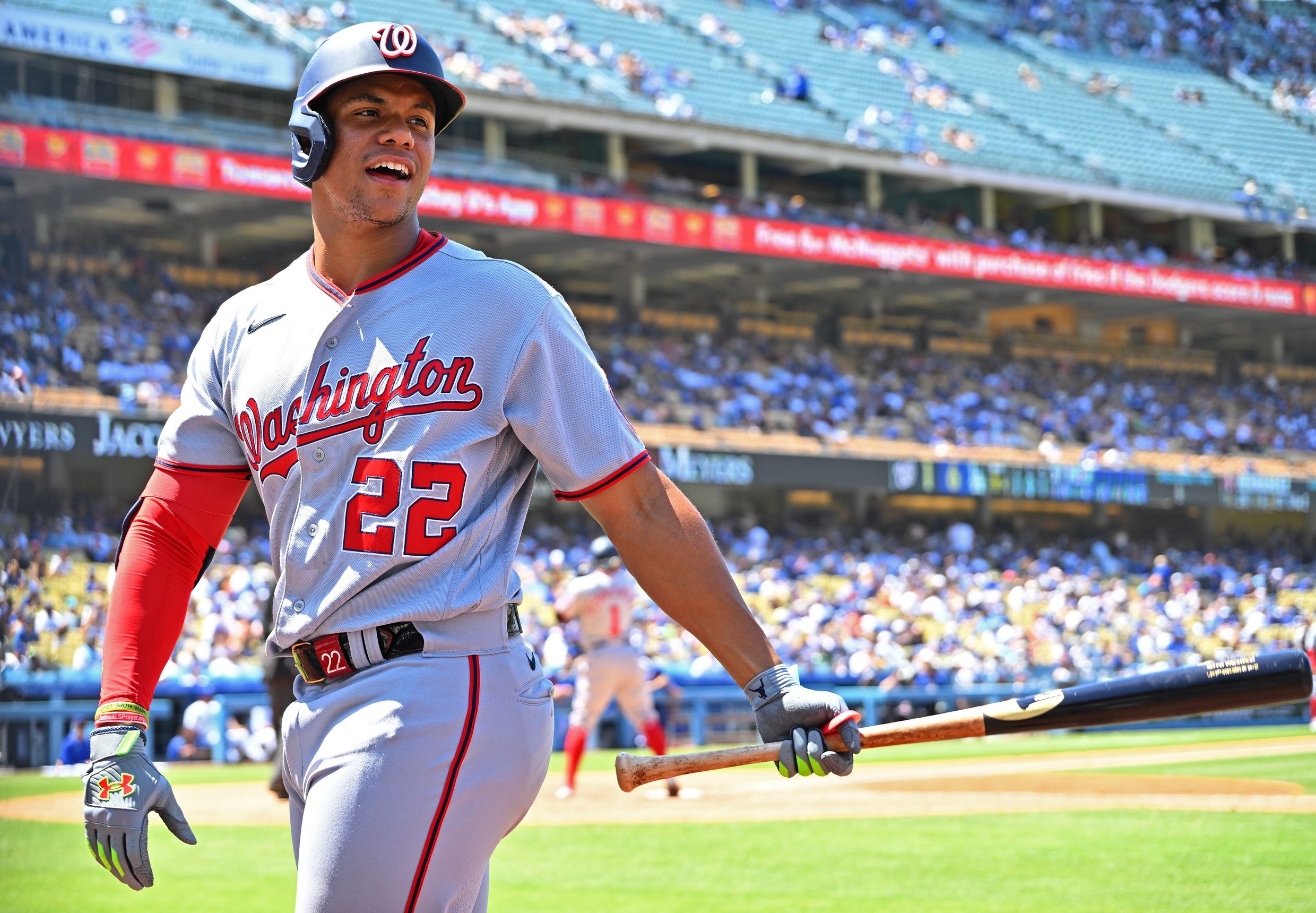 Dodgers Team News
Dodgers Rumors: MLB Writer Proposes Intriguing LA Trade Package for Juan Soto
The MLB trade deadline is just five days away (August 2nd). The Yankees rekindled the hot stove fire on Wednesday night by trading for Royals outfielder Andrew Benitendi. Reds starter Luis Castillo is impact player that's available, but all eyes remain on the Washington Nationals as they try to decide whether or not to deal superstar outfielder Juan Soto at the deadline.
The Dodgers appear to be in the mix, based on recent comments by team president Andrew Friedman, but the Nats asking price for Juan Soto is steep. As in, you're-getting-a-23-year-old-superstar steep. Washington is reportedly asking for team's top-six prospects in return for Soto.
Plenty of insiders and analysts have taken a stab at what a potential Dodgers-Soto trade would look like and on Wednesday, Jack Baer of Yahoo Sports was one of the latest to theorize the sticker prize for Soto.
Baer's Juan Soto-Dodgers Trade
Dodgers Receive: Juan Soto
Nationals Receive: 
2B/SS/OF Gavin Lux
C Diego Cartaya (LA's #1 prospect per MLB Pipeline)
RHP Bobby Miller (#2)
OF Andy Pages (#4)
INF Eddys Leonard (#8)
LHP Maddux Bruns (#12)
As big as the Baer package is, it might still not be enough. The Nationals would likely want second baseman Michael Busch (#3) and, or, Miguel Vargas (#5) in addition to the prospects listed above and the emergent Gavin Lux.
Another variable is that the Nationals could use the Soto trade to offload lefty starter Patrick Corbin who has three years left on the six-year, $140M, World-Series-thank-you contract he signed in 2019.
Corbin's most recent outing was on Wednesday against the Dodgers and it was a disaster. The lefty gave up six earned runs and failed to even get out of the first inning. Taking on Corbin's contract shouldn't stop the Dodgers from pursuing a potential Soto trade, but it's definitely a factor.
The Juan Soto sweepstakes continue, and the Dodgers should continue to be linked to the Nationals all-world outfielder.
Have you subscribed to our YouTube Channel yet? Subscribe and hit that notification bell to stay up to date on all the latest Dodgers news, rumors, interviews, live streams, and more!
Dodgers Rumors: Trio of Right-Handed Bats Linked to LA as Possible Trade Targets