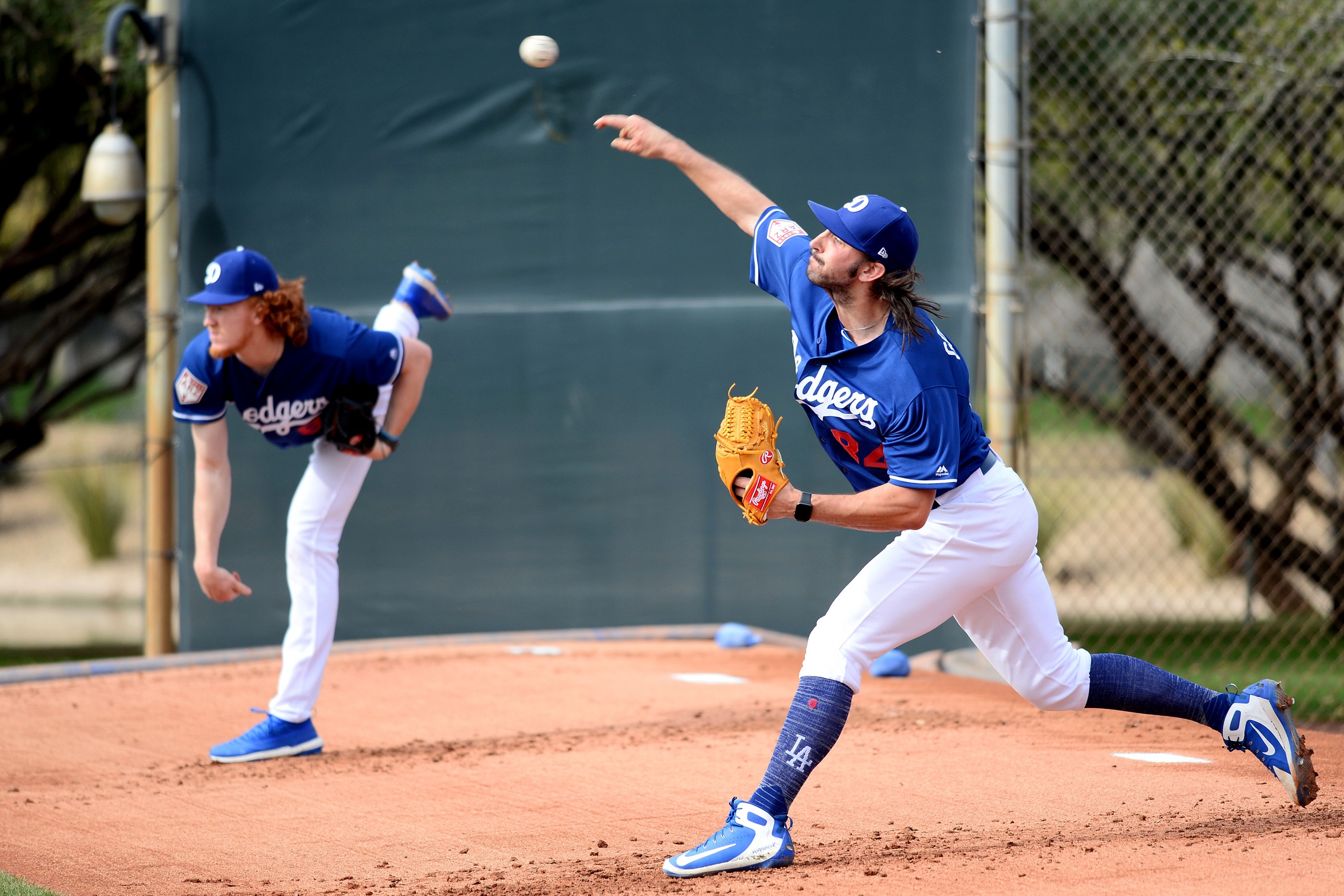 The Dodgers head into the 2023 season with a lot of options for their starting rotation but nearly as many question marks. Julio Urias has gotten Cy Young votes each of the last two seasons and comes in as the de facto ace, with Clayton Kershaw, Tony Gonsolin, Dustin May, and Noah Syndergaard likely filling out the rotation to start the year.
Meanwhile, L.A. has Ryan Pepiot and Michael Grove, who both made starts for the big-league team in 2022, and Andre Jackson, who has been a starter in the minors but has pitched only in relief in the majors. And beyond that, Los Angeles has two pitching prospects, Bobby Miller and Gavin Stone, who are likely to be ready to start games in the big leagues at some point this season.
Would it make sense for L.A. to go with a six-man rotation in 2023? There are a few reasons it might.
Health & Workload
Syndergaard and May both returned from Tommy John surgery relatively recently. Gonsolin missed most of the last six weeks of the season last year with a forearm strain. Kershaw missed ten starts due to two different stints on the IL for back issues. And Urias has thrown way more innings the past two seasons than he ever had before.
To put it bluntly, all five of those starters could benefit from an extra day off every time through the rotation. Their personal accolades might suffer — one of the main arguments against Urias in last year's Cy Young voting was that he didn't throw nearly as many innings as Sandy Alcantara, and he'd likely throw even fewer only making 27 or 28 starts than he did making 31 starts last year. On the other hand, the extra day off every time through the rotation might allow Urias and the others to go deeper in each individual game, so maybe the innings would even out. But on a secret third hand, if the innings are evening out, does that negate the advantage of using six starters?
Opportunities & Development
Pepiot showed some promise last season and needs to get some big-league time to hone in the command of his repertoire, and Miller and Grove will deserve time in the big leagues soon. There will surely be some IL time for some of the starting five, but the team might not want to depend on injuries giving their young prospects the opportunities they deserve.
With a six-man rotation, some of that opportunity could be built in, and they could even rotate it, with Pepiot making three starts, then Grove making three, then Miller, etc. Factor in the inevitable occasional IL stints for the starting five, and they should be able to give plenty of starts to the young guys who need and deserve them, which would be better for them and the team in the long run.
Of course, there are arguments against a six-man rotation.
Roster Composition
If L.A. goes with six starters, that means they would have seven relievers instead of eight, which limits their options out of the bullpen. If the starters all average even an extra half-inning because of the extra time between starts, they probably cover the shortage of relievers, but that's a big if. Going with seven relievers instead of eight runs the risk of the bullpen being adversely affected by a clunker game in which a starter only goes two or three innings.
Rhythm & Pitcher Buy-In
Not every pitcher will magically pitch better and longer because of an extra day of rest. For pitchers who have become accustomed to throwing every fifth day, that extra day off could cause some issues. Realistically, it's not that sixth day, it's those times through when there's a day off so it's actually the seventh day.
Some pitchers might prefer the normal way of doing things (including a guy like Syndergaard, who has incentives based on innings pitched), and getting buy-in from the staff would be crucial.
All in all, though, it's definitely an option the Dodgers should consider, even if not for the entire season. It could be a great way to help keep their pitchers healthy and get playing time for some of the younger guys.
Have you signed up for the Dodgers Nation newsletter yet? Get the latest news, rumors, highlights and more right in your inbox every day! Keep up to date on every single thing involving your boys in blue!