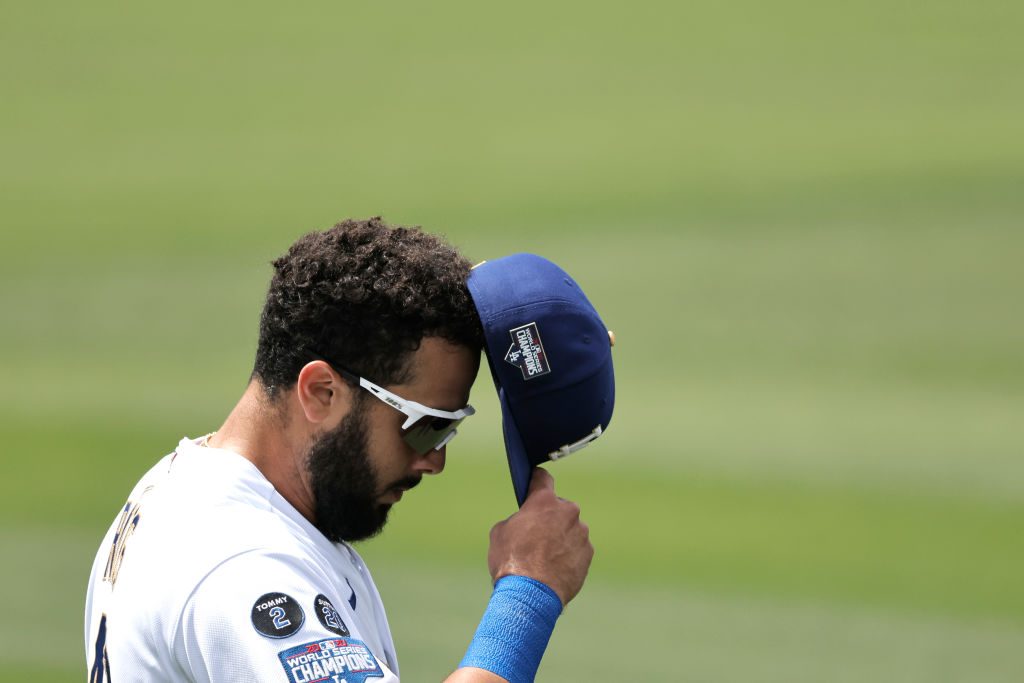 Editorials
Dodgers: Something Different Needs To Be Done With Edwin Ríos
Has anyone seen the Dodgers' offense? Anyone at all? Alright, to be fair they have been scoring some (keyword some) runs over their past 8 games prior to Wednesday's action, but nowhere near the rate they were to start the season. 
The offense has looked absolutely flat and has been horrendous when it come to leaving men on base. I don't even want to get into the numbers for the sake of everyone's sanity, but they've left 72 players on base over those last 8 games. I'm sure it's obvious but no team should expect to win while leaving that many on. Having a strong bullpen to help keep the game close would help, but the team doesn't even have that luxury right now. 
While there have been some bright spots in that lineup, they can't carry the whole offense, especially someone like Edwin Ríos wasting at bats every time he comes to the plate. Don't get me wrong he was a solid player as late as last season, but this season is a different story.
Through 20 games so far, Ríos is sporting a lackluster .093 batting average at the plate with 15 strikeouts. He's looked lost at the plate and struggles to put the ball in play. He's even missing hittable pitches right down Broadway. To put just how bad he's been into perspective take a look at his numbers in past seasons.
2019 (47 at-bats)
.277/.393/.617
4 HR, 8 RBI
21 Ks, 9 BB
2020 (76 at-bats)
.250/.301/.645
8 HR, 17 RBI
18 Ks, 4 BB
2021 (43 at-bats)
.093/.235/.163
1 HR, 1 RBI
15 Ks, 6 BB
Although he did strikeout more in almost he same number of at-bats in 2019, he made up for it by providing some offensive output. The same can't be said this year as he has just 4 hits and has been without one since April 13th against Colorado. The 27-year old corner infielder will never hit for a high average and may always have some swing and miss to his game, yet what he's unable to do right now needs to be addressed. 
Final Thoughts
The Dodgers need to do something about his lack of production. Maybe sending Ríos down to the alternate site to reset could do him some good, so far it looks like it worked for Matt Beaty. Dave Roberts can't keep plugging him into the lineup like this, especially when the team has other capable players such as Beaty and Sheldon Neuse who could fill in where needed. 
NEXT: Zach McKinstry Still a Ways Away from Returning to Lineup