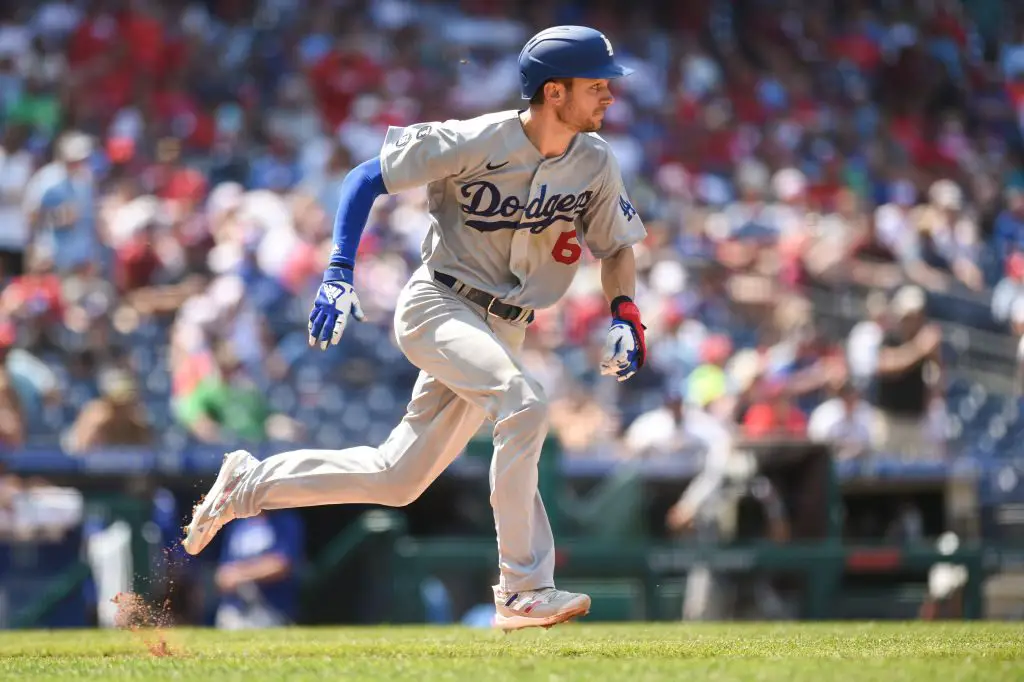 Dodgers Team News
Dodgers: Trea Turner Reacts After Hitting His First Home Run with LA
The Dodgers have gone 12-1 when Trea Turner starts, and that's no coincidence. The man is absolutely electric on the base paths, and he has had plenty of opportunities to show what he can do since he was traded to LA at the July 30th trade deadline.
Coming into Saturday afternoon's matchup with Rich Hill and the Mets, Turner held a .320 batting average with his new team along with 3 steals and 3 walks. In fact, the only thing he had yet to do was showcase the sneaky power that's made him one of baseball's top talents in recent years.
That changed on Saturday at Dodgers Stadium, as Trea Turner wasted no time in collecting his first homer in Dodger blue.
First Dodger homer for @treavturner! pic.twitter.com/58HVTmtiqO

— Los Angeles Dodgers (@Dodgers) August 21, 2021
After the game, Turner opened up on what it felt like to finally put up his first home run for his new team.
It was good to finally get it out of the way, I feel like it's been forever since I hit one. I've been swinging the bat alright, but just haven't been able to drive the ball like I want to. But I feel like I was in a good spot today and finally got it done.
The home run was only the beginning for Trea on Saturday, however, as he went on to collect three total hits on the day. It was his 6th multi-hit game since joining the Dodgers at the beginning of August (13 complete games), which perfectly showcases why the team traded for him in the first place.
When asked about his philosophy on hitting, Turner kept it as simple as his swing at the plate.
Just getting good pitches to hit. I think the majority of hitting is getting a good pitch in the middle of the zone and putting a good swing on it and putting it in play. Ending the at-bat when it should be over is kind of how I look at it. I got the pitches to hit and just didn't miss them.
It's been a very long time since the Dodgers had a player of Turner's caliber at the top of their lineup, and it's incredibly fun to witness. This team has been on an incredible tear of late, but they still have a ways to go as they look forward to October baseball. One thing is for sure: this team is getting hot at the right time, and Trea Turner has been a huge reason why.
NEXT: Timeline Still Unclear for Clayton Kershaw