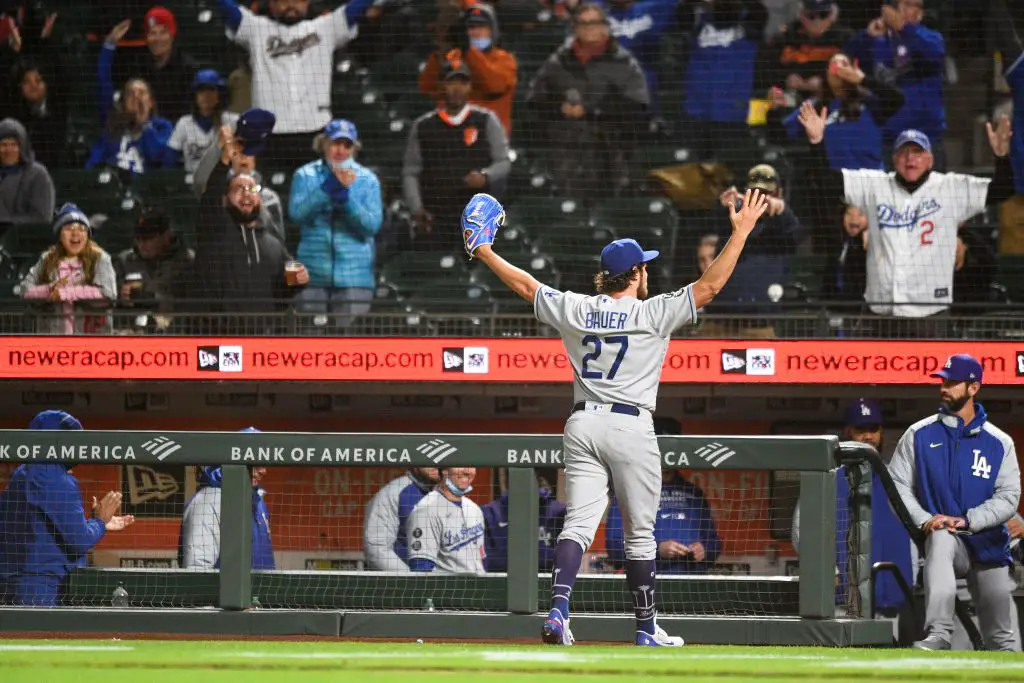 Dodgers Team News
Dodgers: Trevor Bauer Jokes With Yankees and Giants Pitchers About 'Mickey Mouse' Cy Young
You can always count on Dodgers pitcher Trevor Bauer to mess around and take a few jabs here and there. This week, he sort of took a jab at himself. Bauer has often been mocked by fans of opposing teams for his Cy Young in s shortened season. He fired back on Friday. 
Bauer has referred to his 2020 Cy Young as a 'Mickey Mouse' award given the shortened season that he won it in. Now with the Dodgers, Bauer took it upon himself to hand out that award again 60 games into the 2021 season. 
He named Yankees pitcher Gerrit Cole and Giants hurler Kevin Gausman as the official winners of the 2021 Mickey Mouse Cy Young award. Dodgers fans certainly loved it as it made it's rounds on Twitter ahead of the game Friday. 
Congratulations to @GerritCole45 of the @Yankees and @KevinGausman of the @SFGiants! Fantastic stuff guys! Welcome to the club! pic.twitter.com/hImVphmy6O

— Trevor Bauer (?????????) (@BauerOutage) June 11, 2021
The Dodgers obviously thought it was a real enough award in 2020 to warrant signing Bauer to a massive deal. And so far, he has rewarded them with some really outstanding starts to begin his tenure in Los Angeles. 
Bauer carries a 2.40 ERA and a ridiculous 103 strikeouts into his 14th start of the year on Saturday against the Rangers. He's been a big part of why the Dodgers have been able to survive with just 4 starters for so long, and why they didn't have to entirely lean on their bullpen. 
It's all fun. 
Dodgers: Rangel Ravelo is Absolutely Tearing Up Triple-A Pitching