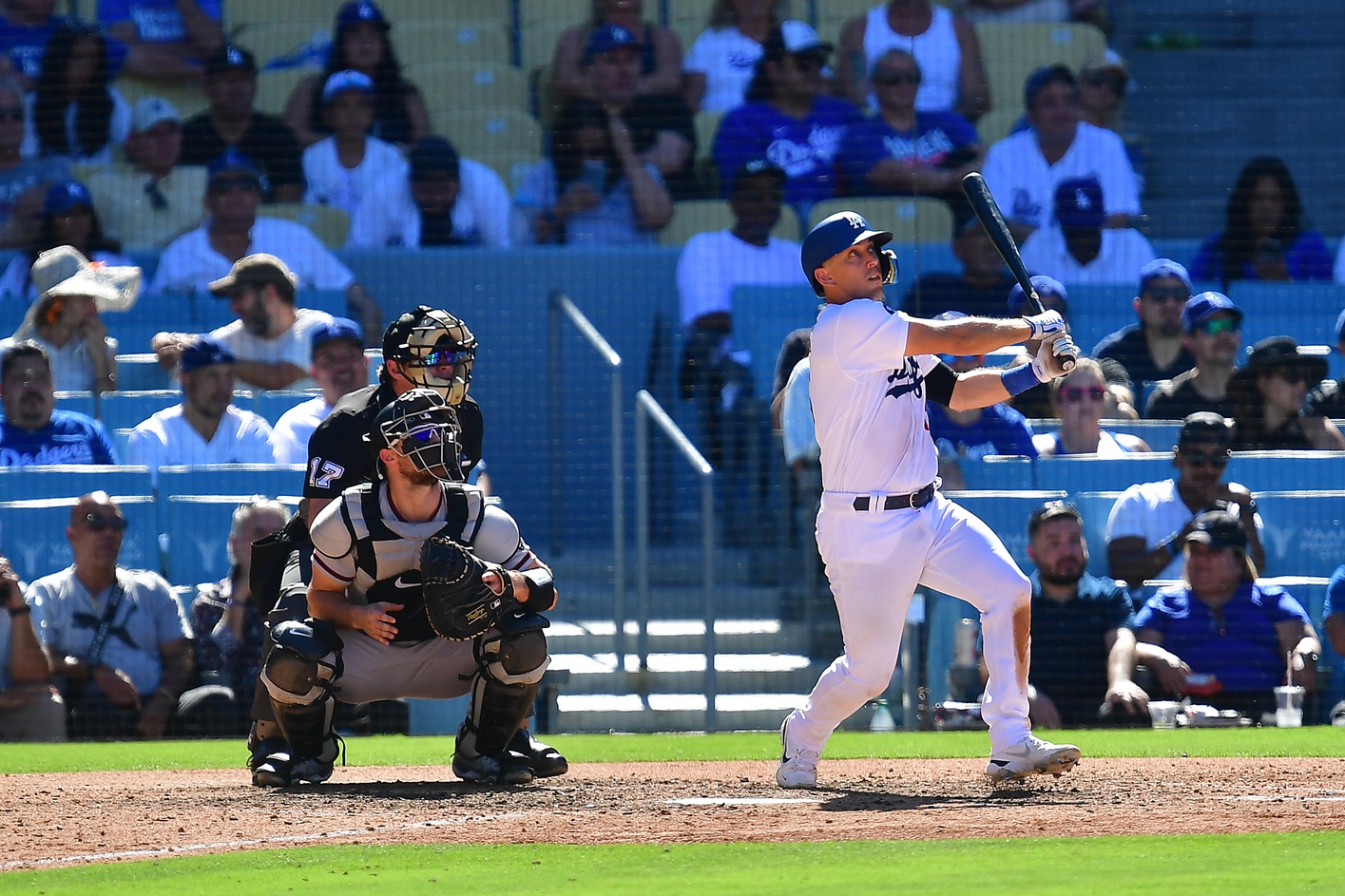 Dodgers Team News
Dodgers vs Diamondbacks: Lineups, Pregame Matchups, and More for September 21
The Dodgers allowed five unearned runs in their doubleheader split with the Diamondbacks on Tuesday, so they'll look to bounce back both offensively and defensively today in game four of the five-game series with Arizona at Dodger Stadium.
Dustin May gets the start for Los Angeles today, coming off an outstanding outing on Friday night in San Francisco in which he threw five no-hit innings on 69 pitches. Tonight will be his first time pitching on "normal" rest since returning from Tommy John surgery. May has had at least five days and usually six between starts since coming back.
May has pitched against the DBacks just twice, and both outings ended when he was hit by comebackers.
May's only start against Arizona came back in September 2020. On his second pitch of the game, he took a Josh Rojas comebacker off the instep of his left foot. He threw 14 more pitches and finished the inning, but manager Dave Roberts pulled him from the game during his warmup pitches before the second inning.
The big righty also had one relief appearance against Arizona in 2019, allowing four hits and three runs in one-third of an inning. That outing ended when Jake Lamb hit a line drive up the middle that caromed off May's head and into left-field for a two-run single.
Viewer Warning: Dustin May took a liner to the head off the bat of Jake Lamb… scary situation but May was able to walk off under his own power. Hope he is okay. pic.twitter.com/tW2t61M4bH

— Jayson Ortiz (@Jayson_ortiz) September 1, 2019
Because of that limited experience against Arizona, very few current DBacks have ever faced him. In fact, just three Arizona players have batted off May — and all three are 1-for-1 with a single. Ketel Marte singled in the 2019 game, and Rojas and Christian Walker singled in 2020.
The DBacks will counter with Madison Bumgarner, who has a long and whiny history with the Dodgers. Bum has faced the Dodgers twice this year, going 0-2 and allowing eight earned runs in 11 innings. In his career, Bumgarner is 15-17 with a 2.93 ERA against Los Angeles.
Ten Dodgers have at least 10 career plate appearances against Bumgarner, although one of those — Clayton Kershaw — is extremely unlikely to bat tonight. Trea Turner, Mookie Betts, and Will Smith all have an OPS over 1.000 against everyone's favorite snot-rocketeer, and Justin Turner, Trea, Austin Barnes, and Freddie Freeman have all hit multiple homers off him. Max Muncy has just one career homer against Bumgarner, but you might remember it.
Roberts is going with the platoons tonight, with Freeman the only lefty in the lineup. Miguel Vargas, who looked shaky in left field yesterday, is back out there again today. Will Smith, Cody Bellinger, Max Muncy, and Gavin Lux all sit in favor of Barnes, Vargas, Trayce Thompson, and Hanser Alberto.
Tonight's #Dodgers lineup vs. D-backs: pic.twitter.com/4ecszbkPFm

— Los Angeles Dodgers (@Dodgers) September 21, 2022
Today's game will mark the 149th game of the season for LA. They are currently 103-45, on pace for nearly 113 wins. First pitch is scheduled for 7:10 pm PT.
Have you subscribed to our YouTube Channel yet? Subscribe and hit that notification bell to stay up to date on all the latest Dodgers news, rumors, interviews, live streams, and more!