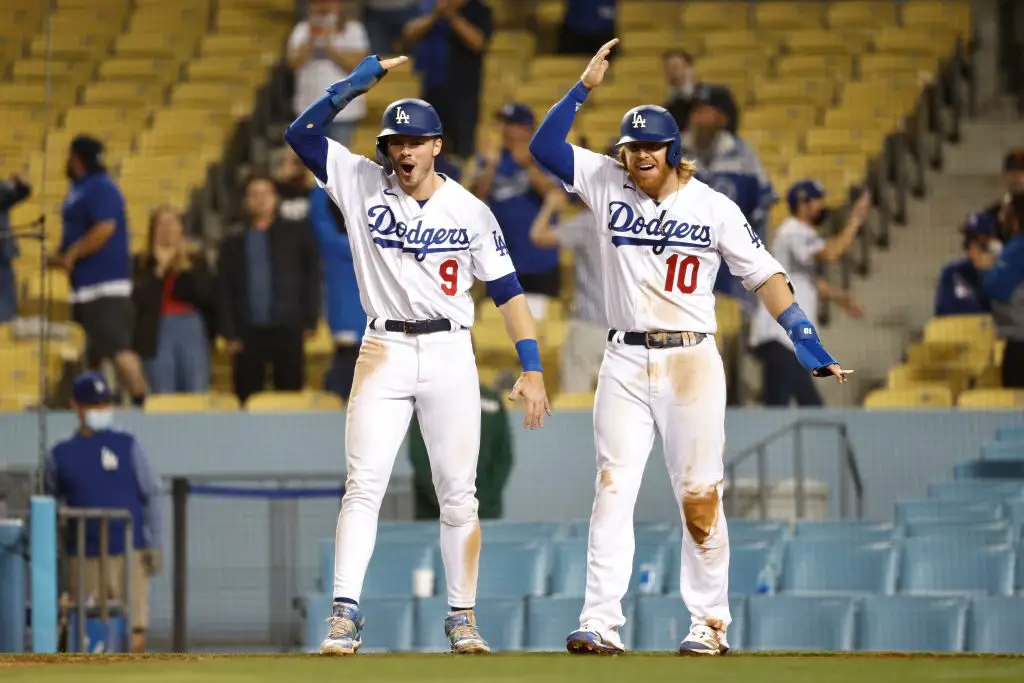 Editorials
Dodgers vs Giants Series Preview: A Giant Midseason Opportunity
The Dodgers exited the All-Star Break heading to Coors Field for 3 games with the Rockies and sitting 2 games behind the surprising division leading Giants. Of course, LA would win 2 of 3 over the Rox, bludgeoning their way to dominant wins on Friday and Saturday before letting Sunday's lead slip, allowing a walk-off home run to Charlie Blackmon.
Unfortunately for the Dodgers, a win Sunday would have left them tied with San Francisco atop the NL West as they head into a crucial stretch where they'll take on the Giants 7 of the next 11 days. Of those 7 crucial games, 4 of them will take place this week at Chavez Ravine. It's only July, and as such, there remains plenty of baseball to be played; still, a 4 game set at home against the Giants is an opportunity not to be taken lightly.
The Giants were not expected to be here. When Farhan Zaidi left Los Angeles to become the President of Baseball Operations for San Francisco, many Dodgers fans expected an eventual resurgence from their Bay Area rivals, but Zaidi's tenure has seen that timeline shorten significantly. Much of San Francisco's makeup is patchwork – they have several key contributing pitchers on one-year deals, and an aging roster of players performing like they haven't in half a decade.
Kevin Gausman had gone from promising pitching prospect to journeyman experiment after his stops in Baltimore and Atlanta and has now blossomed into a possible NL Cy Young runner up behind Jacob deGrom at the midway point of the season. Buster Posey and Brandon Crawford are putting up seasons the likes of which we haven't seen from them since the Giants' contending years of the early 2010s. Anthony DeSclafani, Logan Webb, and Alex Wood have all pitched to above average results as well, leaving Johnny Cueto as the only Giants starter currently with an ERA over 4.00, at 4.01.
Despite the Giants' resurgence this season, it's a matchup the Dodgers have handled well. Los Angeles is 6-3 in the season series so far, splitting the 6 games they've played in Los Angeles and sweeping the Giants at Oracle Park in May. They'll look to continue that trend this week and overtake San Francisco for the division lead.
Monday, July 19
7:10 pm PT
Kevin Gausman (9-3, 1.73 ERA) vs Tony Gonsolin (1-0, 2.13 ERA)
Monday night, the Dodgers will kickoff this pivotal series against the Giants' ace Kevin Gausman, who had his previous start scheduled for the weekend pushed back due to family medical issues. Gausman has been the second-best starting pitcher in baseball this season behind Jacob deGrom, finally realizing the potential Baltimore saw in him when they drafted him 4th overall out of LSU in 2012. He's posted an other-worldly WHIP of 0.82, pitching a ton of clean innings for the Giants en route to the best half-season of his career.
Gausman has faced the Dodgers twice this season with mixed results. On May 30, he pitched 6 shutout innings and allowed only two baserunners, picking up the win over Clayton Kershaw while only tossing 72 pitches. In his next start against LA on June 30, though, his command disappeared in a 5 inning start that saw him award Dodgers' hitters 6 free passes. The Dodgers would cash in for 3 runs, which wound up being all that Walker Buehler would need that night. The start was an anomaly for Gausman in terms of control – he's only walked more than 2 batters three times all season.
If the Dodgers want to be successful against him again tonight, they'll need to lay off his splitters and changeups, work deep into counts, and hit his fastball when he makes rare mistakes.
Tony Gonsolin will take on San Francisco for the first time this season tonight. For Tony, it's been a slow starting season that is finally seeing him hit his stride. He wasn't efficient last Sunday against Arizona (83 pitches in 4 innings) but managed to only allow a single run in a game Max Muncy would eventually win with a walk-off home run. Gonsolin hasn't allowed more than 1 run in an outing yet this season, but Los Angeles will be looking for a little more length from him tonight as they start a long, crucial series.
If the Dodgers can push Gausman's pitch count early while Tony Gonsolin throws up some early zeroes, there's no reason they can't enter the late innings in a good position to win. If they're hacking at the Gausman changeup and continue the defensive sloppiness we saw Sunday in Colorado, it could be a long night.
Tuesday, July 20
7:10 pm PT
Alex Wood (8-3, 3.67 ERA) vs TBD
Tuesday night is currently in limbo for the Dodgers – if we do see Josiah Gray's debut, I'll certainly be excited to watch him go to work in a crucial divisional game. He's pitched to a 2.87 ERA over 15 innings at Triple-A Oklahoma City so far this season, and likely represents the most anticipated Dodgers pitching debut since Dustin May. There's also the possibility the Dodgers elect to go with another bullpen game, something that could be made difficult if Tony Gonsolin isn't able to pitch deep into Monday night's contest.
The Dodgers will try to get the bats going against former teammate Alex Wood, who they've already faced twice this season. Wood is having a very solid 2021, thus far validating the bet he made on himself as a consistent big league starter. He's so far recovered in July after a shaky June, winning his last two against Arizona and St. Louis while allowing 3 runs over 12 solid innings of work. He pitched 6 full innings in both outings against his former club but lost both while allowing 4 homers (Taylor, Turner, Peters, Muncy).
One key for the Dodgers will be forcing Alex Wood into the strike zone. He's walked at least 2 batters in 5 of his last 7 starts dating back to the beginning of June. Wood's most glaring weakness, of which there haven't been many this season, is the hard contact he allows (32nd percentile in average exit velocity against, per Baseball Savant) – if the Dodgers can put themselves in advantageous counts and hunt pitches they know they can hit well, they'll likely put another ball or two over the fence and give themselves a great chance on Tuesday night.
Wednesday, July 21
7:10 pm PT
Logan Webb (4-3, 3.54 ERA) vs Julio Urias (12-3, 3.78 ERA)
When the Dodgers take on Logan Webb Wednesday night, they'll be looking to continue two trends that favor their side. One is the way they've hit during Julio Urias' starts this season – when he's taken the mound, the Dodgers have provided him with the 3rd-best run support of any starter in the majors (6.7 runs per start, per Baseball-Reference). Another is Logan Webb's home/road pitching splits, which have seen him pitch to an ERA of 4.76 away from Oracle Park (compared to 1.64 at home).
Webb last pitched against the Dodgers on May 29, allowing 2 runs (1 earned) over 5 solid innings of work allowing only a hit and a walk. He followed that start with a stint on the Injured List and has made two starts since. He's only allowed 1 run over those two appearances but hasn't surpassed 60 pitches so it's likely he'll be on a limited pitch count Wednesday night. Webb has allowed most of the damage against him this season when a team turns the lineup over and faces him for a second time; he has a 9.31 ERA in the 4th inning this season, and his opponent's batting averages jump from .213 to .284 the second time through the order. Given his limited pitch count, it's likely Gabe Kapler will have a quick hook with Webb if the Dodgers start pushing runs across, leaving San Francisco's bullpen exposed for more innings than they'd like.
Julio Urias will take the mound for the second time since the All-Star break, having allowed 4 runs in 5.2 innings at Coors Field on Friday night. The outing was better than the stats look – outside of CJ Cron's grand slam, Julio avoided damage and had plenty in the tank to complete 6 innings of solid work. Wednesday night marks Urias' first opportunity to start at home since June, where he's actually been less successful than on the road this season. The Giants have caused big problems for Urias this season (6.55 ERA over 2 starts), most recently peppering him for 11 hits and 2 walks over 5 exhausting innings on May 29.
If the Dodgers are going to have a chance Wednesday, he'll obviously have to find a way to miss more bats.
Thursday, July 22
7:10 pm PT
Anthony DeSclafani (10-4, 2.78 ERA) vs Walker Buehler (10-1, 2.37 ERA)
Like Webb and Gausman, DeSclafani is having a career season for San Francisco. His 10 wins lead the San Francisco staff, and he's thus far followed a 1.69 ERA in June with an excellent 2.18 ERA in July. The only difference between his season and that of ace Kevin Gausman is the first start he made against the Dodgers this season on May 23, when he allowed 10 earned runs in 2.2 explosive innings of work at Oracle Park. Of the 35 total runs DeSclafani has allowed this season, 15 of them have come in his three starts against the Dodgers – more than twice as many as he's allowed to any other opponent this season. For as long as he's been a big leaguer, his misfortunes against LA have been consistent: since his debut in 2014, he's 1-7 against LA with an ERA of 6.55.
Walker Buehler takes the mound for the Dodgers in the series finale, looking to build off a start yesterday in Colorado that finally saw him pitch well at Coors Field, where he's notoriously struggled. Given the gravity of the series with San Francisco and Buehler's affinity for pitching in big games, I'll certainly be looking for a vintage performance from the righty on Thursday. Buehler's season would put him squarely in Cy Young conversations in almost any other year, and earned him a well-deserved All-Star selection last week. He's never lost to the Giants in his career, beating them 6 times and posting a superb 2.17 ERA over 8 starts (10 total appearances). In 2021, he's already faced San Francisco 3 times, going 2-0 while allowing only 4 earned runs in 19.2 innings of work. If both sides pitch to their trends on Thursday, the Dodgers should manage to finish the series on a high note.
Final Thoughts
The four games against San Francisco this week, and the seven over the next 10 days for that matter, are not make or break for the Dodgers. If anything, they're a mirror that will likely reflect with more clarity what areas the team will need to seek improvement as the trade deadline approaches. The foe is familiar, and the pathway to victory (or defeat) is going to be clearly defined each night. It'll come down to execution, and likely the performance of the bullpens as well. It certainly wouldn't hurt for LA if Corey Seager returns in the coming days either. The division lead is available for the taking, and the Boys in Blue are getting healthier. Let's make some headway this week.
NEXT: AJ Pollock's Incredible July a Big Part of Team's Success