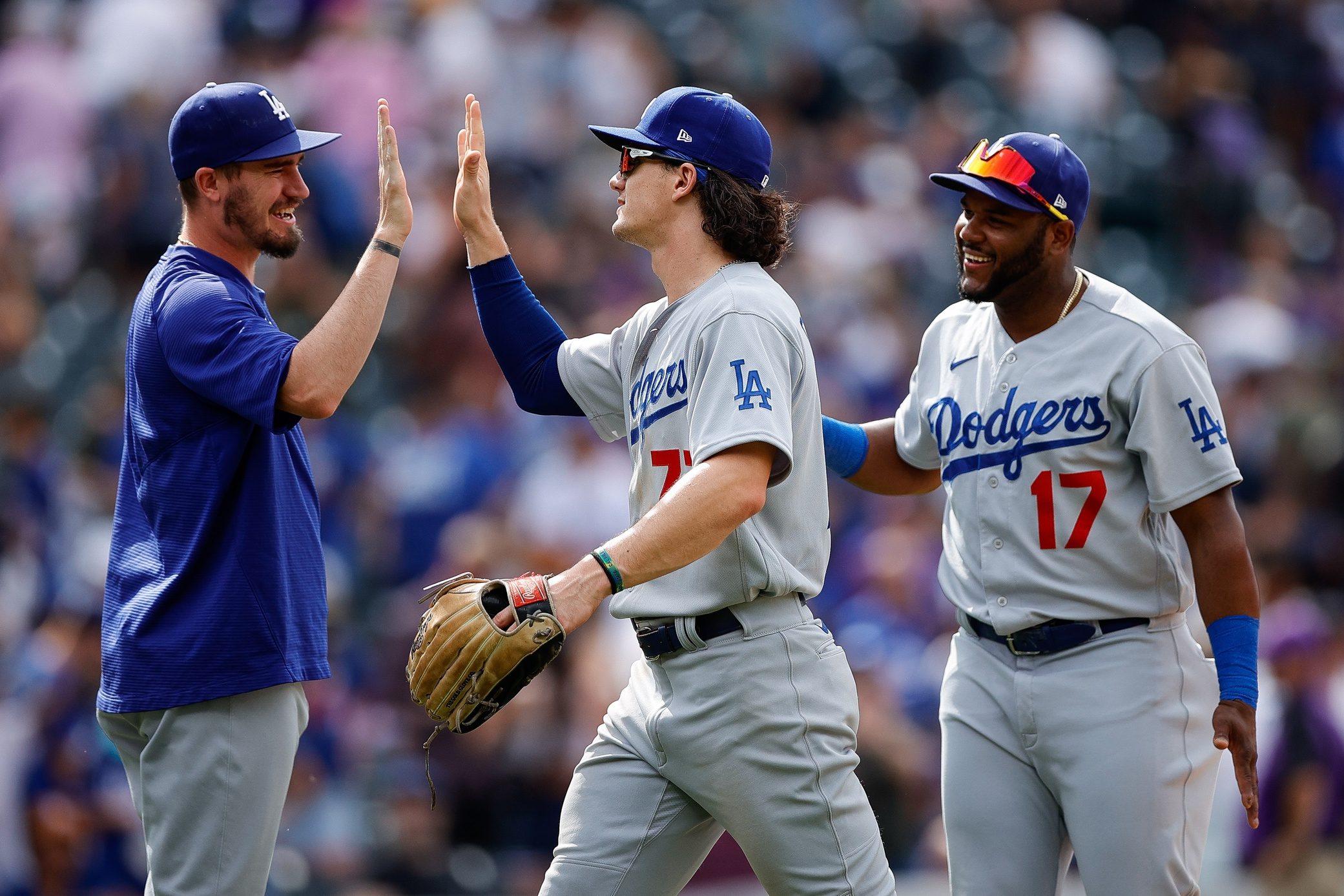 Dodgers prospect James Outman got a brief cup of coffee in the big leagues in late July and early August, homering in his first MLB at-bat on July 31 and posting a 1.409 OPS in four games with Los Angeles. Outman also had a 1.018 OPS in 252 Triple-A plate appearances after posting a .946 OPS in 307 PA in Double-A. Overall, Outman hit 32 homers and drove in 109 runs across the three levels.
FIRST MLB AT-BAT? HOMER. WELCOME TO THE SHOW, @james_outman! pic.twitter.com/EtdqLARi3Y

— Los Angeles Dodgers (@Dodgers) July 31, 2022
Outman's performance in the minors and his success in his brief stint in the majors has a lot of fans thinking the Dodgers should drop Cody Bellinger and install Outman as the everyday center-fielder. While we don't hate the idea, we do want to put a little bit of a damper on all that Outmania with a few statistical tidbits.
First, while Outman went 6-for-13 in the big leagues, it's worth remembering that he struck out in all seven of his at-bats that weren't hits. Right at this moment, he holds the MLB record for most plate appearances in a career with a 1.000 batting average on balls in play for non-pitchers. Only pitcher Jesse Chavez, who is 2-for-22 with 20 strikeouts in his career, has more PA than Outman with a 1.000 BABIP.
No, Outman probably won't strike out in 43.8% of his big-league plate appearances, but he does strike out a lot. His strikeout rate in the minors this year was 27.2%, nearly identical to Bellinger's 27.3% against much tougher pitching.
JAMES OUTMAN WALKS IT OFF AND COMPLETES THE CYCLE!

WOW! WOW! WOW! pic.twitter.com/Bqphbf7VGT

— Oklahoma City Dodgers (@okc_dodgers) August 27, 2022
Defensively, Outman probably won't be quite as good as Bellinger, but he's an excellent defensive option at all three outfield spots. His has good speed, good instincts, and a strong arm.
And then we get to the big question that seems to plague all left-handed hitters: Can he hit left-handed pitching? For Outman, the answer seems to be, "Definitely not as well as he hits righties." In the minors in 2022, he had a 1.090 OPS against righties and a .739 OPS against lefties. It was even more pronounced in his brief MLB stint, with a 1.488 OPS against righties and .500 against lefties.
No OKC player had hit for the cycle in 11 years until James Outman did it Friday.

Well, guess what?

He just did it again for the second time in four games!!! pic.twitter.com/oXUMdtqf4p

— Oklahoma City Dodgers (@okc_dodgers) August 31, 2022
Outman probably isn't ready to take over as the everyday center-fielder for the Dodgers. If they decide to part ways with Bellinger maybe they install Outman anyway, but a more prudent action might be to have him as the fourth outfielder, getting plenty of starts in multiple outfield positions against righties and taking key at-bats off the bench in games started by lefties. He's definitely ready to be in the big leagues, but it might be best to tame our expectations a little bit.
Have you subscribed to our YouTube Channel yet? Subscribe and hit that notification bell to stay up to date on all the latest Dodgers news, rumors, interviews, live streams, and more!