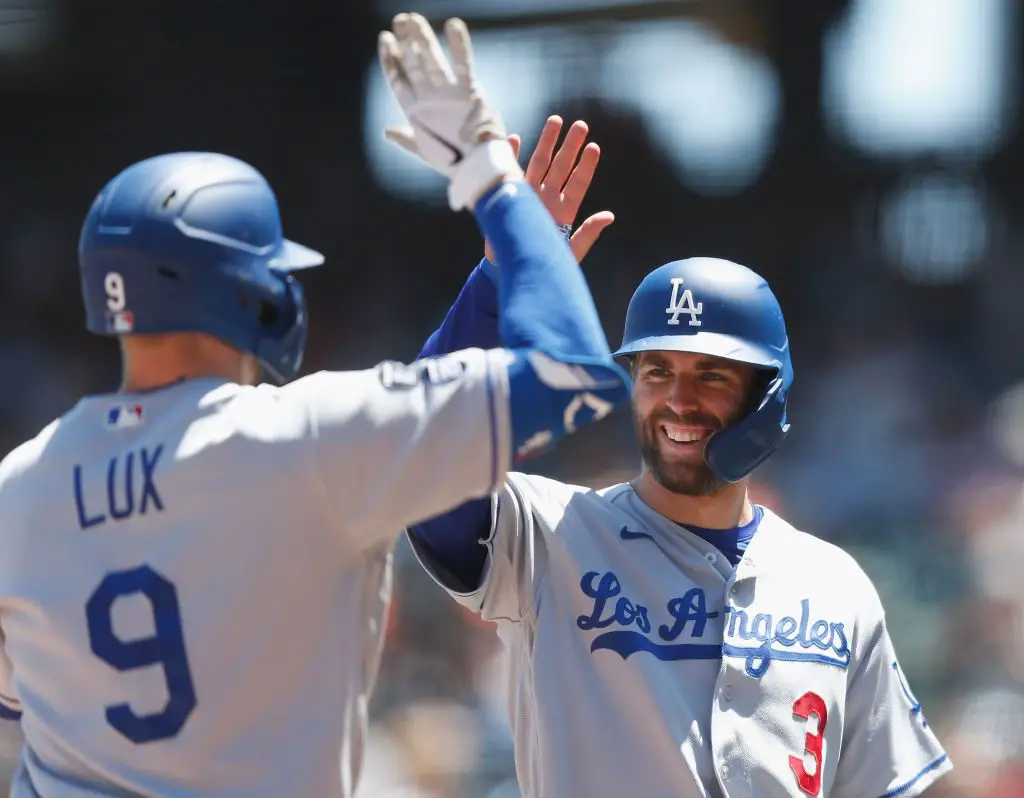 Editorials
Dodgers: What Is the Most Ideal Lineup for LA in the Playoffs?
The Dodgers have once again been one of the deepest teams in baseball this season. They've utilized their depth accordingly, and it's allowed them to endure injuries, tolerate slumps, and be patient with players more than other teams might be able to.
The ability to mix and match players doing the long regular season is a huge benefit, but as the postseason approaches, Dave Roberts and company will have to decide what lineup gives them the best chance to win every game. With more than eight capable position players on any given day, those decisions will be a challenge. Who starts? Who sits? Should the batting order fluctuate?
Below, we break down our ideal Dodgers lineup for the playoffs, both for facing right-handed and left-handed pitching.
Best lineup vs. Right-Handed Pitching (RHP):
Betts RF
Seager SS
Turner, T. 2B
Muncy 1B
Turner, J. 3B
Smith C
Pollock LF
Lux CF
Unless the Dodgers can overtake the Giants with only a couple of games left, they'll be hosting the St. Louis Cardinals in the Wild-Card game. The Cards will likely call upon veteran Adam Wainwright to start that game. The 40-year-old right-hander has been excellent this year, going 17-7 with a 3.05 ERA and 1.057 WHIP. In his only start against the Dodgers last month, Wainwright pitched well and got the Win. He allowed only two runs through eight innings before being charged with two more in the ninth and being removed.
This is the lineup that should face Wainwright.
The biggest question in the above lineup was who gets that center field spot. We're going with Lux here but it wasn't an easy call, with Chris Taylor and Cody Bellinger being the other options.
Lux gets the nod mainly due to his hot bat since being called back up from his injury and brief stint in OKC. In September, Lux hit .367/.466/.510, with a .976 OPS. Those numbers are a complete turnaround from his first half numbers when he was struggling mightily at the plate. He hit only .231/.413/.358 with a .672 OPS in the first half of the year, but it seems like he's made some adjustments at the plate, and we could be seeing who the true Gavin Lux is now.
Of course, a month's worth of plate appearances is still a relatively small sample size, so going with the "hot bat" could be recency bias. But it's hard not to do that in the postseason, where the entire thing is a small sample size.
One caveat for Lux could be his health. He was shaken up after crashing into the center field fence during Wednesday's game, and although he appears to have escaped any major injury, it could be something to monitor.
The other reason for going with Lux is the recent struggles of Chris Taylor. After a great first half of the year that earned him an All-Star appearance, Taylor has struggled in the second half, hitting only .225/.284/.426 with a .710 OPS. He was dealing with a neck issue recently that certainly didn't help him get back to where he needs to be offensively, and it may be an issue that's still lingering. Whatever the cause, it's difficult to have the same level of confidence in Taylor if he's not comfortable at the plate, especially when there are other viable options available.
Another option against RHP could be Cody Bellinger. Of course, the former MVP has been a shell of his former self this year, and his struggles have persisted all year with no signs of sustained improvement. His offensive woes this year have not just been bad, but downright awful. His 47 wRC+ this year is 114 points lower than the 161 wRC+ he put up during his 2019 MVP campaign.
Bellinger returned from the IL this past week and hit a big home run Wednesday night against the Padres, but it seems like it's really "too little, too late" for Cody. There's simply not enough time for him to get back on track enough to trust in the starting lineup. He could provide a nice defensive replacement option late in the game but relying on him for 4+ at-bats per game isn't an ideal scenario with how's he's produced.
In years past, A.J Pollock's starting spot wouldn't have been guaranteed, especially against RHP. But with the year he's having, there's no way to take his bat out of the lineup, regardless of the matchup. And as much as Austin Barnes calls a great game behind the plate, Will Smith should be the primary catcher in the playoffs. His bat is just too valuable.
Best lineup vs. Left-Handed Pitching (LHP):
Betts RF
Seager SS
Turner, T. 2B
Muncy 1B
Turner 3B
Smith C
Pollock LF
Taylor CF
Looking at the other National League team's rotations, the Dodgers don't figure to face too many starting left-handers, with Max Fried and Alex Wood being the most likely candidates. So, we'll likely see their "right-handed lineup" more often than not. With that said, things can always change, openers could be used, and postseason rotations can always be adjusted.
The only change we're making for the lineup against lefties is replacing Lux with Taylor. As great as Lux has been recently, he still doesn't hit LHP very well (.190/.281/.250, .531 OPS this year.) Taylor, on the other hand, has good splits against them this year, posting a .884 OPS. That's far superior to his .741 mark vs righties this season.
Taylor is also an upgrade defensively from Lux, who just started playing outfield recently. Though he's done an admirable job so far, Lux is still very new to the position.
Bellinger is not a realistic option against LHP at this point. As bad as he's been overall this year, he's been even worse against lefties, hitting a dismal .107 (not a typo) on the year.
The batting order itself shouldn't need to be adjusted much. Both Corey Seager and Max Muncy have hit LHP very well this year so there's really no reason to move them up and down the order.
The Dodgers offense has been solid all year, but it has gone into some unexplained slumps at times. Hopefully, they won't experience one of those streaks in October. Going forward, some stability might help with that. Being able to mix and match players is great, but as the playoffs arrive, it's time the Dodgers decide on their 'A' lineup. What that is remains to be seen, but these are our ideal lineups.
What would your best Dodgers lineup look like for RHP/LHP? Let us know in the comments below!