Dodgers Team News
Dodgers: What Will Next Year's Shift Ban Mean for the Boys in Blue?
MLB announced on Friday that three major rule changes will be implemented for the 2023 season: larger bases, the implementation of a pitch clock, and restrictions on defensive shifting.
There are two key elements to the banning of the shift, as reported in The Athletic on Thursday when the changes leaked out:
• When the pitcher releases the ball, a minimum of four players (besides the pitcher and catcher) must have both feet completely in front of the outer boundary of the dirt, and two fielders have to be entirely on either side of second base.

• Every team has to designate two infielders on each side of second base who may not switch sides during the game, except if there's a substitution for one of those infielders.
In practical terms, the main changes are not loading up one side of the infield and not playing an infielder in shallow right field. This will presumably lead to more balls in play turning into hits, which might (hopefully) lead to players trying harder to put the ball in play. There will surely be unforeseen and unintended consequences, but let's focus on the foreseen and intended consequences for now as we ponder this question: Which Dodger players will benefit the most from the new shift restrictions?
Joey Gallo has the highest pull rate of any active Dodger hitter, but also has one of the lowest groundball rates. Trayce Thompson is a similar story from the right side of the plate, but these changes are likely to affect lefties more anyway because opposing teams can't play an infielder as deep behind shortstop as they can in shallow right field.
Max Muncy has a high pull percentage and a higher groundball percentage than Gallo, but it's still relatively low. Cody Bellinger's grounder rate is higher than Muncy's, but his pull rate is lower. It looks like maybe Gavin Lux is the answer, with a pull rate close to Bellinger's but the highest groundball rate on the team. Let's look at Lux's spray charts: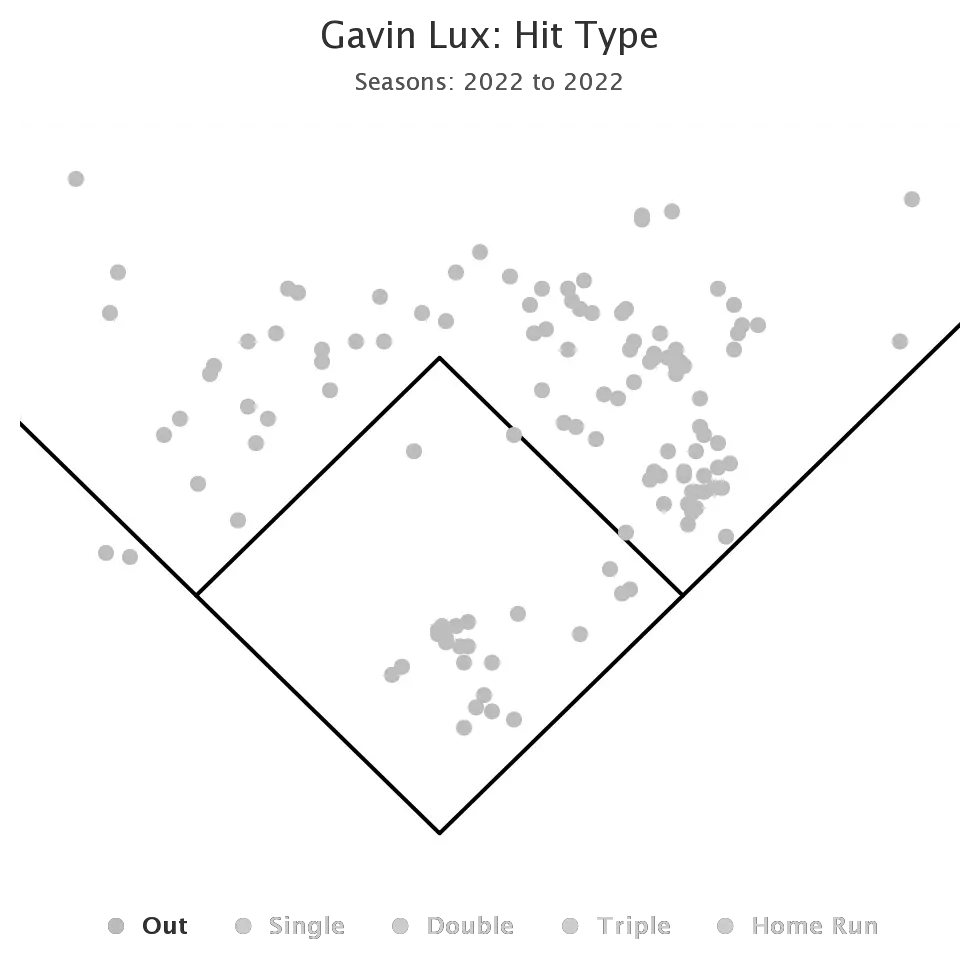 The chart with the green circles shows groundballs hit by Lux this year, while the chart with the gray circles shows the batted balls that have turned into outs. The circles represent where the balls were fielded. As we're zoomed in on the infield, there's a lot of overlap between the two charts. We're counting at least nine groundouts that were fielded on the outfield grass, so we have to assume most of those would have gotten through. Knowing teams will only be allowed to have two fielders on the right side of the infield, it's easy to see a couple handfuls of grounders getting through next year that were outs this year.
But then you look at the left side, and you see at least a handful of groundballs that were fielded on the opposite field side and weren't outs. We can only guess on where the fielders might be playing under the new restrictions, but it looks like Lux might be gaining as many hits on the opposite side as he's losing on the pull side.
Sports Info Solutions keeps proprietary statistics on the net result of the shift on individual players, and they tweeted this out on Thursday afternoon:
The happiest hitter about the shift ban:
Probably Corey Seager

A .160 BA on the 175 grounders/short line drives that he's hit against a full shift (3 infielders on pull side) this season

By our estimate, he's suffered a net loss of 26 hits due to defensive shifts (most in MLB) pic.twitter.com/0QAQtMWVZQ

— SIS_Baseball (@sis_baseball) September 8, 2022
Corey Seager has lost a net total of 26 hits to the shift this year. So we know the numbers can be huge and impactful. What we don't know is whether any Dodgers will be impacted nearly as much as the former L.A. shortstop. SIS intends to publish an article in the next week or two that will have this data on more players than just Seager, so we'll get more insight then.
Until then, we can keep our eyes peeled the rest of this season and make our best guesses every time someone pulls a grounder into the shift about whether it would be a hit next year.
Have you subscribed to our YouTube Channel yet? Subscribe and hit that notification bell to stay up to date on all the latest Dodgers news, rumors, interviews, live streams, and more!