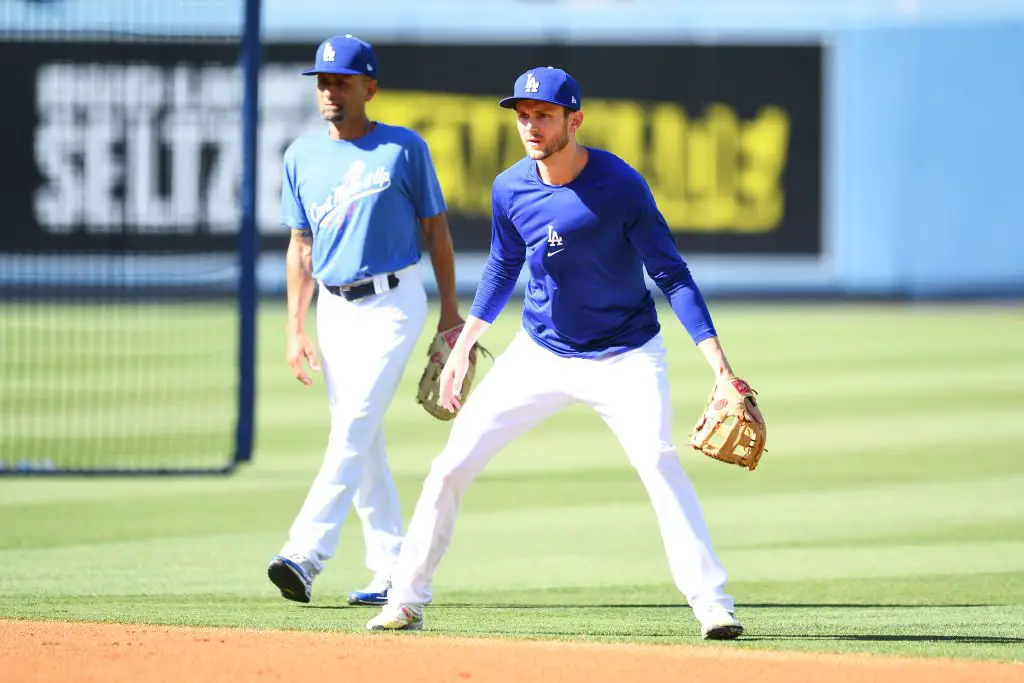 Editorials
Dodgers: What Would a Trea Turner Contract Extension Look Like?
Next winter could be the same plot with different characters for the Dodgers. Hopefully, it has a different ending. Trea Turner now plays the role of Corey Seager. A superstar shortstop who has just one season left before he's eligible for a free agent payday.
The Dodgers reportedly offered Corey Seager an extension during 2021 spring training.
If they take a similar approach with Trea Turner, what would that extension look like?
Since Turner became an everyday shortstop in 2016, he ranks near the top in almost every meaningful offensive static amongst shortstops. He's in the top six in batting average, slugging, wOBA, wRC+, WAR, and OPS. Not to mention, Trea leads the entire MLB in stolen bases during that timeframe (201).
He's one of the best players in baseball and the Dodgers will have to pay up to keep him.
A Long Term Extension for Turner
Andrew Friedman and the Dodgers reportedly offered Seager an eight-year, $250 million dollar extension. An offer to Turner could fall in a similar range, if not higher.
An eight-year, $280 million dollar extension would make Turner the highest paid shortstop in the league right now by average annual value (AAV) at $35M per year. Those numbers slot Trea ahead of the Mets Francisco Lindor ($34.1M) and Corey Seager ($32.5M).
However, would Trea want more than eight years on his contract?
Unlike Seager, Trea has been remarkably durable throughout his career. One would assume that did play a role in LA not countering the ten-year deal that Texas offered Seager.
The Dodgers could be more aggressive with the length of a Turner extension. Team President Andrew Friedman has proven he'll sign elite talent for a decade. See Mookie Betts for more information.
With that in mind, a 10-year, $350 million dollar deal for a true five-tool shortstop might not be out of the question.
The High AAV Friedman Special
Another play in the playbook for the Dodgers is a shorter term, high AAV contract for Turner. The Dodgers have employed this strategy in past offers to starter Trevor Bauer and outfielder Bryce Harper.
It would take some onions to offer it, but a four-year, $160M dollar contract could appeal to the speedy shortstop.
A shorter deal above the current market rate ($40M AVV) would allow Turner to re-enter the market before his age 33 season. Presumably, Trea would still have a few prime years left and could fetch a sizable, multi-year deal again.
Final Thoughts
The new CBA, which hopefully, is coming sooner than later, could drastically alter the salary landscape. This writer is foolish, but not foolish enough to try to guess what the new salary cap looks like come 2022. Nor how those economics affect the thought process of the Dodgers front office.
Regardless, we should have a clearer picture of the new world of superstar shortstop compensation once the lockout ends. The new contracts for Carlos Correa and Trevor Story will be strong indicators.
There isn't another shortstop, hell, another player, quite like Trea Turner. He can do everything, at a high level. Trea agreed to switch to a position he hadn't played in years when he came to the Dodgers. He's a natural fit in the clubhouse and knows how to play winning baseball. He publicly took full accountability for his 2021 playoff shortcomings. Quite simply, he just feels like a Dodger.
Losing Seager was a tough pill to swallow. Losing Turner the following year would be akin to chugging an entire bottle of eggnog flavored Robitussin.
The Dodgers need to do everything they can to re-write the ending this time around.
Dodgers Analyst Says Players are Not Worried About MLB Lockout Just Yet