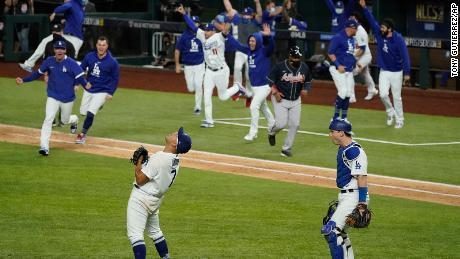 Dodgers Team News
Dodgers: Which Starting Pitcher Shifts to the Bullpen in the Playoffs?
For the first time in what feels like forever, the Dodgers have all 5 guys back in their starting rotation. And credit where credit is due, Dave Roberts and Mark Prior found a way to make it happen for weeks with only 3 guys in the rotation. 
But now back at full strength, the Dodgers will need to start thinking ahead. The postseason rotation will be moved to 4 arms and someone will be the odd man out. The good news? There really is not a bad call on the direction they go. 
The Dodgers will without a doubt have Walker Buehler and Max Scherzer starting their first 2 playoff games. But beyond that, there are arguments that can be made for the final 2 spots…sort of. Clayton Kershaw is almost sure to be included in the rotation, but there are factors to consider. 
Tony Gonsolin
Tony is coming off of a game that saw him toss 5 shutout innings against the Diamondbacks. Finally healthy in 2021, it was arguably his best outing of the season. But Tony won't be built up quite where the Dodgers would like him to be, and his bullpen experience will play up. 
In his career, Tony owns a 3.60 ERA out of the bullpen and can provide electric stuff when they need it the most. 
Clayton Kershaw
Hear me out here, because Kershaw is the most obvious choice for the third spot. But maybe the Dodgers decide that Kersh didn't get enough time to build up his pitch count or get his stuff going. They could pivot and use him as a long arm out of the bullpen, or even potentially a leverage southpaw. 
It's very unlikely, but stranger things have happened. Bet on him being the third guy. 
Julio Urías
Julio is by far the most intriguing case for the Dodgers. Given his relief success in the postseason during the 2020 run, he certainly represents a real option. Julio has also pitched by far the most innings of his career in 2021 at 168. 
On the other hand, he's been lights out as a starter and is closing in on winning 20 games for the Dodgers. He would also be a good option as a left-handed reliever given his ability to get out both left-handed and right-handed hitters. 
Final Answer: The Dodgers have a tendency to do the exact opposite of what I think they will do seemingly every postseason. But the easy answer is moving Tony Gonsolin back to the bullpen in October. 
Dodgers News: Los Angeles Clinched Home-Field Advantage in a Wild Card Game