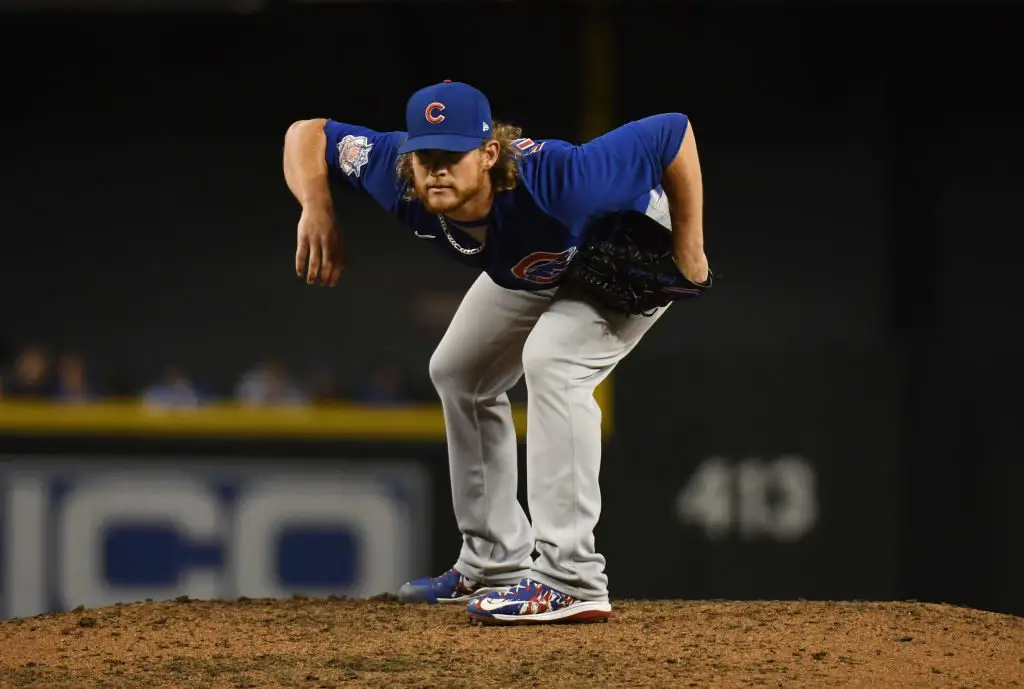 Editorials
Dodgers: Why LA Should Look Into Trading for Craig Kimbrel
The day and age of starters going the distance is long gone. It's become rare to see starting pitchers throw complete games or even make it into the 8th and 9th innings. Bullpens have become more important in today's game, with teams even shifting to an opener approach quite often. 
The Dodgers are one of those teams who have relied heavily on their bullpen in recent years. However, a vital part of their bullpen may not be with them anymore as closer Kenley Jansen is a free agent. While the team would certainly love to bring him back, there's no guarantee it will happen. 
Jansen has been the team's shutdown guy for many years, despite having some bumps in the road. Losing him would hurt, but it wouldn't destroy the bullpen altogether. They still have Blake Treinen who can close out games or Brusdar Graterol. Los Angeles could even re-sign Corey Knebel or look to sign another closer such as Raisel Iglesias, Kendall Graveman, etc. 
Trade for Kimbrel
Those options are solid, yet their best one may be available on the trade market. The Chicago White Sox are reportedly open to trading away Kimbrel after picking up his $16 million team option. The Sox acquired him just a couple of short months ago from the Chicago Cubs. He was having his best season to date before the trade posting a 0.49 ERA, 64 strikeouts, 23 saves, and 2.5 WAR. His time on the Southside did not yield similar results as he posted an ugly 5.09 ERA in 24 appearances. 
Three saves in three days for Craig Kimbrel! #DirtyCraig#CubTogether pic.twitter.com/MMCkDSgwbX

— Chicago Cubs (@Cubs) June 14, 2021
Part of Kimbrel's flop was due to misusage by Tony La Russa. Kimbrel is a closer, and a darn good one, yet La Russa only gave him a handful of opportunities in the 9th, instead using him earlier in the game. That didn't turn out too well. It's almost a sure-fire win when Kimbrel trots out to take the hill in the 9th and the Dodgers would sure love to have that.
Adding Kimbrel to the LA bullpen would shorten games. Dave Roberts could have him lock down the 9th and free up Blake Treinen to matchup against the toughest parts of the opposing team's lineup. Sprinkle in guys like Alex Vesia, Graterol, and Phil Bickford and you have yourself a top-notch bullpen. 
Can you just imagine a pen headlined my Kimbrel in the postseason? Add in a more consistent performance from the lineup next season and reclaiming the throne in 2022 isn't out of the question. If the Dodgers take on the entirety of his contract it shouldn't take much to acquire him. With a little Andrew Friedman magic, it could wind up as a steal.
Final Thoughts
Do the Dodgers need Kimbrel? No, they don't. They have the talent in the pen to get the job done and can look for other options on the free-agent market or even re-sign Jansen. However, if you have the opportunity to add a lockdown closer to the pen why wouldn't you take it? 
NEXT: Andrew Friedman Speaks On Kenley Jansen's LA Career, Future in Blue