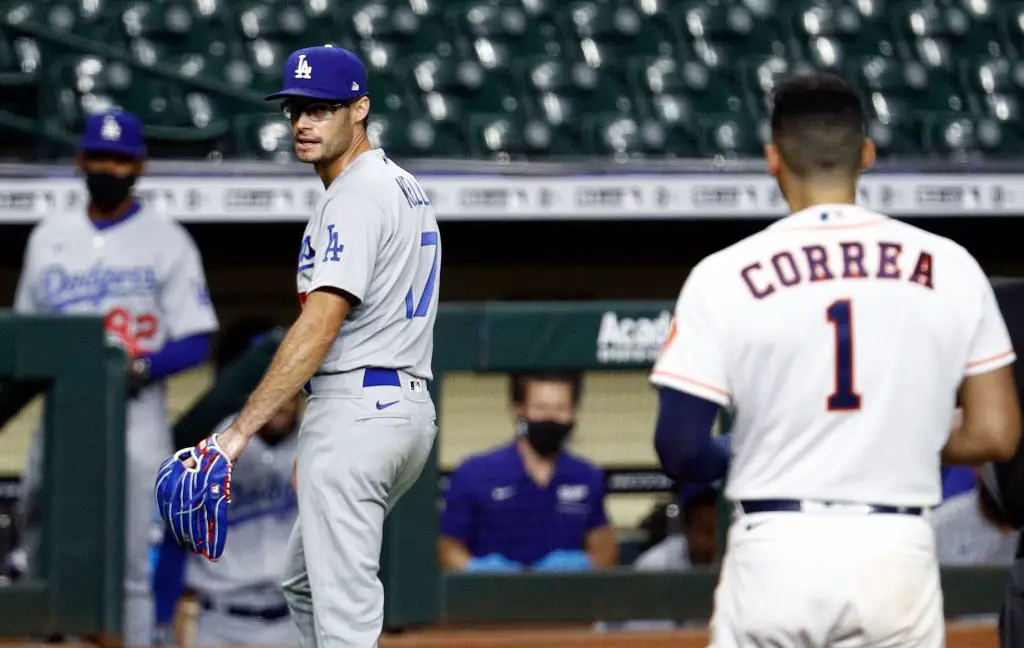 Players
Former Dodger Joe Kelly Reveals New Details Behind Famous Pouty Face Towards Houston Astros
Joe Kelly suited up for your Boys in Blue from the years 2019-2021. He served as a solid relief pitcher for the team in his time there. Unfortunately, the Dodgers front office made it clear that they were looking to overhaul their roster and did not want to commit too much money to Kelly. However, the 34-year-old did stack up plenty of memories while he was in LA.
Many fans specifically remember Kelly for a moment that came during the Covid-shortened 2020 season. The Dodgers were facing the Houston Astros, whom they do not have the greatest history with, and Kelly decided to stick his tongue out and mock Carlos Correa after striking him out to close out the 6th inning.
This is a play that fans still talk about to this day and brought back to their timelines when reports started surfacing that the Dodgers were looking to move on from Kelly. Considering the past battles between LA and Houston that unfairly went in the Astros' favor, this mockery by Kelly felt even better for many fans.
Kelly has recently partnered with Rob Bradford to write a book called of "A Damn Near Perfect Game" where they take a deep dive into the many elements of baseball today. On a press run to promote his newest novel release, Kelly joined Houston Mitchell of the LA Times for an interview and further described exactly why he responded to Correa and the Astros in that manner.
"As the inning progressed, I got more and more irritated hearing comments from their dugout. So I felt the Astros were being whiny," said Kelly. "Carlos [Correa] himself was being whiny so I gave him a pouty face as I would do to all of my kids if they were being whiny."
Rivalries are always great for baseball and it seems as though every time the Dodgers step on the field to face Houston, they have an extra chip on their shoulder. Even though Kelly now plays for the Chicago White Sox, this moment will always be remembered by LA fans.
Have you subscribed to our YouTube Channel yet? Subscribe and hit that notification bell to stay up to date on all the latest Dodgers news, rumors, interviews, live streams, and more!