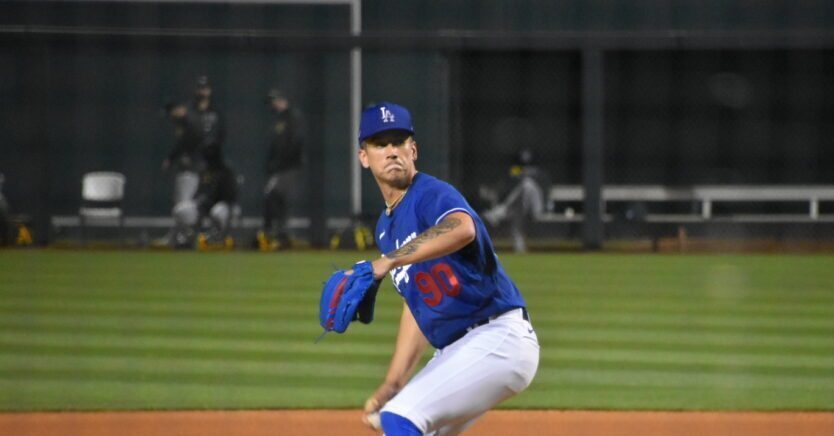 Editorials
LA Dodgers: Names to Know and Best of the Best Prospects from Spring Training 2021
With the final pre-season games in the books, it is time to take a look at which prospects stood out the most. This Spring Training we were able to see many prospects, including a few for the first time. This article will select the top three prospects of Spring Training based purely on their Spring Training performance.
Bobby Miller
Bobby Miller was the Dodgers first-round pick of the 2020 draft and received an invitation to the Major League camp at Spring Training. Like any non-roster player, he did not receive a lot of innings. However, in his 5.1 innings, he struck out walked one, and gave up only one hit. I was at the game against the A's where he looked dominant (see below).
I have to be honest, he could be the Dodgers' number one prospect by the end of 2021. He looked so good in Spring Training and with a year of being under the tutelage of the Dodgers' development staff, he could be one of the top ten prospects in baseball.
Zach McKinstry
When Kiké Hernandez signed with the Red Sox, it left room for another utility-type player to go along with Chris Taylor. The top candidate has seemed to be Zach McKinstry but the Dodgers still went out and got Sheldon Neuse to compete also. The disadvantage that McKinstry had is the fact he bats left-handed on a bench that already contains lefties Matt Beaty and Edwin Rios. Neuse bats right-handed and seems to have a lot of power.
What we ended up seeing is McKinstry and Neuse combining for only one home run in the spring. They both had solid pre-seasons but McKinstry stood out a bit more. It was more than enough for McKinstry to be named to the Opening Day roster as the ONLY rookie to get a spot to begin the season.
Keibert Ruiz
Visa issues kept top catching prospect Keibert Ruiz from arriving in camp on time. Once he got started he looked great. Ruiz's 2020 Spring Training was a disaster at the plate but he did homer in his Major League debut. In 2019 he was off to a slow start in Double-A. He was promoted to Triple-A and was lost for the season after only nine games. All-in-all he only got 314 at-bats in 2019 then we had 2020. There was a lot of development time that was lost.
Throughout his career, Ruiz has always been ahead of most players his age and mostly played with older players at each level. This year will be key for him for his development. His 2020-2021 winter ball season was a disaster. However, with the glimpses we had of him in Spring Training, he looks like a switch was flipped. In six at-bats he got five hits. On defense, his receiving skills were so smooth.
In my opinion, he justified his spot as the Dodges number one prospect according to MLB Pipeline. If there was a DH in 2021 I could see Ruiz getting more time in the Major Leagues. For now, he will open the season on the five-man taxi squad.
Final Thoughts
Over at Dodgers 2080, we covered many of the highlights from Spring Training for our prospects. Other than the three mentioned above I looked forward to seeing many of the right-handing pitching prospects, Michael Busch, Kody Hoese, and James Outman. There isn't a lot of room for rookies on the roster this season but someone will force his way into the spotlight. I think a pitcher that could rise quickly is Landon Knack as a reliever.
I cannot wait until Opening Day and seeing Zach McKinstry make his mark over the weekend. The minor league season starts in the first week of May and we will have you covered here at Dodgers Nation and Dodgers 2080. What prospects impressed you in Spring training?
Go Dodgers!
NEXT: 3 LA Superstars Make Top 5 in MLB Jersey Sales Ahead of Opening Day