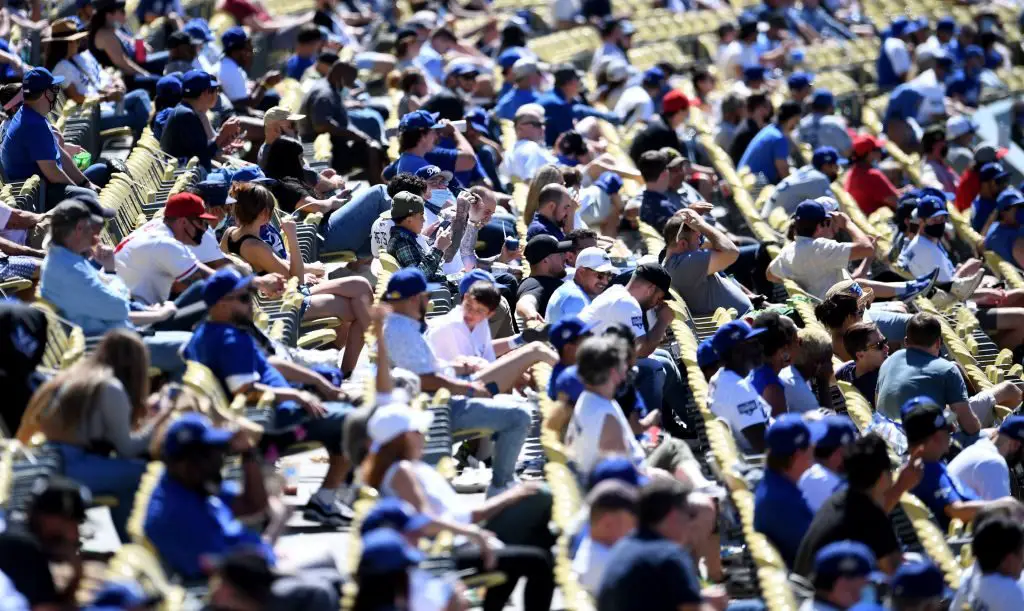 Dodgers Team News
MLB Launches Free Ticket Incentive for Fans to Get Vaccinated at Games
MLB is doing all it can to help push the COVID-19 vaccine across the country. Teams have already stepped up around the league, including the Dodgers, to incentivize fans to go out and get vaccinated as soon as possible. 
Now, MLB is looking to give away free tickets to fans who would like to get vaccinated. The league announced today that they had launched the MLB Vaccinate at the Plate initiative to take place through June 2021. 
As part of the initiative, each MLB team will host one event in June where unvaccinated fans will be able to receive a free ticket to a game if they receive the COVID-19 vaccine on location. Each team is able to decide how they will operate the giveaway and which games will be available to fans who participate. 
Major League Baseball wants to play a role in expanding the widespread adoption of the vaccines which have proven to be safe and effective. As more people get vaccinated, the rate of infection decreases and more areas of society can safely reopen. We are proud of the efforts MLB clubs are taking to help in this effort. – Dr Gary Allen, Medical Director MLB
Fans looking to find out more about the initiative can visit MLB.com/vaccine or look for more information on their team website. Throughout the pandemic, MLB has let local agencies utilize their stadiums as places to test for COVID-19 and later administer the vaccine. 
This announcement from Major League Baseball comes one day after President Joe Biden announced that the league would offer free tickets for vaccinations. That came as somewhat of a surprise to baseball fans since there had been no announcement from the league prior to that. 
Dodgers: How Some Former Players Are Doing Around MLB in 2021