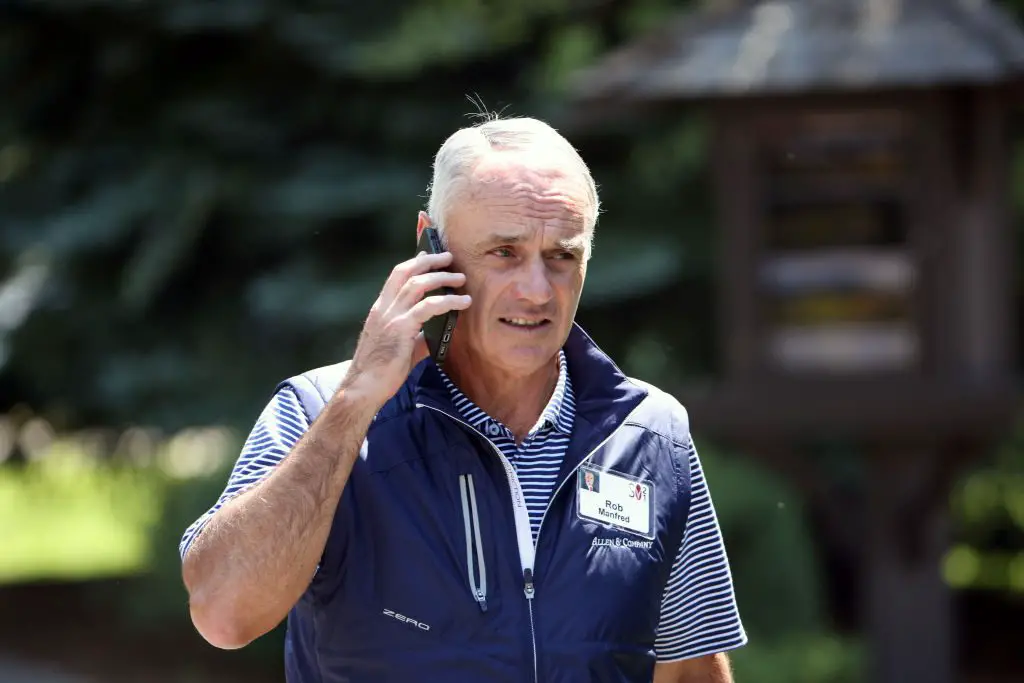 The war of words between the league and the MLBPA is heating up. On Thursday, MLB requested federal mediation for future CBA negotiations. In a statement on Friday, the MLBPA declined the request. Players took to Twitter to let their personal thoughts known.
Former Dodgers pitcher Max Scherzer, who's one of the eight players on the MLBPA executive committee, kept it short and sweet.
We want a system where threshold and penalties don't function as caps, allows younger players to realize more of their market value, makes service time manipulation a thing of the past, and eliminate tanking as a winning strategy.

— Max Scherzer (@Max_Scherzer) February 4, 2022
Another member of the committee, James Paxton provided his own words of wisdom along with the hashtag " #AtTheTable".
A significant part of Collective Bargaining is…actually bargaining #AtTheTable

— James Paxton (@James_Paxton) February 4, 2022
Former Dodgers starter Alex Wood also utilized the hashtag in a frustrated Twitter post.
It would probably take 2 weeks just for an "impartial" mediator to get caught up enough to proceed. They'd then use an already broken system/CBA as guideline toward a new deal. Makes zero sense for anybody. Players are ready to make a fair/mutually beneficial deal! #AtTheTable

— Alex Wood (@Awood45) February 4, 2022
"#AtTheTable" is in reference to the fact MLB owners did not, as previously communicated to the MLBPA, bring an offer to the table in the latest bargaining session and then, requested a mediator to help speed up the process. The MLBPA contends that a "timely agreement" can be constructed with just two parties, at the table: MLB and the MLBPA.
As always, the colorful Dallas Braden also provided his thoughts on what has been an alarmingly unproductive week of bargaining sessions.
GASLIGHT ME ONE TIME! It's even harder to understand how a group like MLB KNOWINGLY declined to bring an offer to the table that THEY THEMSELVES said they would produce & then in turn QUESTION the desire of of the opposing party to negotiate? How do you even say that out loud? pic.twitter.com/C03jhajF1M

— Dallas Braden (@DALLASBRADEN209) February 4, 2022
The Giants Trevor Hildenberger clearly believes a picture is worth a thousand words.
https://t.co/RS7jB8Endh pic.twitter.com/FK797kafSZ

— Trevor Hildenberger (@t_hildy) February 4, 2022
The smoldering acrimony between the two parties all but dooms spring training starting on time this month.
The meeting between the Major League Baseball Players Association and MLB is over. Little progress was made. The on-time opening of spring training at this point is in grave danger and, frankly, would take a miraculous deal coming together to rescue. A delay feels inevitable.

— Jeff Passan (@JeffPassan) February 1, 2022
This was a predictable turn. MLB proposes an unpopular idea as a solution, waits for the MLBPA to condemn the idea, and then publicly vilifies the players for holding up the CBA negotiations.
Clearly, the players aren't having it.
Have you subscribed to our YouTube Channel yet? Subscribe and hit that notification bell to stay up to date on all the latest Dodgers news, rumors, interviews, live streams, and more!
NEXT: AJ Pollock Talks Tom Brady Following NFL Star's Retirement