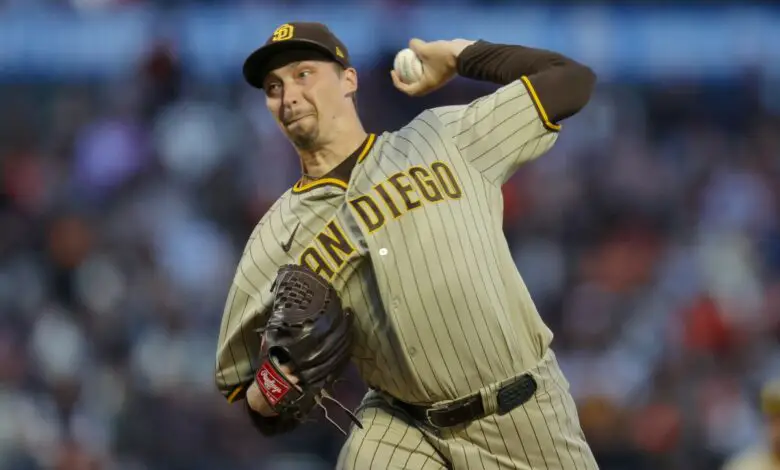 Editorials
Could the Dodgers Sign Padres Ace Blake Snell This Offseason?
Right at the top of the heap when it comes to proven free agent pitchers this offseason you'll find current Padres left-hander Blake Snell. The free-agent-to-be is the likely NL Cy Young award winner for 2023, helping cement his status as the top starting pitcher on the upcoming hot stove market. The Dodgers are a team known to be in need of starting pitching for the 2024 season, so it's pretty easy to see the connection between LA and Snell this winter.
And that's exactly what MLB.com's Mark Feinsand did.
In a recent column, Feinsand laid out the top-25 free agents for the upcoming offseason placing Snell in the number three spot on the list. He also saw the easy potential fit for the Dodgers and Snell. First, here's what he had to say about the 30-year-old
On May 19, Snell was 1-6 with a 5.40 ERA after nine starts, leading many to project that he was costing himself a ton of money in free agency. From that point forward, he was arguably the best pitcher in baseball, going 13-3 with a 1.20 ERA over his final 23 starts. Snell, the 2018 American League Cy Young Award winner, could add a second Cy Young to his résumé this season, which would make the left-hander only the seventh pitcher to earn that honor in both leagues.

Via MLB.com
Along with the Dodgers, Feinsand lists the St. Louis Cardinals and San Diego Padres as potential landing spots.
Snell has set himself up to secure the bag this offseason, with experts expecting him to field offers in the $200 million range. The Dodgers may be more inclined to explore the trade market and guys like Corbin Burnes or Shane Bieber, or even check out the Japanese import market with top starters Yoshinobu Yamamoto or Shota Imanga expected to move to MLB this offseason.
With Snell, it wouldn't be shocking to see either of the New York teams more in play on his services than the Dodgers, but that's just my two cents on the subject.
Money aside, the Dodgers would be blessed to have Snell in the rotation. But the reality of him costing $200 million over maybe 8 years and also having draft pick compensation attached may be just a bit too much for this LA front office to seriously consider.
Photo Credit: Sergio Estrada-USA TODAY Sports