Ultimate Guide to Planning Your Trip to Dodger Stadium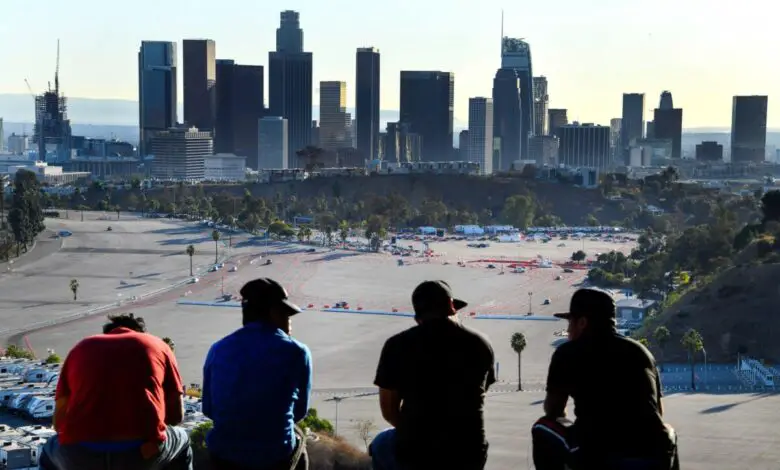 Ready to catch a game at the iconic Dodger Stadium in Downtown Los Angeles? Whether you're a seasoned fan or a first-timer, navigating to the ballpark can be a bit frustrating at times. But don't sweat it! We've got the ultimate guide to help you dodge traffic, find the best parking spots, and even sneak in some snacks. 
From the do's and don'ts of what to bring, to insider tips on entrances and exits, we've got you covered. So, lace up those sneakers, grab your cap, and let's dive into everything you need to know for a smooth Dodger Stadium experience!
Your Ultimate Guide to Planning A Trip to Dodger Stadium
The most important thing you probably need to know is how to actually get to Dodger Stadium at 1000 Vin Scully Ave. Yes, you can punch the location into your maps on your phone, and it will get you there, but it can be a little imperfect as there are multiple entrances all around the ballpark. An important tip to keep in mind is that Gate A is by far the worst way to enter the stadium. 
If you have the choice on your map application (example: Google Maps lets you choose which gate you want to navigate to), select a gate closest to where your seats are for the game you are attending or choose the gate that's closest to where you're driving from.
Here's a high level look at the best ways to enter the ballpark from the greater Los Angeles area.
From the West: Gate C (off Academy Road) and Gate B (off Scott Ave.) are your best options.
From the North: Gate D (off Academy Road) and Gate C (off Academy Road) are your best options. Gate E (off the 110 freeway) is also an option but traffic exiting from this gate can be troublesome.
From the North East (specifically off the 110 freeway): Gate D off the Academy Rd exit is far and away the best entrance to get in and out of Dodger Stadium easily. You will have to navigate through a small neighborhood for a few blocks before merging onto the expanded Academy Rd and turning left onto Academy Gate D. You can also continue past Gate D and navigate around to Gate C if you're on the Left Field side of the stadium.
From the South East (specifically off the 110 freeway): Gate E is the closest to the freeway. 
From the South: If you can avoid Gate A off Sunset Blvd, it's your best bet. Passing Vin Scully Ave and turning onto Echo Park Ave will let you reach Scott Ave and the Gate B entrance. If all else fails or law enforcement has blocked off any roads, your only option may be Gate A.
Check out our comprehensive Parking Guide for more tips, tricks, and things you need to know about navigating to and around Dodger Stadium!
WATCH OUR FAMOUS PARKING GUIDE VIDEO!
Where Are The Cheapest Places to Park Around Dodger Stadium?
The Dodgers have Lot 13 and Lot 14 just outside the ballpark on Stadium Way. Parking is $5 on game days and requires an uphill walk into the stadium grounds through Gate A and Vin Scully Avenue. Free parking is also available (although not always) on N Boylston St and Lilac Terrace off Stadium Way. More information can also be found in this video and in our Parking Tips and Tricks Guide!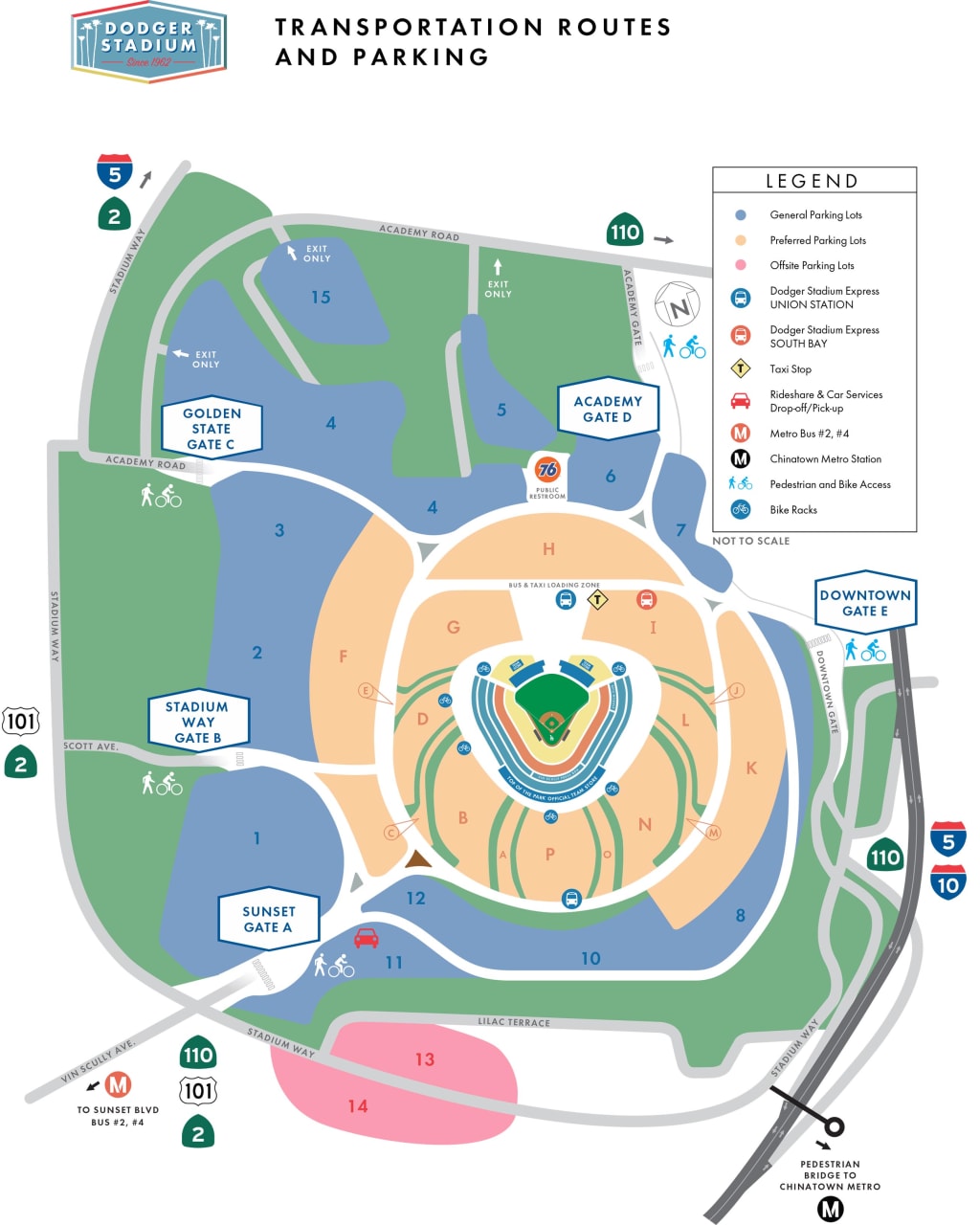 Public Transportation to Dodger Stadium
LA Metro also offers free bus rides to Dodger Stadium via the Dodger Stadium Express from Union Station and Harbor Gateway Transit Center. The bus from Union Stadium begins 90 minutes before game time and runs about every 10 minutes. 
The return service lines up behind the center field plaza and at the Top Deck and runs for 45 minutes after the final out or 20 minutes after postgame events.
Can You Tailgate at Dodger Stadium?
The short answer is no. The consumption of alcohol in the parking lot is strictly prohibited. One option would be to stop off at any one of the great local bars and restaurants in the area. For more information, check out our Guide for our Favorite Local Bars!
Can You Bring Outside Food and Water into Dodger Stadium?
Yes you can. But, all food and water must be stored in a clear bag not exceeding 12" x 12" x 6". Water bottles (plastic only) must have their factory seal untampered with.
Can I Bring My Purse or Backpack into Dodger Stadium?
No. Purses, bags, and backpacks are no longer permitted. Only clear plastic bags (not exceeding 12" x 12" x 6") are allowed. Also, diaper bags and small clutches no bigger than 5" x 8" x 2" are allowed. All bags are subject to search.
Are There Any Prohibited Items I Shouldn't Bring to Dodger Stadium?
Guns, knives, weapons, illegal drugs and other materials deemed hazardous or dangerous by Dodger personnel are prohibited. Dodger Stadium is also a smoke free environment and vape devices are prohibited.
Payments Accepted at Dodger Stadium
Dodger Stadium is a fully cashless facility. As of the 2023 season, there are five Cash-to-Card kiosks available on the stadium concourses. The kiosks convert cash to prepaid debit cards which can be used anywhere inside and outside of Dodger Stadium. Note: Kiosks only accept US currency. Up to $500 can be loaded on a card.
ADA and Handicapped / Disabled Access
Handicapped / disabled parking is available in Lots B, D, F, G, K, L, N, and P. Disabled fans will valid state-issued disabled parking permit or license plate to parking attendants for access to appropriate spaces. The Dodgers offer a limited ADA shuttle service. 
After parking, call the Dodger Hotline at 323-224-2611 to hail a shuttle. Don't forget which lot you're in!
Can I Take a Tour of Dodger Stadium?
Dodger Stadium does offer tours all year round. One way to get yourself the most familiar for a trip to and day at Dodger Stadium is to tour the third oldest ballpark in baseball! These 90 minute tours start at 10 AM local time with the last tour of the day beginning at 1 PM on game days and 3 PM on non game days. 
On the tours, you may see the trophy gallery including the World Series trophies, game memorabilia, the Vin Scully Press Box and much more. Plus you will be able to spend time on the infield dirt and in the dugout, which is a great photo opportunity.
And there are the most important things you need to know to plan your trip to the ballgame. Dodger Stadium is one of the most venerable and iconic cathedrals in all of sports and is the home to a great night out with your family and friends. With these tips, hopefully you can start your game day out on the right foot. Go Dodgers!