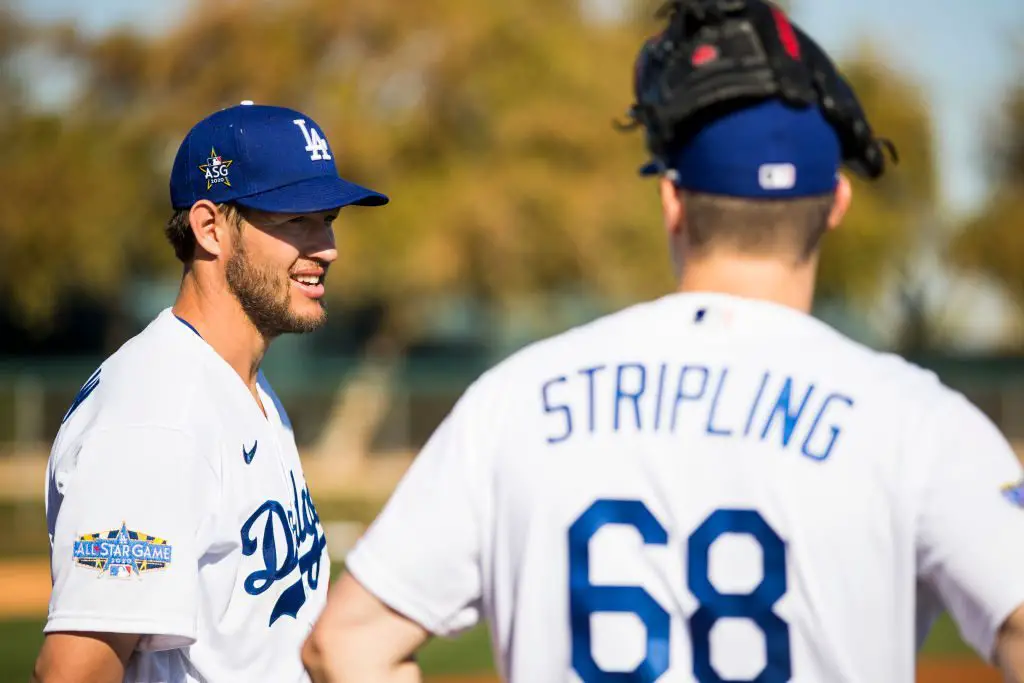 Dodgers Team News
Dodgers: Clayton Kershaw Talks Sandy Koufax in New Ross Stripling Podcast
Clayton Kershaw. Sandy Koufax. GOATs.
Dodgers fans can only imagine what it's like to sit in a room with the two and hear the stories that come with being two of the greatest of all time. If you're a real baseball nerd and a Dodger history nerd, there's a new show on the scene that might be perfect for you.
GOATs: On the Bump is an all new podcast hosted by 2018 NL All-Star and former Dodger Ross Stripling where he sits down with some of the best active pitchers of today and talks about some of the greatest pitchers of all time. In episode one, Strip welcomes 3-time Cy Young award winner Clayton Kershaw to the show to discuss the left arm of god, Sandy Koufax.
"We were trying to come up with a new concept," said Cooper Surles, producer of GOATS: On the Bump, "and we realized, 'hey, look at the network of pitchers we've been able to have on The Big Swing' and how can we parlay that into something unique. And we just didn't really see anything like that."
Definitely, you do not see honest, in-depth conversations about Koufax from active big leaguers. What makes the conversation even more special is that Stripling and Kershaw each have years of first-hand experience with Koufax.
We want to know your thoughts on our first episode with @ClaytonKersh22 on Sandy Koufax. If you haven't listened already, what are you waiting for? ????

Leave us a review here: https://t.co/SUY46kAQNk pic.twitter.com/WXn8zKL0lW

— GOATS: On The Bump (@GoatsOnTheBump) April 16, 2021
Even better, with nearly 3 years of co-hosting The Big Swing podcast along with Cooper, Stripling has turned himself into a natural conversationalist as he navigates through a not-so-standard line of questions.
"When you hear Sandy Koufax being talked about by Clayton Kershaw, it's like… wow. That's a big first episode."
And GOATs: On the Bump isn't stopping there. Surles revealed part of an impressive guest list, including current Dodgers Trevor Bauer and Walker Buehler.
"It's such an awesome show and Ross did such a great job on it. … we're really proud of it and I think baseball fans and Dodger fans alike will really enjoy it."
Talking about it doesn't do it justice. Reading about it isn't quite good enough. Go give the podcast a listen for yourself.
New episodes of GOATs: On the Bump will drop weekly on all your favorite podcast streaming services.
Kershaw Talking Koufax? Ross Stripling's new 'GOATs: On the Bump' is a Treat for Dodgers Fans
NEXT: Clayton Kershaw Talks About Retirement, Winning a Second Ring