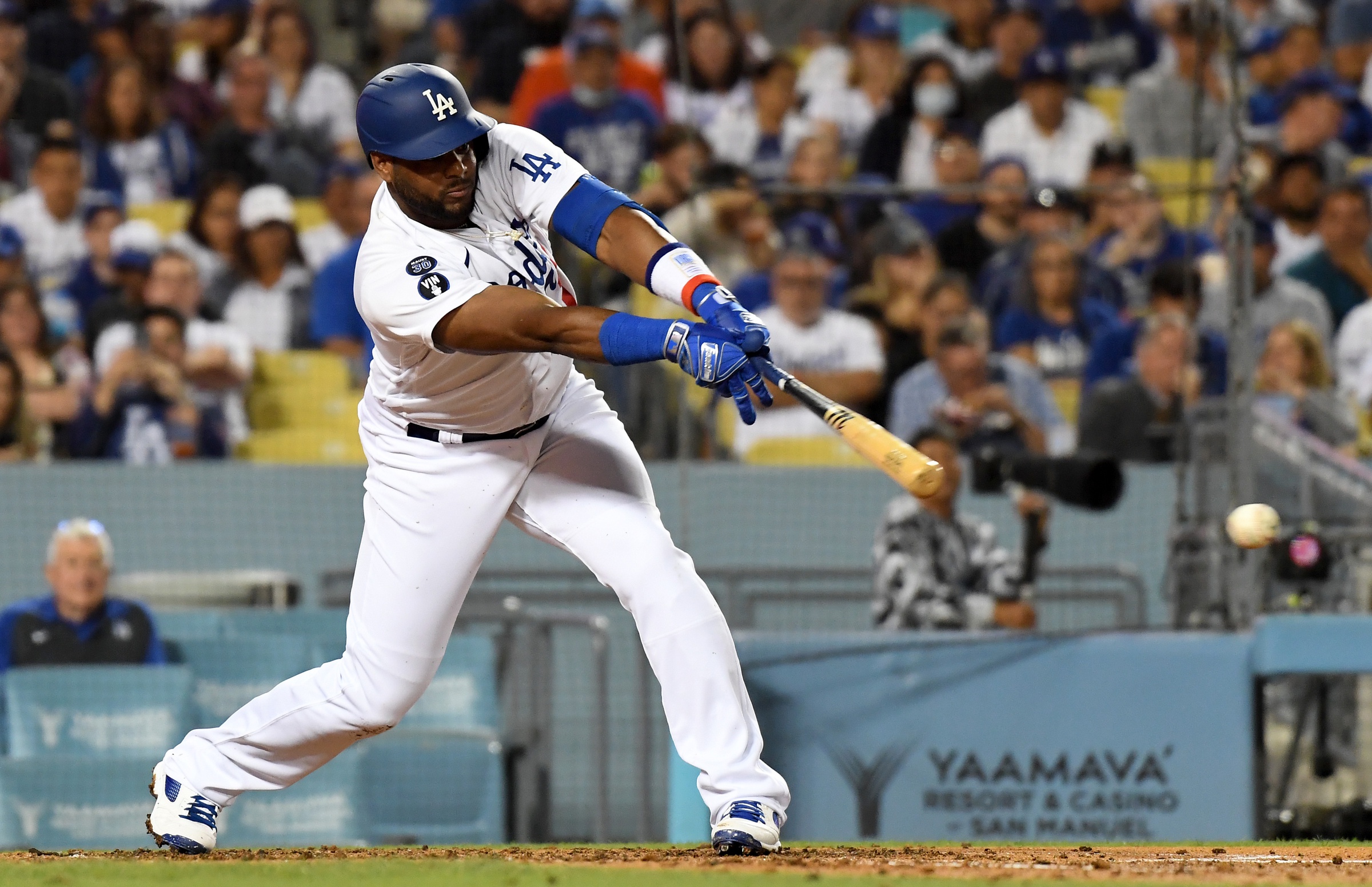 Dodgers Team News
Dodgers: Hanser Alberto Sporting Some New Jewelry Thanks to Justin Turner
Dodgers utility infielder (slash relief pitcher) Hanser Alberto has been sporting some new bling the past week or so, thanks to his teammate (and fellow occasional relief pitcher) Justin Turner.
Before the game, Hanser sat down with SportsNetLA's Kirsten Watson in the Dodgers dugout, and she asked him about the new chain he was wearing.
"It's a JT surprise, he got it for me the other day. I didn't expect that, I didn't know about it. He just told me, 'Hey mijo, come on. I got something for you.' I said, 'What you got?' And he gave me this and said, 'Hey, this is our celebration.' I said, 'Bro, come on, man. You don't have to do that.' He said, 'Hey, man, it's just something, I love you,' you know, stuff like that. And I appreciate it, it's really nice."
Alberto hasn't been very great on the field this year — just a .578 overall OPS and just .629 against lefties, against whom he was supposed to mash — but he recognizes that the value he brings to the Dodgers isn't always necessarily about his production on the field. So it means a lot to him that a team leader like Turner recognizes that, too.
"It feels good. I think people like my energy, they love the way I handle every day with happiness. … It's good to know that, because I think I do the right stuff and keep things happy and fresh in the clubhouse and here in the dugout, so I think it's a little easier for them to go out there and compete and give it 100 percent. Obviously, you gotta trust in your tools, trust in your work, but happiness is part of it. If you feel happy [when] you go out there, I think you play a little better just because you're happy and you enjoy what you're doing."
.@elpotroalberto talks to @kirsten_watson about a very special gift he received from @redturn2. ?#AlwaysLA pic.twitter.com/W2wIDAEvvz

— SportsNet LA (@SportsNetLA) September 22, 2022
Alberto is a perfect example of a guy who can be a team leader without being one of the best players on the team. The Dodgers have gotten that leadership in the past from guys like Chase Utley, Russell Martin, and Albert Pujols, and while Alberto is younger than they were in that role, he fills it well. It's also worth noting that he's not alone — guys like Turner, Freddie Freeman, Mookie Betts, and Clayton Kershaw are also bringing team leadership, albeit in different ways from Hanser.
Hopefully JT and his buddies can earn Hanser another nice piece of jewelry this fall, something for him to receive on Opening Day 2023.
Have you subscribed to our YouTube Channel yet? Subscribe and hit that notification bell to stay up to date on all the latest Dodgers news, rumors, interviews, live streams, and more!