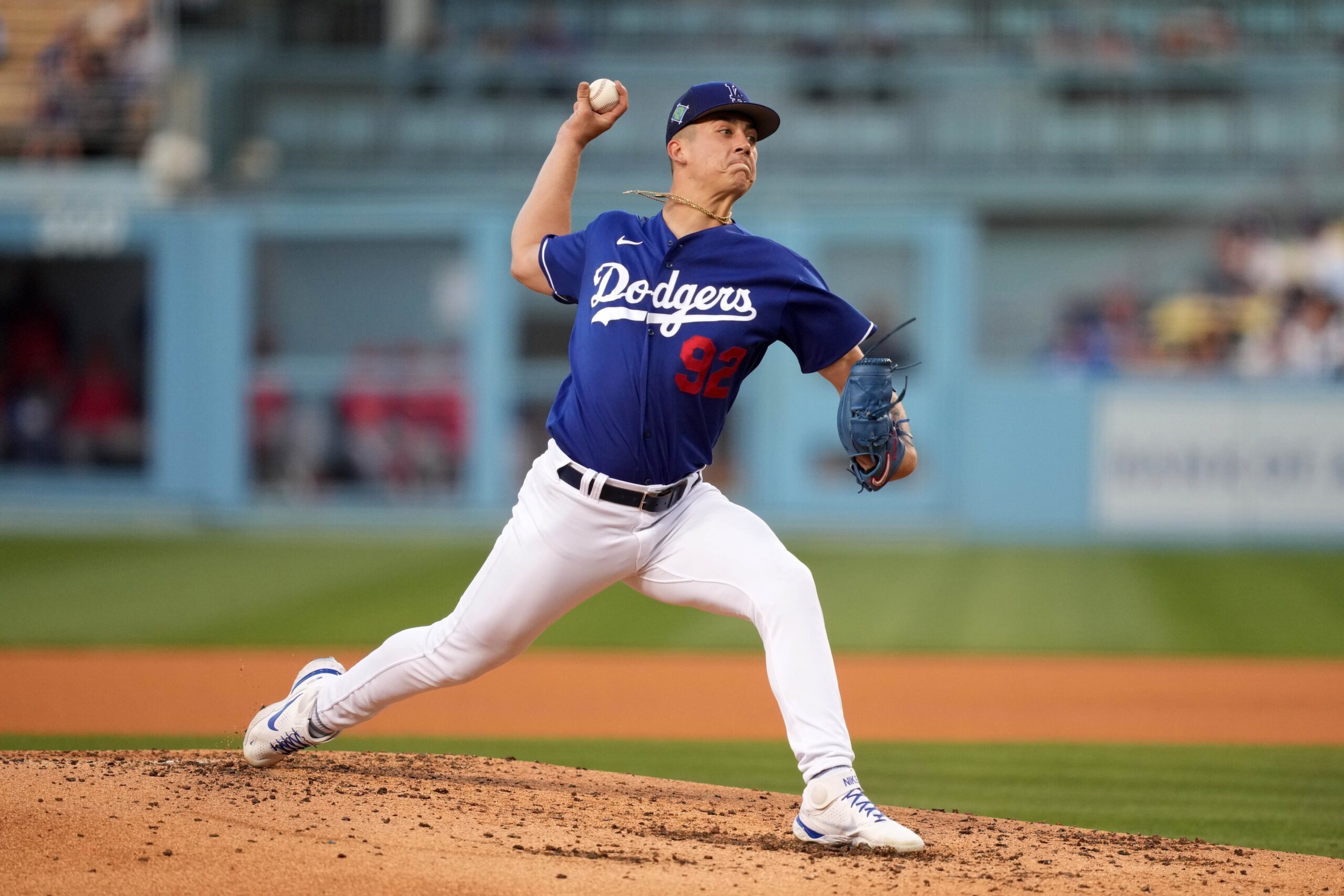 While the Dodgers struggled to warm up at the plate on Sunday afternoon, top LA prospect Bobby Miller was throwing heat in the minor leagues.
The 23-year-old, who is currently 8-8 this season, had one of his best outings since he was drafted by the Dodgers in 2020. 
Bobby Miller made probably the best start of his pro career today. He went a career high 7 1/3 innings, and was still touching 99 mph into the 8th. He struck out 9, gave up 4 hits, walked 2, and didn't allow a run. Another very exciting start to add to Miller's resume. #AlwaysLA pic.twitter.com/9C6v0A7zVZ

— Bruce K (@Bnicklaus7) August 14, 2022
Despite a 4.45 ERA, Miller has logged 117 strikeouts across the 91 innings he's pitched. According to MLB's Prospect Rankings, he is ranked 7th across all right hand pitchers in the minor leagues. 
Included in the analysis of Bobby Miller was the fact that the kid can last long on the mound while consistently throwing some 90+ MPH fastballs even deep into the game. 
"Hitters struggle to barrel his quality stuff, he's locating his pitches better than ever and he has a strong 6-foot-5 frame built to handle innings, so he has all of the ingredients to become a frontline starter."
The former Louisville Cardinal showcased his stuff this weekend, delivering nine strikeouts and a not yielding a run in 7.1 innings pitched.
Miller has now struck out 33 batters in his last 20.2 innings while issuing just 3 walks. He's the top Dodgers pitching prospect in the pitching system right now and has continued to prove why.
Just a week ago, the No. 24 overall MLB prospect (according to MLB Pipeline) produced another impressive game, collecting 11 strikeouts across six innings.
Bobby Miller's night is over, he recorded a career-high 11 strikeouts in his 6 innings, and he walked no one. He gave up 3 and had the big fastball at 99, but check out the curveball and changeup in the video below. #dodgers pic.twitter.com/Zg2aj82cbg

— Dodgers Daily (@dodger_daily) August 10, 2022
Despite the Dodgers encountering their first loss all month long, fans have something good to look for in their lower levels. Dustin May got a start today in OKC where he produced a solid 5 innings of work including 4 hits, 1 error, 1 walk, and 10 strikeouts while Miller showed out for the Tulsa Drillers finishing with 7.1 IP, 4 H, 0 R, 2 BB, 9 K. 
The future sure is bright for Dodgers Baseball.
Have you subscribed to our YouTube Channel yet? Subscribe and hit that notification bell to stay up to date on all the latest Dodgers news, rumors, interviews, live streams, and more!
NEXT: Dave Roberts and Freddie Freeman Discuss First Loss of August