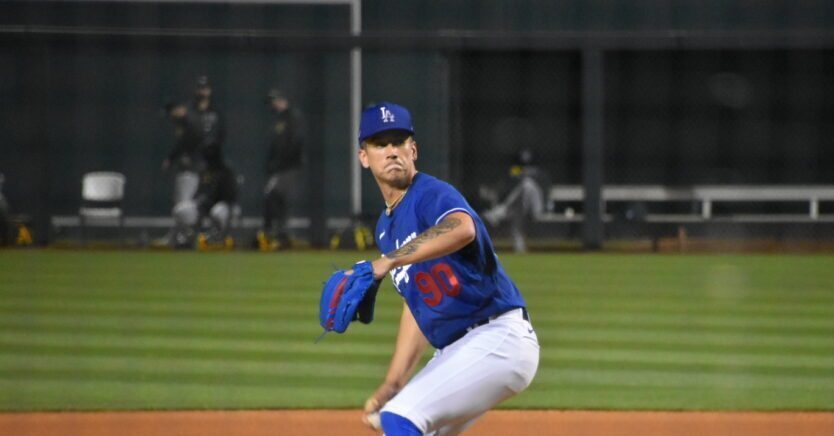 Dodgers Team News
Dodgers: Prospect Bobby Miller Credits Alternate Site for Successful First Year
Dodgers pitching prospect Bobby Miller is trying to grow his game by trimming down his offseason. The Dodgers first round pick in 2020 has been pitching in the Arizona Fall League (AFL) this year for the Glendale Desert Dogs.
Miller is mainly focused on one thing this fall.
"Mostly what I'm working on right now is bringing my curveball back into my repertoire."
Miller was first drafted by the Baltimore Orioles in 2017, but decided to pitch at University of Louisville. Smart move there Bobby. After three years at Louisville, the Dodgers drafted the 6'5" Miller 29th overall. This time, he signed.
The righty credited the alternate site with helping ease him into professional baseball last year.
"That was huge for me last year. There's really good hitters there too, a couple guys that had big league time. That helped me a lot coming out of college. Getting reads off of those hitters. Getting feedback from them and what they see. That helped me a lot coming into this year."
In 47.0 IP for the Great Lake Loons (High-A), Miller posted a 1.91 ERA and a 0.87 WHIP. Miller was promoted to the Tulsa Drillers (Double-A) in early September, but struggled to a 4.82 ERA. The consensus among scouts is that he has the potential to be a frontline starter, despite a couple of poor starts in Double-A.
In short, 17 career minor league appearances isn't enough to accurately judge any player.
Dodgers fans are likely a year or two away from seeing Miller in the majors, but he could be another great Dodger arm in the making.
NEXT: Dodgers Insider Doesn't See Corey Seager and Trea Turner in LA Together Long-Term