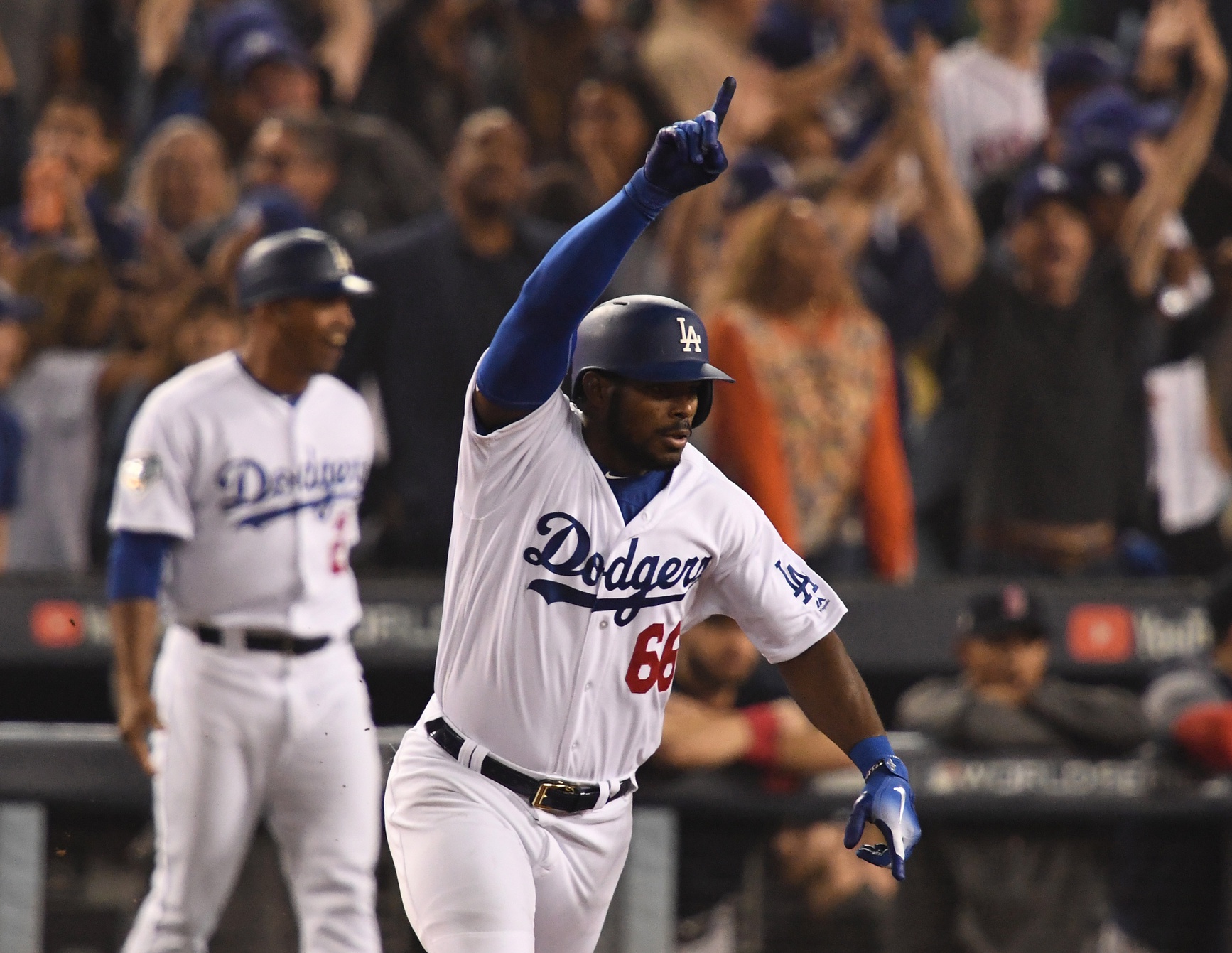 After making the trip overseas for the 2022 season, Yasiel Puig has found himself in familiar territory: postseason baseball. However, this year, he's playing for his hero and legend, Vin Scully.
On Friday night, the Former Dodger helped his Kiwoom Heroes to a Game 5 win to advance to the semifinal round in the KBO League.
He reposted this:
Prouds of this team! Let's go! #playoffs #winforvin https://t.co/oyR02DT5Lt

— Yasiel Puig (@YasielPuig) October 22, 2022
Win For Vin. He's included the hashtag in a few of his most recent tweets since the legendary broadcaster passed away.
Vin Scully was the voice of Dodgers Baseball for over 6 decades before deciding to retire in 2016. During his last three years in LA, he was able to watch the Cuban native make his mark in with the Dodgers and make a name for himself in the MLB.
Since he got his major league debut in 2013, Puig went on to spend 5 more seasons with the Dodgers before splitting the 2019 season between the Cincinnati Reds and the Cleveland Reds.
This past season, the 31-year-old right-fielder decided to sign a one-year contract to play for the Kiwoom Heroes in the KBO League. During his time there, he's posted a .252 AVG with 22 home runs, including this one just a few nights ago.
You have to keep fighting for that one moments when you knows – that ball is yours. Thank you God ?? for my first postseason home run! Lets keep winning #heroes !#postseasonKBO #playoffs #winforvin pic.twitter.com/3NUxbYGBNA

— Yasiel Puig (@YasielPuig) October 19, 2022
The news of Vin Scully's death this past August left Puig devasted in Korea. He shared his emotional thoughts in an
Instagram post
that read "I promise to do better and be better." He then shared this with TMZ,
"Vin is like a father to me, same to Tommy Lasorda and Mike Brito. We are so sad to miss all these three amazing guys. Sad for myself and for all baseball, for Los Angeles."
Even though the Dodgers weren't able to secure a World Series Championship for Vin Scully, Yasiel Puig has taken it upon himself to honor the broadcast legend with his postseason success. 
We're rooting for you over here in LA, Puig. Good luck in the semis and continue to Win for Vin.
Have you subscribed to our YouTube Channel yet? Subscribe and hit that notification bell to stay up to date on all the latest Dodgers news, rumors, interviews, live streams, and more!