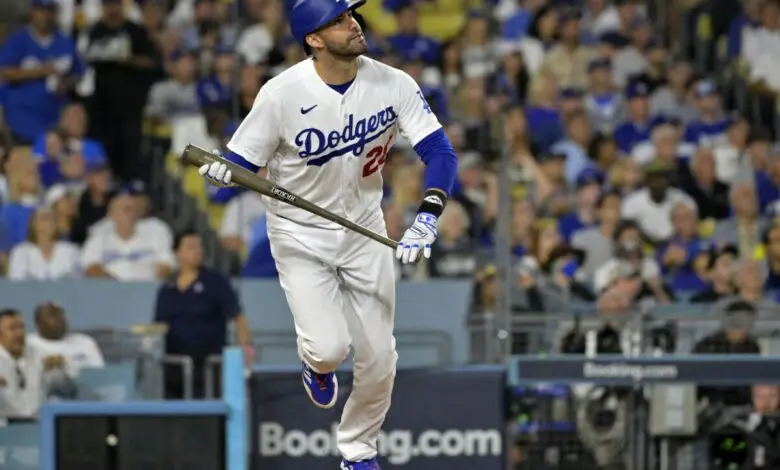 Dodgers Team News
Dodgers News: JD Martinez Breaks Silence on Instagram Following First Season in Los Angeles
One of the best parts of the Dodgers 2023 season was the strong production that designated hitter J.D. Martinez brought to the table. Martinez signed with LA during the offseason for only $10 million, and he ended up being one of the more valuable members of the team.
The Dodgers thrived off his powerful bat in the middle of their lineup, and he gave them a much-needed addition to their offense. With Martinez in the mix, the LA offense set all sorts of records during the regular season.
But in the playoffs, the offense went ice-cold. Martinez did hit a home run in Game 2 of their playoff series, being the only member of the team to do so.
Like other players, the veteran slugger took to his social media to thank the Dodgers fans and organization for everything this season. It remains to be seen if he will return next season, but judging by everything he posted, it seems unlikely.
LA may be shifting to a different designated hitter, and Martinez did what he came to Los Angeles to accomplish. He wanted to increase his value across baseball, and he did that completely with his strong season.
Martinez hit .271 with 33 home runs and 103 runs batted in for his 2023 campaign. It was a resurgent year for him, and mutually beneficial for all parties.
If he does indeed leave the team, he will be remembered as one of the biggest free agent signing steals in franchise history. While the team didn't accomplish their ultimate goal, Martinez still provided plenty of memorable moments along the way.
He hit his 300th home run as a member of the Dodgers, and he showed professionalism throughout his time here. We wish him nothing but the best moving forward if the two sides part ways this offseason!
Photo Credit: Jayne Kamin-Oncea-USA TODAY Sports
Have you subscribed to our YouTube Channel yet? Subscribe and hit that notification bell to stay up to date on all the latest Dodgers news, rumors, interviews, live streams, and more!