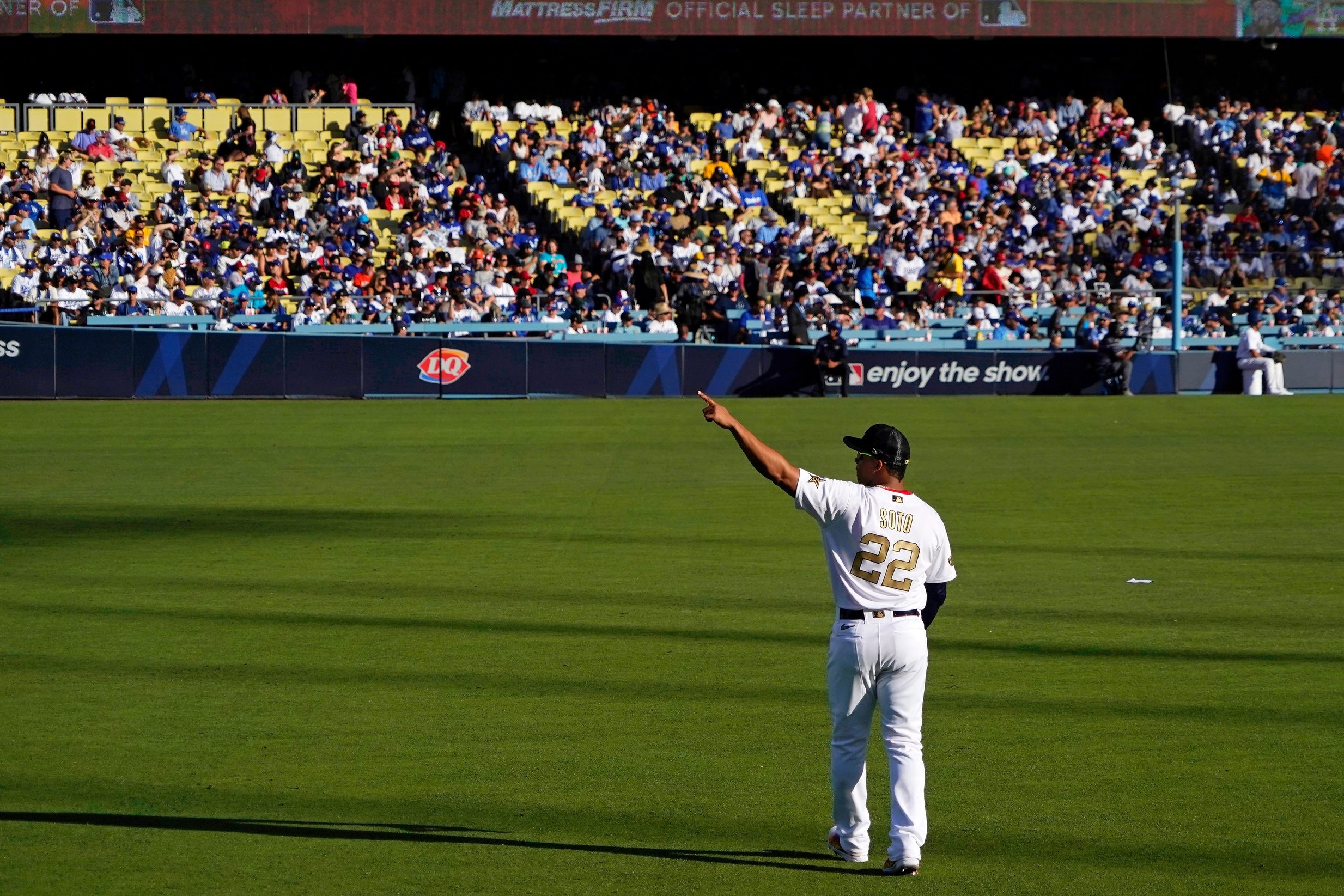 Dodgers Team News
Dodgers News: MLB Writer Puts Together a Wild Trade Package for Juan Soto
The Juan Soto to the Dodgers rumor mill is officially turning. That was sparked this week when the Nationals superstar turned down a massive contract extension and news came out about internal struggles with the team. When Soto came to LA for the All-Star Game, fans went hard at their recruiting. 
It also very much sounds like Washington is willing to listen to offers from other teams on Soto now. That really fueled the fire for Dodgers fans. But that has also led many to wonder what a package for a generational hitter even looks like. 
The Athletic's Jim Bowden did his best to come up with a deal for the Dodgers. And from what it sounds like, they would have to give up a whole lot of current and future talent if they wanted to land Soto in a deal. 
"The Dodgers could offer infielder Gavin Lux and put together a package of prospects from their loaded farm system, starting with power right-hander Bobby Miller or righty Ryan Pepiot, along with two more position players from a group of infielder Miguel Vargas, outfielder Andy Pages, shortstop Wilman Diaz or second baseman Michael Busch."
Obviously, that's a lot for the Dodgers to give up for Soto. That would essentially be Gavin Lux and at least 3 of their top 5 prospects. That price tag alone might be enough for Andrew Friedman to back out of a potential deal. It's also further complicated by the fact that Soto will eventually command a record contract when he hits free agency. 
But there's always hope, and you know that Friedman will keep an eye on any possible move. 
Looking for more Dodgers News? Subscribe to our YouTube Channel! Subscribe and hit that notification bell to stay up to date on all the latest news, updates, rumors, interviews, live streams, and more!
Dodgers News: Mookie Betts Shows Love to Old Teammate Ahead of All-Star Game