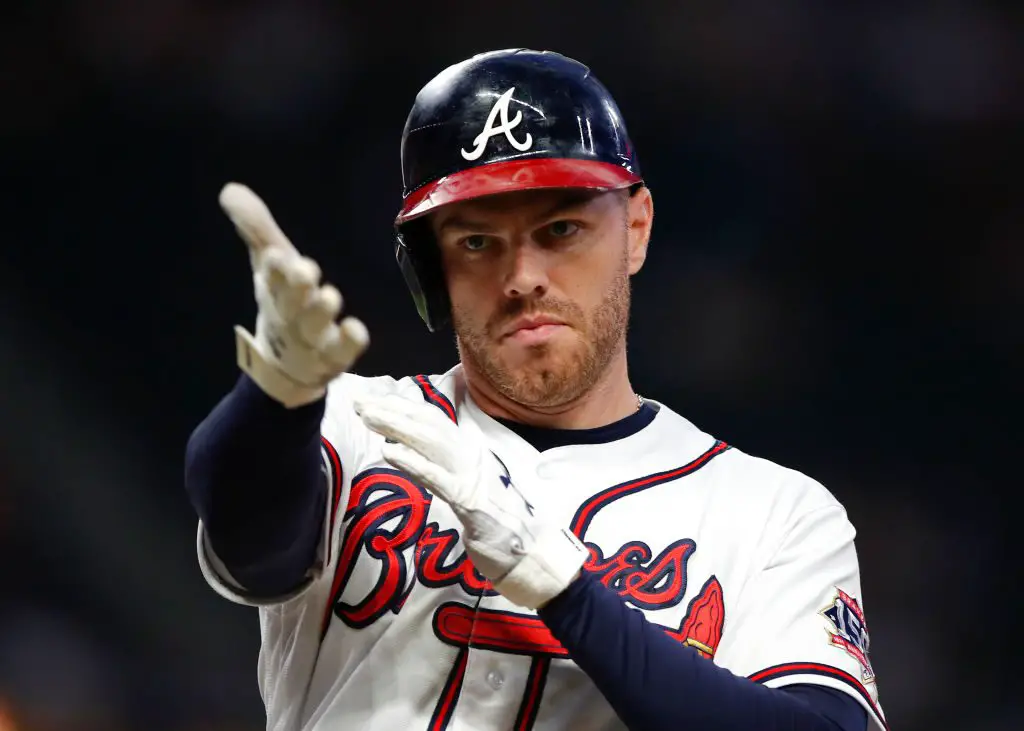 Editorials
Dodgers Rumors: LA is Top Team for Freddie Freeman if He Doesn't Re-sign With Braves!
Heading into free agency this winter, Freddie Freeman was fully expected to re-sign with the Atlanta Braves, but a deal never got done before the CBA expired leading to widespread speculation that the former MVP could be open to signing elsewhere. With the Dodgers looking to replace a gaping hole left by Corey Seager, LA continues to be linked to the star free agent first baseman.
According to MLB insider Jon Heyman, Freeman may ultimately decide between signing with the Dodgers or Braves. A decision by Freeman would have to wait until a new CBA is reached, but just because a deal between the Dodgers and Freeman can't be agreed upon during the lockout doesn't mean we can't take we take a look at what a potential lineup could look like if LA were to sign the 5-time All-Star.
Potential Lineup
Leading off is one of the premier leadoff hitters in the game, Mookie Betts. Following him is one of the most complete hitters in baseball, Freddie Freeman. In the three hole, the reigning NL batting Champion, Trea Turner, who crushed a career-high 28 home runs last season. Cleaning up is the Dodgers most prolific slugger since he joined the club, Max Muncy. Then, batting fifth, is arguably the club's most clutch bat, who is primed to make his first career all-star team next year, Will Smith.
If he picks up where he left off in the 2021 postseason, Cody Bellinger could move up in the order quickly, but for now we'll pencil him in at sixth in the order until he proves that his resurgence is real. Then batting seventh at the DH spot, is Justin Turner. Yes, it's almost unthinkable to have JT this low in the order, but even before he went down with a hamstring injury that ended his season, there was a strong possibility that he would be moved down in the order. Then, coming off his best year in LA is AJ Pollock, followed by the recently re-signed super-utility man, Chris Taylor. My guess is that Doc's loyalty and penchant for seniority will lead to JT batting higher in the order and possibly starting the season as the opening day starting third basemen with Chris Taylor starting in left and assigning AJ Pollock the DH duties.
But the most pressing question for the Dodgers, if they were to sign Freddie Freeman would be: could Max Muncy get the job done playing primarily at second base and possibly some third when he regains full health? Further, the team would also have to decide on what to do with Gavin Lux. Would they look to trade the talented, young infielder in a trade to help fortify a rotation that is in desperate need of another frontline starter following Scherzer's decision to sign with the Mets and the continued uncertainty with Trevor Bauer? Or will they keep him and groom him for a utility role?
So, there will be plenty of questions to be answered if the Dodgers are able to add Freeman, but if you can sign a player of his caliber, for a somewhat reasonable contract, you do it one hundred percent of the time.
WATCH
Have you subscribed to our YouTube Channel yet? Subscribe and hit that notification bell to stay up to date on all the latest Dodgers news, rumors, interviews, live streams, and more!
NEXT: Diego Cartaya Turning Heads as One of Baseball's Best Prospects