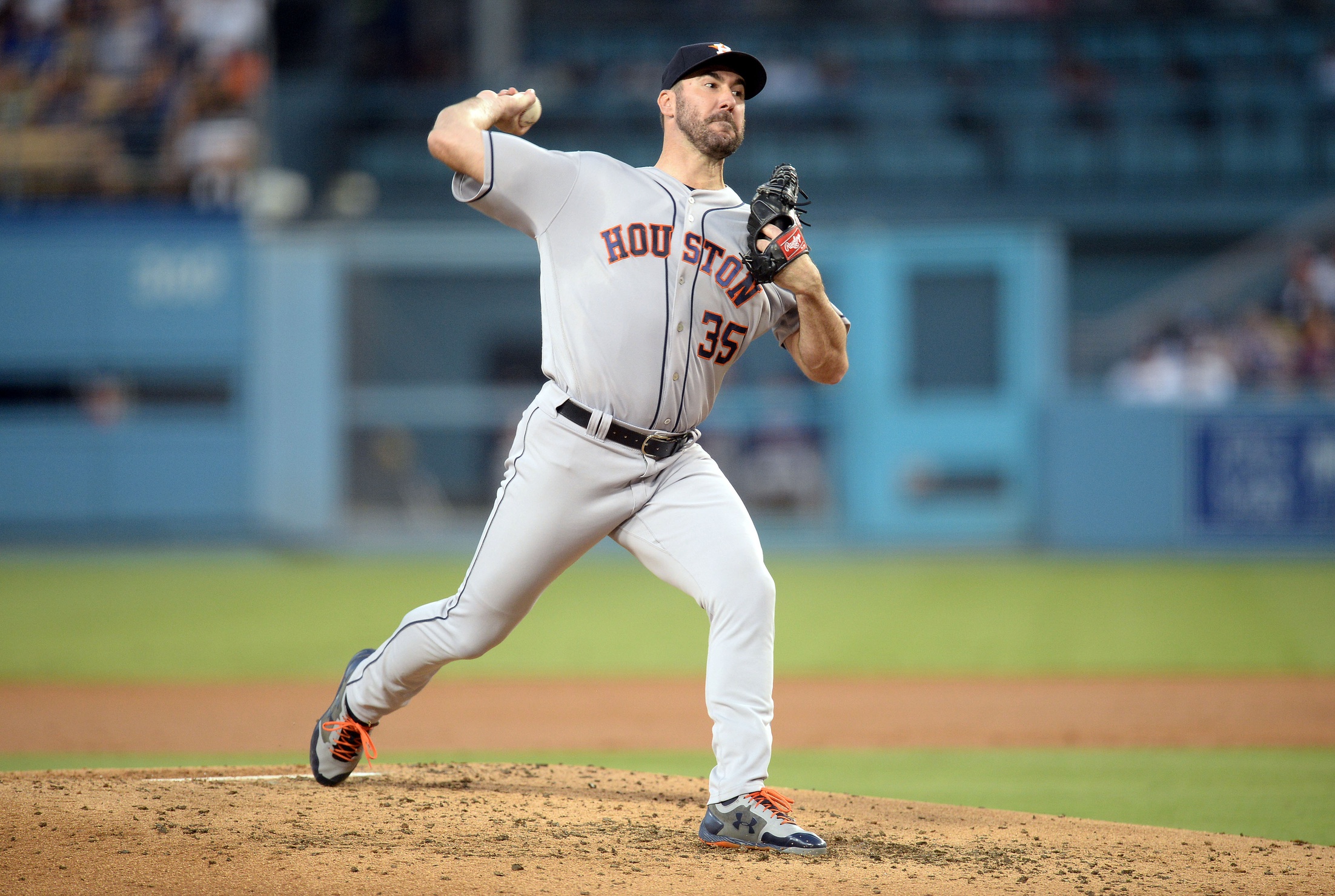 The Dodgers are looking for starting pitching this offseason, and reigning American League Cy Young Award winner Justin Verlander makes a lot of sense for a lot of reasons. He won't be cheap, of course, but because of his age — he'll turn 40 in February — he also won't command as many years as a younger pitcher might. Verlander also wasn't eligible to receive a qualifying offer from the Astros, which means the team that signs him won't lose draft picks or international signing bonus money like they would for signing Carlos Rodon, Jacob deGrom, or others who received the QO.
Of course, all the reasons Verlander makes sense for the Dodgers apply to a lot of other teams, too, so it was no surprise to read in The Athletic that the Mets are interested in Verlander, too.
The New York Post reported Saturday that the Mets are "considering" Verlander. The discussions between the parties indicate that the team's interest in Verlander is more than simply theoretical. The Post, however, also reported the Mets believe they will re-sign deGrom if their offer to him is close to or equal to the others he receives.

For the Mets, the casting of a wide net is due diligence and hardly a surprise. Carlos Rodón, another top free agent, likely is on their potential target list as well. The team's rotation presently consists of Scherzer, Carlos Carrasco and the less established Tylor Megill, David Peterson and Elieser Hernandez, whom the team acquired in a trade from the Marlins on Friday.

Verlander, obviously, is not only on the Mets' radar. The World Series champion Astros want him back. The Dodgers and possibly the Yankees are among the other clubs that view him as an attractive short-term, high-dollar investment.
There are plenty of drawbacks on Verlander, too. While his age works in a team's favor as far as the length of contract, he's still reportedly seeking a three-year deal worth more than $40 million per year, and paying that much for a guy's age-40 to age-42 seasons — especially a guy who had Tommy John just a couple years ago — is risky, to say the least. And like all members of the 2017 Astros, Verlander has some extra baggage, although as a pitcher he falls in the "knew about it and didn't say anything" camp more than the "actively cheated to steal a World Series" camp, so that makes it a little better.
Add it all up, though, and there's unsurprisingly a lot of demand for Verlander.
Have you subscribed to our YouTube Channel yet? Subscribe and hit that notification bell to stay up to date on all the latest Dodgers news, rumors, interviews, live streams, and more!