Dodgers Team News
Victor Gonzalez's Return to Dominance for the Dodgers: How Did He Get Back?
Victor Gonzalez has been electric for the Dodgers since being recalled on April 25th. He's also been something of a catalyst for the club, with LA going 9-4 in the 13 games since he returned. It was a long road back to dominance for the lefty reliever. And it has people wondering exactly how he got back to this point.
First, Gonzalez burst onto the scene in 2020 after nearly walking away from the game two years prior. He became one of Dave Roberts' top lefty choices out of the bullpen en route to the organization's first World Series title in more than three decades.
In 2021, he pitched well for most of the first half of the year until nagging little injuries derailed his season. A knee issue, plantar fasciitis in his left foot affected his command and he pitched his way out of LA's plans by August.
He opened 2022 pitching well during spring training before inflammation in his left elbow led to arthroscopic surgery. Victor eventually came back to pitch in a handful of games at Triple-A toward the end of the season, but Roberts said he wouldn't be part of the postseason plan for LA.
So How Did Victor Gonzalez Force His Way Back into the Picture?
In a word, dedication. Following the 2021 season, Gonzalez began to really focus on his conditioning. Since then, it's led to a 30+ pound weight loss and got him in the best shape of his life.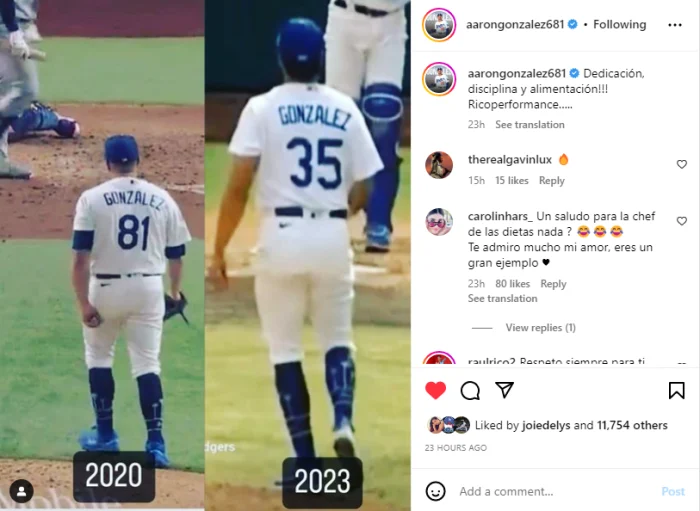 Beyond the fitness, at 27, he's throwing his hardest fastball yet, averaging 95.3 miles per hour. He's also relied on his changeup more than ever, helping amplify his devastating slider. Altogether, Gonzalez has increased the chase % on his fastball and changeup to career highs, and swing and miss % on his fastball, changeup and slider to career highs.
Sure, it's a small sample size at just 6 appearances so far, but it's looking sustainable and he's looking like a dangerous weapon for the Dodgers going forward as long as he can stay healthy.
Have you subscribed to our YouTube Channel yet? Please subscribe and hit that notification bell to stay up to date on all the latest Dodgers news, rumors, interviews, live streams, and more all year long!