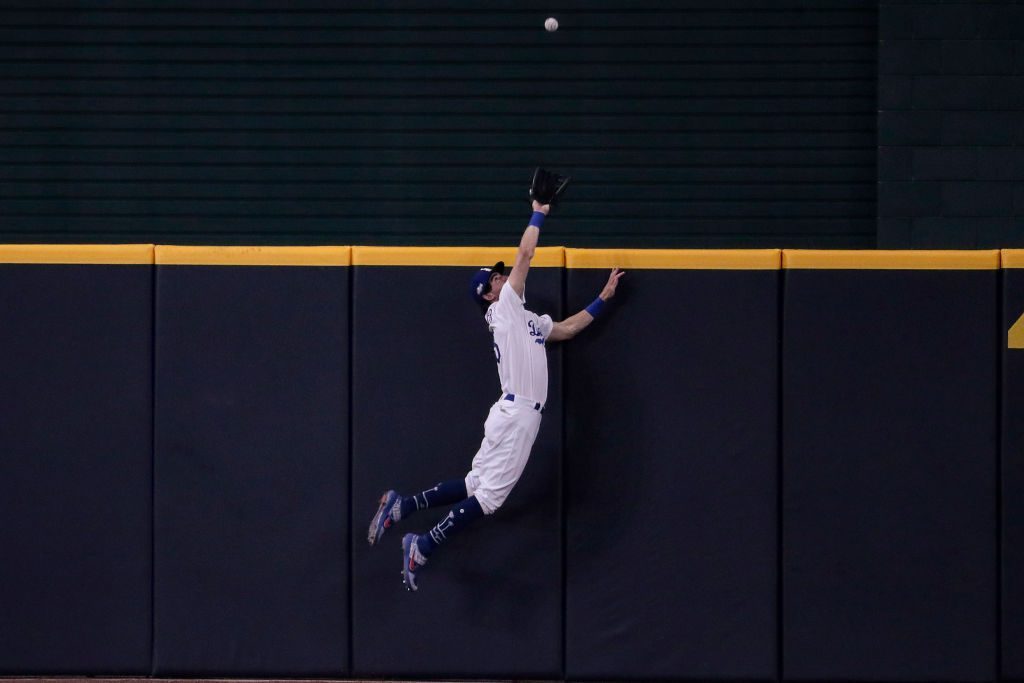 Dodgers fans know that there were plenty of exciting games in 2020. The acquisition of Mookie Betts alone helped to make every moment of the short season a thrill. But these 3 games, in particular, made MLB's Top 15 Best Games of 2020. 
#14 Taylor's Walk-Off Throw
Personally, this game was one of the first times that I felt like baseball was actually back. With the Dodgers up just 1 run in the 9th inning, the Padres were rallying with runners at the corners and just 1 out. Manny Machado lined one into leftfield sharply with the change to tie the game on a sacrifice fly. Chris Taylor had other plans. CT3 lasered in the throw and nailed Trent Grisham at home for one of the most exciting game-ending plays that you will ever see in a regular-season game. 
#5 Dodgers Rally to Win Pennant
The fact that the Dodgers were able to force a Game 7 of the NLCS alone was a miracle after falling down 3 games to 1. But Los Angeles was also trailing in a huge Game 7 by a run heading into the 6th inning until Enrique Hernández tied it up with a solo shot. Cody Bellinger would later hit a mammoth blast to take the lead and sent Los Angeles to the World Series. Bellinger would also dislocate his shoulder in the celebration, but we won't talk about that. 
#2 Padres-Dodgers Postseason Thriller
Game 2 of the National League Division Series had everything that you could ask for out of a baseball game. The Dodgers and Padres traded blows all game long, coming to a climax with Cody Bellinger's ridiculous homerun robbery of Fernando Tatis Jr in the 7th inning. The catch would also spark some anger from San Diego's bench as Brusdar Graterol fired his hat in the air during the celebration. 
The Dodgers did not have the game of the year, falling just short to the Rays in Game 4 of the World Series on the list. Considering we got to take home a World Series trophy at the end of the season we'll let them have this one. 
What about you? What was your favorite Dodgers game of the year?
Have you subscribed to our YouTube Channel yet? Subscribe and hit that notification bell to stay up to date on all the latest Dodgers news, interviews, live streams, and more!
Dodgers: Clayton Kershaw Feels He Benefitted from Lesser Role in Postseason