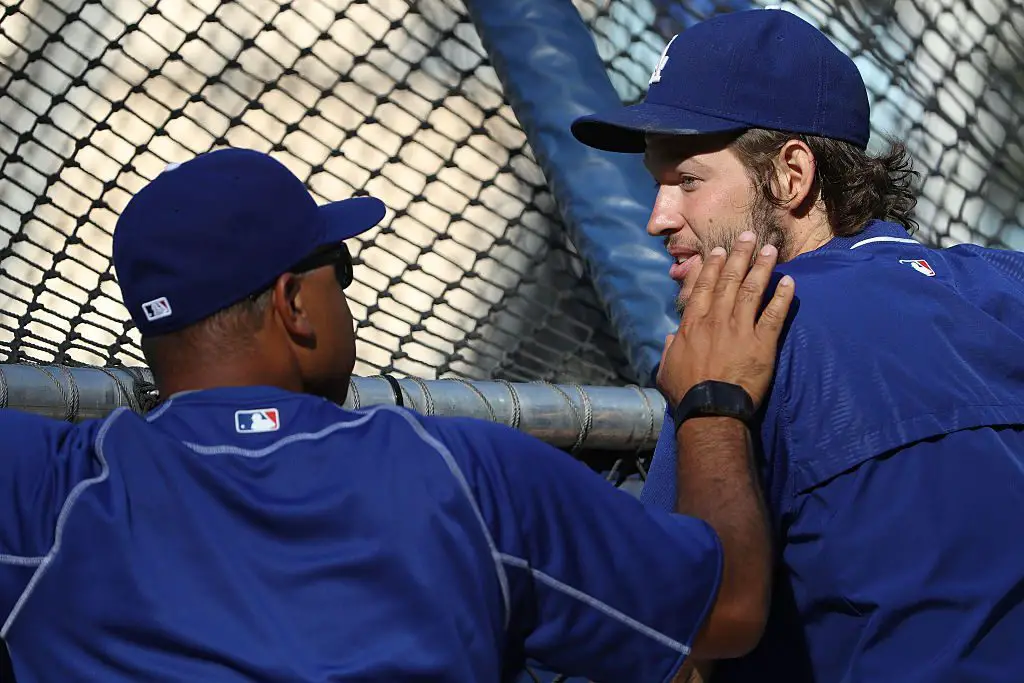 One of Dave Roberts's most important jobs as the Dodgers manager is to handle the uber-talented starting rotation. Each starter has a very different, distinctive personality – they can't all be managed the same. Especially on the days they start. Roberts revealed which starter he talks to the most on the day they take the mound.
"I would say I talk to Walker the most, then Trevor, and then Julio and Clayton – I don't talk to on the start days."
Kershaw is notoriously robotic on his start days so no surprise there. He's followed the same routine for years and yucking it up in the clubhouse isn't part of his pregame program. Buehler on the other hand, prefers to keep it a little looser with Roberts.
What Roberts and Buehler Talk About
"With Walker, it could be about anything from cars, whiskey, to wine, to watches, to baseball."
Roberts is a well-noted "wine guy". He and his wife Tricia are part of the ownership group of Red Stitch Wine, along with former San Francisco Giant Rich Aurilia.
More importantly, whatever Roberts and Buehler discuss on Buehler's start days, it's aging well. Through his June 13th against the Rangers, Buehler has the lowest ERA of his career for a regular season (2.38). He also his best WHIP (0.94) and ERA+ (159).
One marked difference in Buehler this year is his approach with hitters. Rather than trying to strike every batter out, he's pitched to induce weak contact too. His strikeouts per nine innings is a career low 8.3.
Roberts is one of the most heavily scrutinized managers in baseball – and he should be. He's in charge of one of the best rosters, and rotations, in the majors.
That being said, you can't argue with the results of the starting staff. Through Friday, Roberts has steered the rotation to the second best starter ERA in MLB (2.93).
Now that is something to talk about.
Dodgers: Steven Souza Jr Was So Pumped Up After His Home Run That He Almost Made A Huge Mistake