Players
Dodgers Nation Milestone Giveaway: Win an Authentic Mookie Betts Jersey
We're thrilled to have you as a part of our ever-growing community! Thanks to your support and enthusiasm, we're excited to announce that we're approaching a monumental milestone: 70,000 subscribers on our YouTube channel!
To express our gratitude for your unwavering support, we're hosting an incredible giveaway that's sure to hit a home run with every Dodgers fan out there.
Giveaway Prize: An Authentic Mookie Betts LA Dodgers Jersey!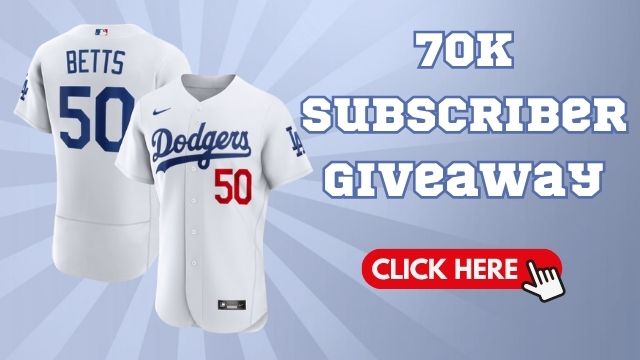 Imagine owning a piece of history – an authentic Mookie Betts Dodgers jersey that represents the heart and soul of Los Angeles baseball. This prized possession could be yours, and all it takes is your subscription to our channel.
How to Enter:
Make sure you're subscribed to the Dodgers Nation YouTube channel.
Help us reach the 70,000 subscriber milestone by sharing our channel with friends and fellow Dodgers enthusiasts.
Keep an eye on our updates – as soon as we hit 70,000 subscribers, the winner will be randomly selected from our subscriber list.
Whether you're a lifelong Dodgers devotee or just starting to catch the baseball fever, this giveaway is your chance to win big and showcase your team pride. And remember, the more you spread the word, the closer we get to that magic number!
Don't miss out on this exciting opportunity to win an authentic Mookie Betts Dodgers jersey. Subscribe, share, and stay tuned for our subscriber milestone celebration!
Thank you once again for being an integral part of our community. We can't wait to see who the lucky winner will be – it could be YOU!