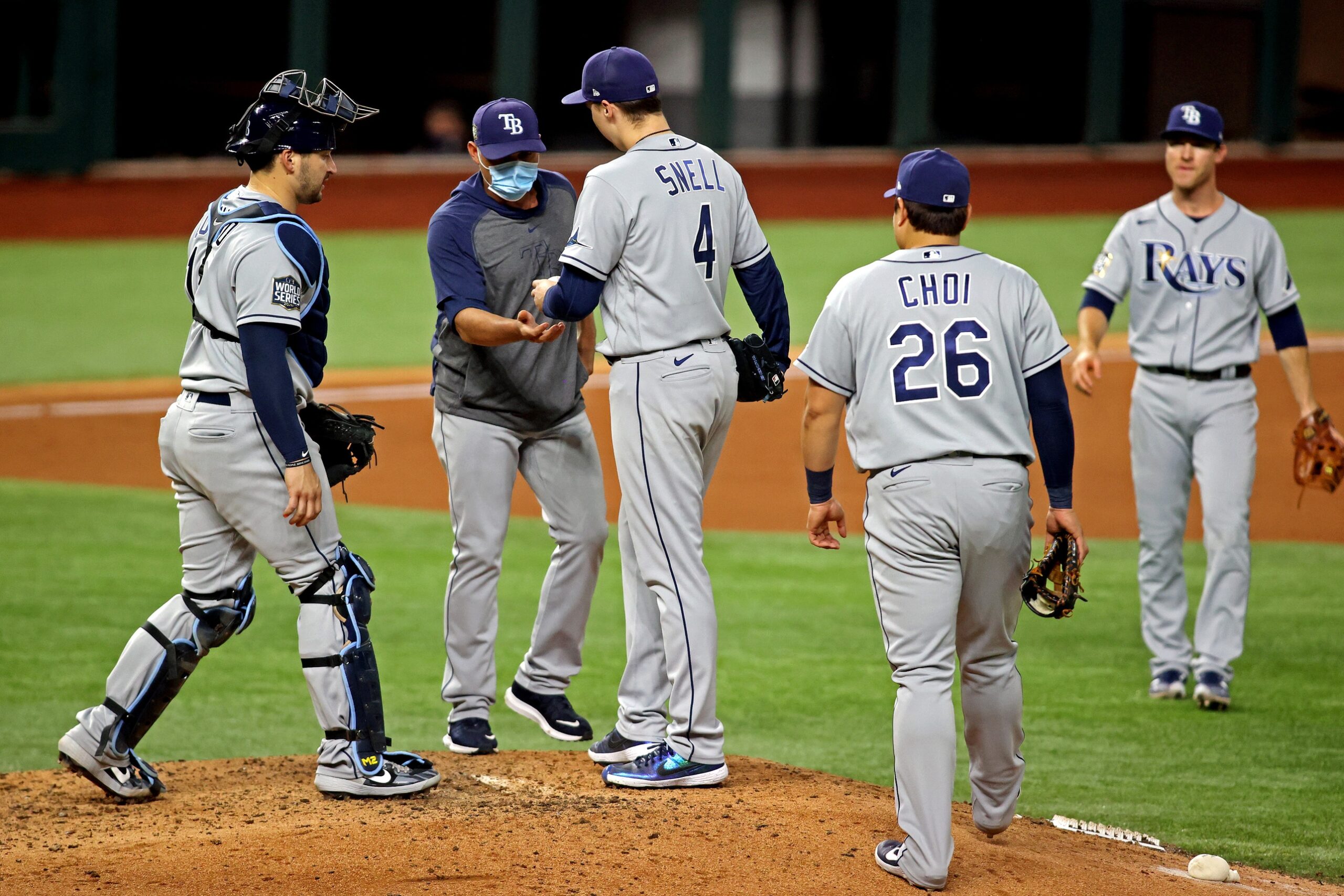 Dodgers Team News
Dodgers News: Blake Snell Dodges Questions About Dominant World Series Start vs LA
In Game 6 of the 2020 World Series, Blake Snell started for the Rays against the Dodgers. Snell was dominant, throwing 5.1 shutout innings on 73 pitches. In the bottom of the sixth, though, Austin Barnes hit a one-out single to center, and with Mookie Betts coming up to start the third time through the Dodgers' order, Tampa Bay manager Kevin Cash made the infamous decision to pull Snell from the game and bring in Nick Anderson.
Two batters later, Tampa Bay's 1-0 lead had turned into a 2-1 deficit, and three innings after that, the Dodgers were hoisting the World Series trophy and wondering why Rob Manfred was talking so funny. (If you know, you know.)
With Snell getting ready to face the Dodgers in the postseason yet again on Friday night, he was naturally asked about that ill-fated Texas evening two years ago, as Bill Plunkett reports on Twitter.
"I knew that question was coming. That was inevitable. Yeah, it was one of my best starts. I'll keep it at that. Two years ago, man. I've got to flip that page, read a different book, learn, get better. …

"It's a different team. They've got Freddie Freeman, they've got Trea. It's just a whole different team two years ago. It's a different team. They're a lot better, I think. They've gotten pieces that have made them a lot stronger hitting-wise. Yeah, I can't wait. I'm excited for the matchup. It's something that I'm really looking forward to. I really like facing these guys because I know how good they are."
Snell has faced the Dodgers eight times over the past two regular seasons, but a postseason start was bound to bring up these questions. It's not surprising that Snell isn't eager to revisit 2020, because as he says, this year's Dodgers team is quite a bit different from that 2020 team.
The question now is whether he can repeat his dominant World Series performance now that he has a manager who might let him go deeper in the game. Of course, Snell averaged nearly 21 pitches per inning in his three starts against L.A. this season, so if Snell wants to get deep in this game, that's what he needs to figure out.
Have you subscribed to our YouTube Channel yet? Subscribe and hit that notification bell to stay up to date on all the latest Dodgers news, rumors, interviews, live streams, and more!