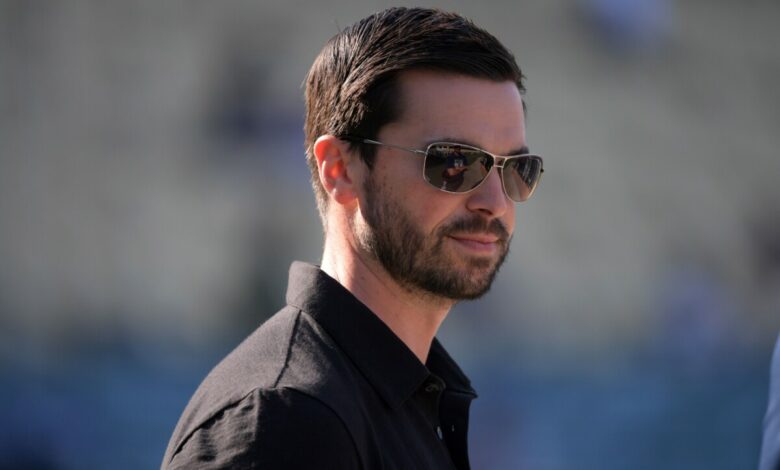 Dodgers Team News
Dodgers News: GM Brandon Gomes Declines Opportunity to Interview for Boston Red Sox Job
The Dodgers have won a ton of games over the years, and while that hasn't translated into World Series victories, it's still impressive. Of course, winning in the postseason is the only thing that matters, but let's also not take for granted what LA has accomplished.
It's not easy to win in the big leagues, and many teams would kill to have the success that LA has seen. But at the end of the day, the Dodgers have a championship-or-bust mentality.
The way that the front office has put together the rosters over the years has been a major talking point. But it's not just President of Baseball Operations Andrew Friedman that makes this team tick, but also the input from general manager Brandon Gomes.
Many believe Friedman is the GM for this Dodgers team, but Gomes plays a valuable part in everything LA does. He is the right-hand man to Friedman, and the two are in lockstep to form this Dodgers powerhouse.
There had been talk about Gomes potentially leaving LA for another role this offseason, but it seems that he may end up staying after all. He reportedly turned down an interview to head up the Boston Red Sox.
Now it remains to be seen if Gomes was turning down the opportunity due to the team itself, or because he wants to remain in Los Angeles. But either way, it seems that Gomes will be staying with the Dodgers for next season.
He has been with the Dodgers since he retired from baseball after the 2016 season, and he has worked his way up since. Maybe one day he will be running the show in LA whenever Freidman is done, and maybe that is why he stayed for now.
Either way, this is a win for the Dodgers, and they keep a key piece to their front office. LA had lost a few members over the years, so for Gomes to turn down an opportunity says a lot.
Photo Credit: Kirby Lee-USA TODAY Sports
Have you subscribed to our YouTube Channel yet? Subscribe and hit that notification bell to stay up to date on all the latest Dodgers news, rumors, interviews, live streams, and more!