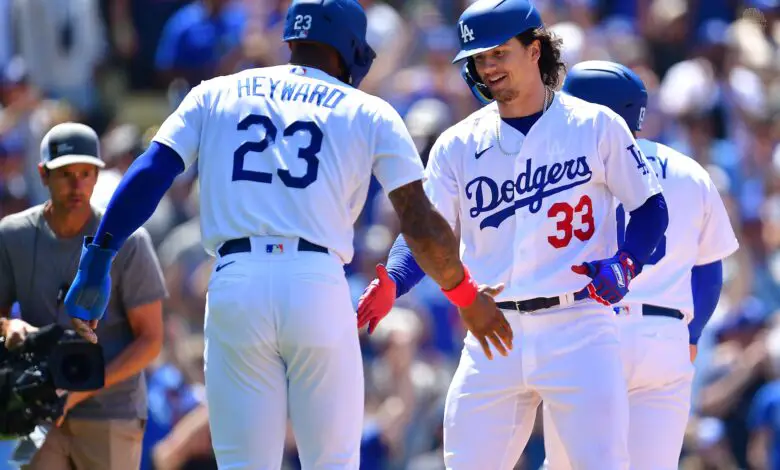 Dodgers Team News
Dodgers News: James Outman Reveals How Jason Heyward Has Mentored Him This Season
Throughout the season, James Outman has been towards the top of the best rookies in the National League. While he may not have done enough to win the Rookie of the Year award, Outman has done enough to prove that he is a bonafide MLB player.
On his way to a successful rookie season, Outman was taking advice from all of his veteran teammates. One of his teammates who had the biggest impact on his transition to the MLB was Jason Heyward.
Although he's in his 14th year in the league, Heyward was spending his first season with the Dodgers just like Outman. The Dodgers rookie talked about the impact the longtime veteran has made on him in his first year in the bigs.
"He's just been a great mentor to me. Kind of ever since spring training, he's always trying to help me get better," said Outman. "I think that speaks a lot to his character, especially considering there were only so many outfield spots and stuff like that. He kind of took me under his wing right away. He's just been a steady mentor for me."

Via Orange County Register
Going into the season, the Dodgers had many question marks in the outfield. Outman and Heyward both were not guaranteed to make a spot on the team with the crowded outfield. Through spring training both players played well enough to make the team, especially when Gavin Lux went down with his torn ACL.
The Dodgers found a diamond in the rough with both players. Heyward went on to have one of the best seasons of his career. He batted .269/.340/.473 with 15 home runs and 40 RBIs.
Outman was towards the top of the rookie rankings in home runs and OPS. He slugged 23 long balls which was seventh amongst rookies and had a .806 OPS.
Without the help of a veteran like Heyward, there is no telling how the Dodgers rookie would have ended up this year. Now the team knows that they have two reliable outfielders both in very different stages of their careers.
Photo Credit: Gary A. Vasquez-USA TODAY Sports
Have you subscribed to our Youtube Channel yet? Subscribe and hit that notification bell to stay up to date on all the latest Dodgers news, rumors, interviews, live streams, and more!