Dodgers Team News
Dodgers Officially Remove Julio Urias Bobblehead Night from Calendar
The Dodgers announced that the team will not be giving away the Julio Urias Team Mexico bobblehead that was set to be distributed to fans on September 21. Instead, they will do a giveaway of "select premium bobbleheads" for the first 30,000 fans in attendance on September 21's game against the San Francisco Giants.
This decision came just minutes after Urias was officially placed on administrative leave by the MLB in agreement with the MLBPA on Wednesday. Shortly after this decision was revelead, the Dodgers released a statement and then announced that the Urias bobblehead has been removed from the promotional calendar.
Here's what the original giveaway looked like.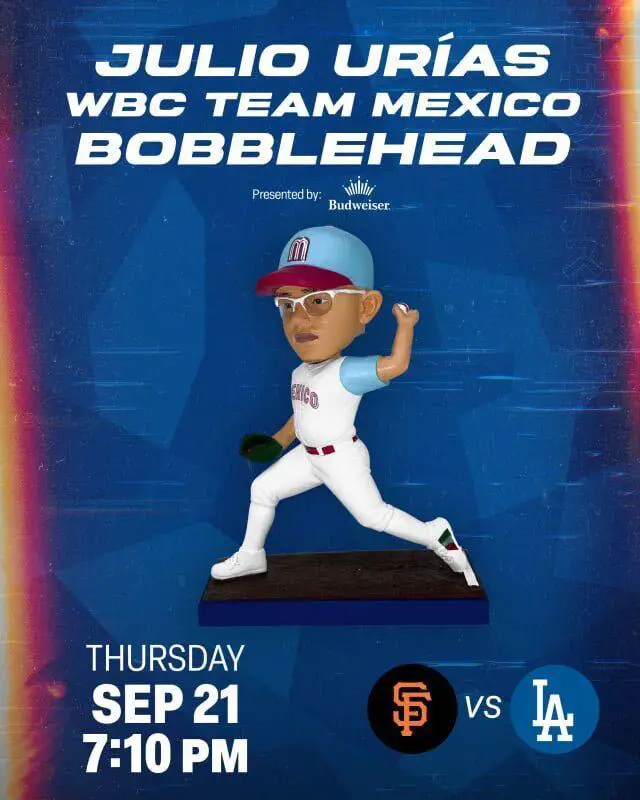 The Dodgers did something similar back in 2021 when former MLB pitcher Trevor Bauer was on paid administrative leave for domestic violence charges of his own.
On Sunday night, Urias was arrested on suspicion of domestic violence following an altercation in Exposition Park in Los Angeles, Calif. The pitcher posted a $50,000 bond early on Monday morning and the news broke shortly thereafter of his arrest. It is the second time in his career he's been arrested on suspicion of domestic violence.
MLB, the Dodgers, and law enforcement will each conduct their own thorough investigations but, given where we are in the 2023 season along with the left-hander's contract status, chances are high that he's thrown his last pitch for Los Angeles.
Photo Credit: Peter Aiken-USA TODAY Sports