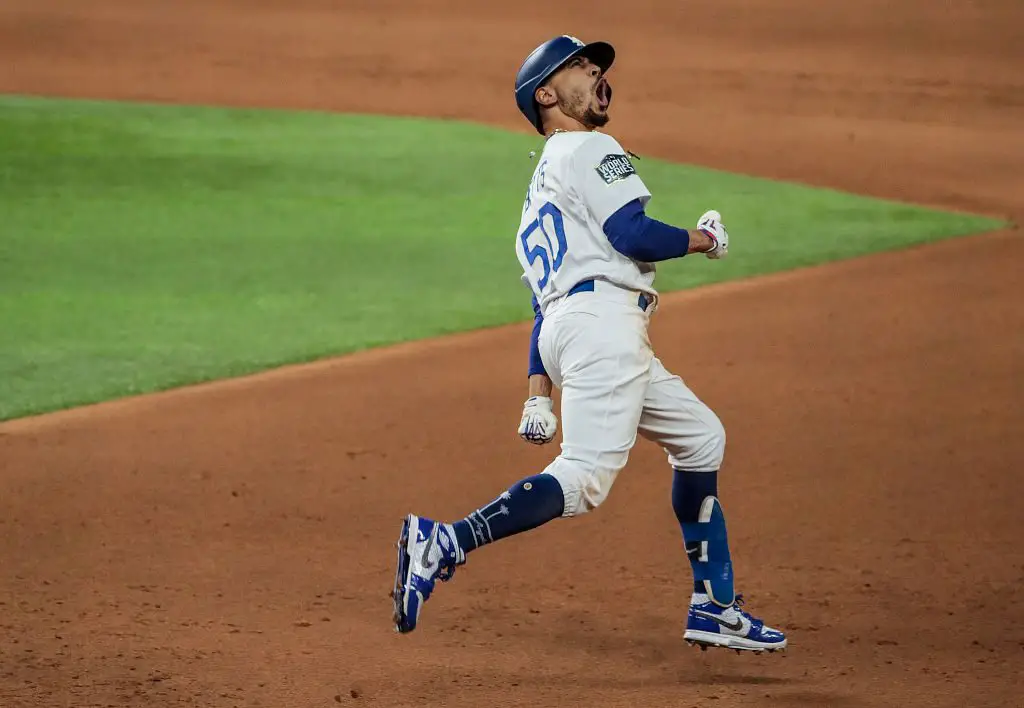 Editorials
Dodgers: Pondering New Walk Up Songs For Players in 2021
With the Dodgers home opener of 2021 finally upon us, I thought I'd have a little fun with our Dodgers and their walkup/walkout songs. A player's walk-up song can say a lot about their personality, or even mess with the head of the opposing team if their song choice is really good.
Whether it's a classic like the menacing, delay-laden guitars of "Welcome To The Jungle" by Guns N Roses, or a song that appeals regionally to a fanbase like "California Love," these songs can be very useful for the momentum and fan interactions. They're also just really fun.
The maestro himself, Dodger Stadium DJ, DJ Severe, helped me compile previously used songs. I wanted to explore the idea of new suggestions for our Dodgers entrances, as well as some fan ideas. I'm going to hit most of the guys in the lineup every day, and a few pitchers, but not the whole staff.
Let's just dive in.
New Walkup/Entrance Song Suggestions
Mookie Betts: Previously, Mookie has used Ernest K's "I Love My City" and Tyla Yaweh's "Stuntin' On You," and "Baddest Man Alive" by TheyCallMeSolo and Tre Houston. These are killer choices, to be honest. Being from Nashville, some of those choices make sense. I really like the idea of Mookie being true to his Cashville roots, In 2021 he could use something by Young Buck's "Straight Outta Cashville" album. I don't believe Mookie is much of a country music fan, but Nashville being the home of Country, he could use something from that vein as well. He also chooses to wear number 50, and something by 50 Cent could hit pretty hard. The intro to "Many Men Wish Death" hits pretty hard, and it would sound killer on Dodger Stadium's sound system.
Suggestions: Anything by Young Buck, a Nashville country artist, or 50 Cent as a reference to his jersey number.
Check out "Baddest Man Alive" which was specially made for Mookie Betts!
Corey Seager: Corey Seager in 2020 used "Good Time" by Niko Moon. This country pop choice seems fitting for Corey, a North Carolina boy. My own suggestions come from the same vein. If he's a country fan (which he very much is), "Cruise" by Florida Georgia Line is a perfect upbeat choice. It may not be everyone's cup of tea, I get that, especially in LA, but our Dodgers are from everywhere in the country, and we should soak that up. My suggestion refers to his home state. I would use "Raise Up" by Petey Pablo. The song is an ode to being from North Carolina. This song hits like a freight train and always gets a crowd amped. NSFW warning, but if you have not heard this Hip Hop classic, you can listen here. I am also a huge fan of Dieter Ruehle's propensity for punny songs that he'll play on organ. He frequently plays "Take Five" by Dave Brubeck for Corey's jersey number.
Suggestions:
"Cruise" by FGL
"Raise Up" by Petey Pablo
"Take Five" by Dave Brubeck
Justin Turner: Justin has used "These Days" by Rudimental featuring Jess Glynne, Macklemore and Dan Caplen. Justin is an institution in LA. Here's our hometown hero, and any music that is LA-based would work. RHCP, Snoop, The Eagles, Sublime, any west coast hip hop. Maybe I've gone broad because he's my favorite player, but that is okay. It would all hit! Bachman-Turner Overdrive could also be a punny choice, but I imagine this is more up Dieter Ruehle's alley 
Suggestions:
Any west coast g-funk hip hop or LA artists. Ice Cube's "good day," Snoop Dogg's "What's My Name," Sublime "Santeria," Warren G "Regulate,"  or if you're a blues guy like me, "Back In LA" by BB King would be incredible.
Cody Bellinger: He's used "Hotel California" by The Eagles which I appreciate on a regional level, but seemed odd in any other sense. Cody could also use some LA-based music, especially Sublime. I will not explain this choice.
Suggestions:
"Santeria" by Sublime
"Too High" by Lil Dicky
Max Muncy: He's used "Welcome To The Party" by Diplo and Black Eye Peas, "Can U Feel The Beat." It's an easy answer to say that anyone from Texas should use something from Texas, but it's just such a good wealth of music! Anywhere from ZZ Top to Geto Boys.
Suggestions:
Geto Boys "Damn It Feels Good To Be A Gangsta," "Mind Playing Tricks On Me," and "Still"
Also ZZ Top: "Tush," "Sharp Dressed Man," and "Just Got Paid."
Chris Taylor: He has always used "Zombie" by The Cranberries or "Copperhead Road" by Steve Earle. Two very different tracks, Taylor's took thought. He's a quieter personality, but everyone's favorite 'polite boi' could use some harder edge, or maybe just something that fits him perfectly. My suggestions are purely instinctive guesses.
Suggestions:
"Take Me Home, Country Roads" by John Denver
"Outshined" or "Black Hole Sun" by Soundgarden
Any grunge band songs (ie, Pearl Jam, Nirvana, STP)
AJ Pollock: AJ has used "The Chain" by Fleetwood Mac. This is such a killer choice I almost don't want to make any suggestions. That said, here are a few I think would be great for AJ.
Suggestions:
"Daughter" by Pearl Jam
"Go Your Own Way," or "Rhiannon" by Fleetwood Mac
Anything by Phish.
Matt Beaty: Matt used "7000x" by Judah and the Lion. I am curious as to whether he has a personal connection to this Nashville based band. Beaty went to Belmont in Nashville, and the city can be smaller than you think. [Editor's note, Matt does have a personal connection.] Either way, here are a few songs I thought could work.
Suggestions:
"Bidi Bidi Bom Bom" by Selena for the similarity in pronunciation for his last name
"Ho Hey" by the Lumineers
Anything by these artists: Kings of Leon, Paramore, and SafetySuit
Edwin Rios: Edwin has used "De Vuelta Pa' La Vuelta" by Daddy Yankee and Marc Anthony. Puerto Rican player using Marc Anthony is pretty par for the course, because that music absolutely slaps. Choosing a song so perfect for himself makes this difficult for suggesting something new!
Suggestions: more Daddy Yankee or Marc Anthony, or the easiest new choice: anything by Bad Bunny.
Will Smith: He used the Fresh Prince theme last year, for obvious reasons. If he going to continue to use his namesake, which is not a bad choice, here are some.
Suggestions (all from Will Smith the artist):
"Gettin' Jiggy Wit It"
"Just The Two Of Us" (for his positional timeshare with Will Smith)
"Summertime" would be absolutely awesome
Austin Barnes: Sam has used "Heavy Hitter" by Jack Harlow. Austin is another southern California kid, so the choices are pretty wide. Austin is the toughest guy on the team as told by some of his teammates, so I wanted some harder edged choices.
Suggestions: "Hit Em Up" by 2Pac, "Regulate" by Warren G.
Gavin Lux: Gavin's ascent to the majors has seemed like fate. His success has been doubted, so my suggestion was on the idea that this life is in his DNA. He might be the future of the Dodgers up the middle, so anything by Future would be good, too.
Suggestion:
"DNA" by Kendrick Lamar
"Mask Off" by Future
Zach McKinstry: The new kid doesn't have a lot of time logged on the Dodgers but an absolute 90's banger that coincides with his name!
Suggestion:
"Return of the Mack" by Mark Morrison
Clayton Kershaw: Our GOAT has used "We Are Young" by Fun for quite a long time. It actually would seem strange to hear anything else when #22 takes the mound. That said, some Texas artists would once again fit Clayton Kershaw, as would references to greatness!
Suggestions:
"Goat" by Lil Tjay
"Champion" by Fall Out Boy"
Willie Nelson songs
George Strait songs
"We Are The Champions" by Queen
Given how much he listened to that in the off-season, I think Dodger fans would not complain about that choice one bit.
Trevor Bauer: When he played in Cleveland his walk out song was Avenged Sevenfold. This makes a lot of sense. If I were to be a little cheeky, I would suggest "Drone Strike" by Jamie T. For anyone who's reading this thinking I'm taking a shot at Trevor, this time that isn't exactly it. I think if he has a sense of humor like that, it'd be rather funny. We have to laugh at ourselves, and the music of the song hits pretty hard.
Suggestions:
"Drone Strike" by Jamie T
"A Little Piece of Heaven," by Avenged Sevenfold
"Fight the Power," by Public Enemy
Walker Buehler: Walker has used "Bulls On Parade" by Rage Against The Machine. This is a good choice. Walker seems to pitch better when he's keyed up, anyway. If I had a suggestion, maybe change up the song, but keep the artist.
Suggestion:
"Guerrilla Radio" by Rage Against the Machine.
Julio Urias: Julio has been using "Mexico Lindo Y Querido" by Vicente Fernandez. Anyone who grew up in Mexico or in a Mexican family knows using any song by Chente (Vicente Fernandez) is a top choice. If I had to suggest a different song for Julio, it would be Vicente, but it would be "El Rey." Check out these lyrics (translated) into English: "with money and without money, I always do what I want and my word is the law. I don't have a throne nor a queen nor anybody to understand me but I'm still the king." A grown man's song!
Suggestion:
"El Rey" by Vicente Fernandez
Dustin May: It appears Dustin May was also using a Rage Against the Machine, too. The riff in the chorus of "Born of a Broken Man" is pretty great, but a Texan with such fire and personality needs a song with that kind of touch. "But all these years that I've been here, Ain't nobody got past Red."
Suggestion:
"Old Red" by Blake Shelton
Kenley Jansen: Everyone knows this one. "California Love" would blare on the speakers and Dodger Stadium would go wild. Kenley isn't that same Kenley. There's no way he can be the same Kenley–but that's okay. I am torn on whether I should even suggest a change here.
Suggestion:
"California Love." Some things shouldn't change!
Blake Treinen: He's been using "Fire Emoji" by YB. This seems to fit his personality. Maybe changing it up and going with a song that people will recognize and feed off? He's developed into a setup man and could be a closer. I like the idea of a southern rock song.
Suggestion:
"Gimme Three Steps" by Lynyrd Skynyrd
Fan Suggestions!
I asked Twitter for their suggestions and here are some of the better ones.
https://twitter.com/timfinitely/status/1379628649289109505?s=20
Bauer – Devil Inside by INXS

— Gail Johnson (@GJOH29) April 7, 2021
I don't know who, but I want someone to use Biz Markey-Just a friend

— nulokz (@nuru0369) April 7, 2021
Cody Bellinger: Smoke 2 Joints- Sublime
Chris Taylor: Shake it Off?- Taylor Swift
Will Smith: Summertime-Fresh Prince
Gavin Lux: Call me- Blondie
Edwin Ríos: Rio- Duran Duran

— DINGERS! (@TRUTHorDINGERS) April 7, 2021
"Let the Bodies Hit the Floor" for all #Astros players.

— Baxter McNally (@McNallyBaxter) April 7, 2021
Good boy CT3 surprising everyone by walking up to Bad To The Bone would be funny.

— Gail Johnson (@GJOH29) April 7, 2021
https://twitter.com/klittleworth/status/1379622342163193858?s=20
homemade dynamite for belli ?

— Catherine Tinker (@catherinetinker) April 7, 2021
Give It All You Got—Afro-Rican for Pollack

— SoCal Librarian (@SoCal_Librarian) April 7, 2021
seags pic.twitter.com/xZpzuAlFR6

— LA fraudgers (@PDXDodgerFan) April 7, 2021
Zach McKinstry – "Thank You For Being A Friend"

— Jessica Day To Day (Redacted) (@Dodger_Jess83) April 7, 2021
Red Kingdom for JT

— Nick W (@happyfeet2416) April 7, 2021
Mookie – Till I collapse ??

— Monica (@monicabolts) April 7, 2021
Bellinger – Keep Their Heads Ringin, Dr. Dre
Starting at ring ding dong

— Dan (@DodgersDan81) April 7, 2021
Luxurious by Gwen for Lux

— cody brenllinger ??? (@omgbren) April 7, 2021
Mookie Betts- Mo Money Mo Problems- Notorious B.I.G.
Corey Seager- Don't Stop Me Now- Queen
Justin Turner- Crimson Ghost- Misfits
Max Muncy- Sleep With the Fishes – Velociraptor
Cody Bellinger- I Shot the Sheriff- Bob Marley
Gavin Lux-Lights-Kanye West

— G.R.R.Tokin (@Gabriel95322607) April 7, 2021
THIS ONE IS A WINNER!!!
Mookie – We Are The Champions
Corey – We Are The Champions
Turner – We Are The Champions
Bellinger – We Are The Champions
Muncy – We Are The Champions
Taylor – We Are The Champions
Smith – We Are The Champions
Lux – We Are The Champions
Kershaw – We Are The Champions

?

— Travis (@travisinLB) April 7, 2021
Final Thoughts
A lot of great suggestions on that thread. Walk up songs are a fun thing to have with fans. We remember them for years and they instill memories we fuse our emotions too. I still miss Alex Verdugo for his "Volver, Volver" walk up song. I still think of Chase Utley when I hear "Kashmir by Led Zeppelin. Have thoughts on this? Did I miss the target on any of these? Let us know in the comments!
NEXT: Schedule of Events for 2021 Home Opener