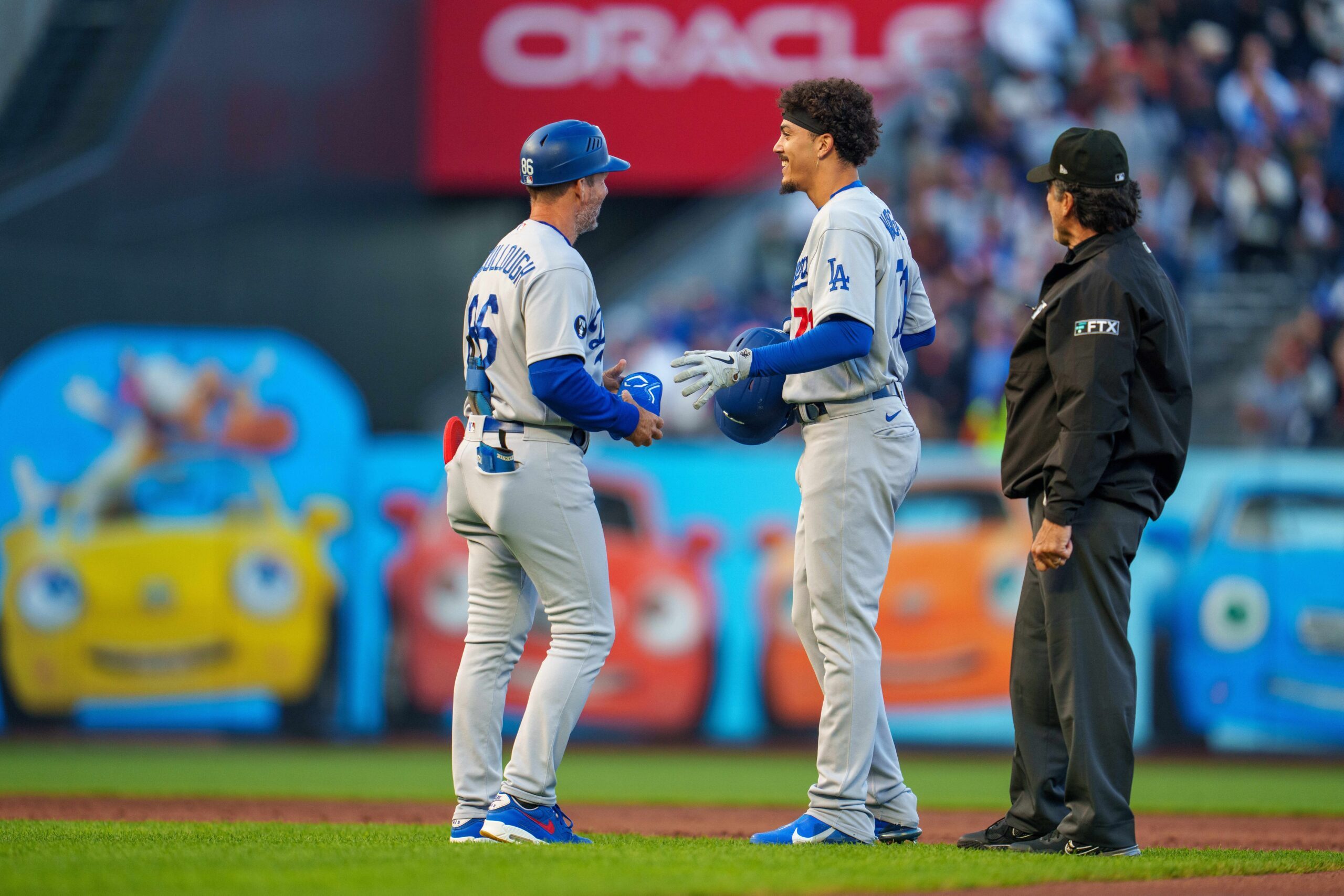 Dodgers Team News
Dodgers News: Miguel Vargas Dazzles in Debut; LA Extends Win Streak Over Giants
After an offensive explosion in recent days, the Dodgers had a much quieter game Wednesday night in San Francisco. Luckily for them, Julio Urías was absolutely dominant through 5 innings and kept the Giants scoreless through 6. While Craig Kimbrel once again made things interesting in the 9th, the Dodgers escaped with a 3-0 victory and their 7th in a row over their rivals from the bay.
A Dazzling Debut
Miguel Vargas was the beneficiary of a quiet trade deadline for Los Angeles. After failing to make a big move, the Dodgers instead called up Vargas to make his major league debut up in San Francisco.
The young outfielder wasted no time getting acclimated with his new team, as an RBI double in his first at-bat made for a memorable debut.
Miguel Vargas doubles in his first Big League at bat and his family's reaction was priceless #Dodgers

— Doug McKain (@DMAC_LA) August 4, 2022
Vargas ended the night with 2 hits, 2 RBI, and a stolen base in his first taste of the big leagues.
Evan Phillips, the Escape Artist
No pitcher has been more reliable than Evan Phillips this season for the Dodgers. After getting out of a bases-loaded, no outs jam last night, Dave Roberts called on him to do it again tonight with the potential winning run at the plate. He made quick work of Dixon Machado before an incredible sequence to get out of the inning, with a bit of help from Mookie Betts.
EVAN PHILLIPS.
MOOKIE BETTS.
INNING OVER. pic.twitter.com/WvGAySWGFT

— Los Angeles Dodgers (@Dodgers) August 4, 2022
In case you needed more proof that Evan Phillips is built for these moments, here's a stat for you. Over the course of the season, Phillips has faced a total of 9 batters with the bases loaded. Not a single one of them has scored. How's that for clutch?
Up Next
The Dodgers wrap up their road trip on Thursday with Clayton Kershaw on the mound before heading home to face the new and improved San Diego Padres. Including the upcoming series, there are 12 games left between the two teams before the playoffs, which should provide some entertaining matchups ahead of a potential postseason series.
Have you subscribed to our YouTube Channel yet? Subscribe and hit that notification bell to stay up to date on all the latest Dodgers news, rumors, interviews, live streams, and more!
Dodgers Set to Wear Vin Scully Commemorative Patches for Rest of Season