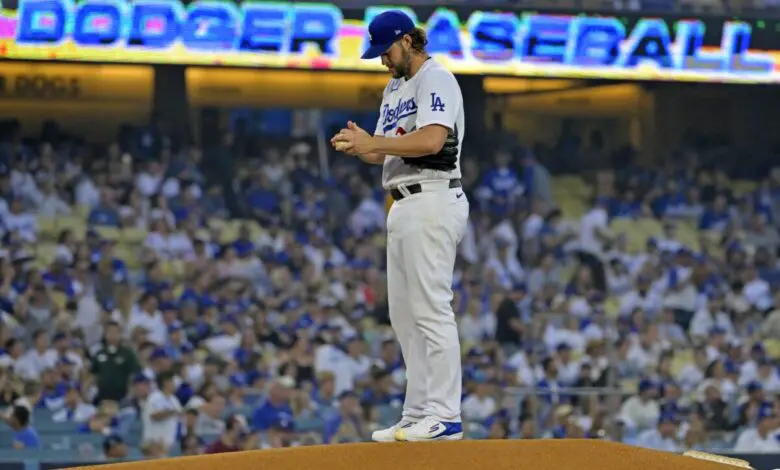 Dodgers Team News
Dodgers Rumors: Hall of Fame Pitcher Doesn't Think Clayton Kershaw Should Retire Yet
The lasting image of veteran Clayton Kershaw from the 2023 season will be another sad photo. It seems like we could create a full photo collage with the images of Kershaw after a poor performance in the postseason.
He got rocked in Game 1 of the team's NLDS series against the Arizona Diamondbacks, and that set the tone for the rest of the series. LA was swept out of the playoffs, and for the third time in five years, they failed to advance in the postseason.
Kershaw allowed six runs to the Diamondbacks within the first inning, and he couldn't even get out of the inning himself. It was a horrible way for him to end his season, but hopefully, this isn't the last time we see him wearing a Dodgers jersey.
It seems that one Hall-of-Fame pitcher agrees with this, as Pedro Martinez thinks Kershaw deserves to keep playing if he can get healthy.
Before he was shelled in the postseason, Kershaw actually put together a solid year for the Dodgers. He posted an ERA of 2.46, but he did battle injury down the stretch of the season. Kershaw spoke after the game about his future and said that he was unsure of what he would do going forward.
The injury got the best of him against the Diamondbacks, and he never got a chance to potentially redeem himself in the series. If Kershaw does return, it would be a welcome sight for all involved.
He doesn't deserve to go out this way and should give himself another chance to go out on a high note. We all know retirement is knocking on his door, but he should hold off answering, at least for another season.
Mandatory Credit: Jayne Kamin-Oncea-USA TODAY Sports
Have you subscribed to our YouTube Channel yet? Subscribe and hit that notification bell to stay up to date on all the latest Dodgers news, rumors, interviews, live streams, and more!