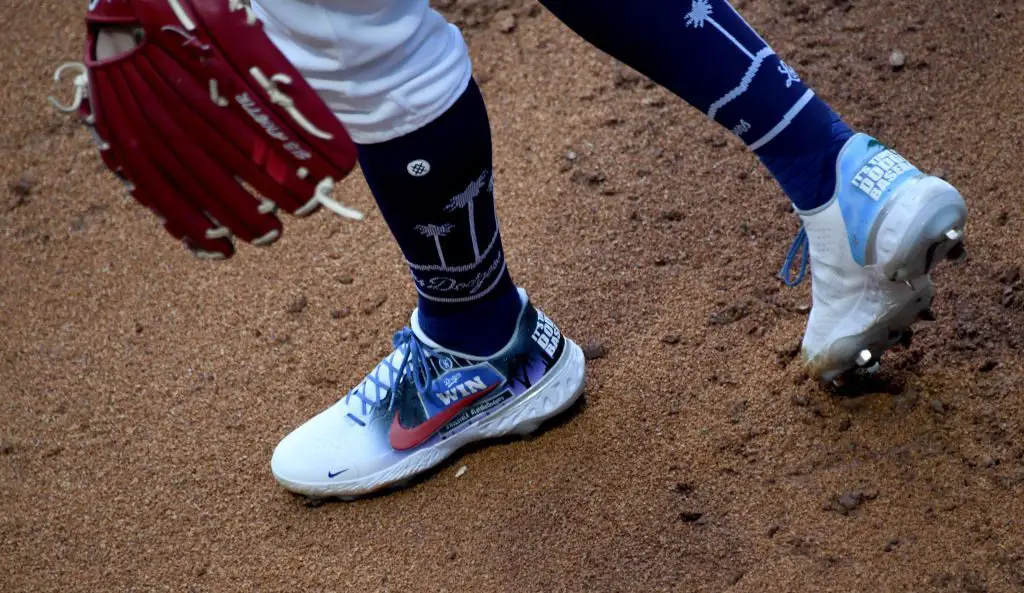 Dodgers Team News
Dodgers: Trevor Bauer Rocks Custom Dodger Stadium Cleats During First Start in LA
Dodgers pitcher Trevor Bauer has a long history of wearing pretty awesome custom cleats. When Joe Kelly was suspended last season for throwing at Astros hitters, Bauer had custom "Free Joe Kelly" cleats made up. Major League Baseball threatened to discipline him if he wore them during a game, so Bauer ended up giving them away to a fan. 
Bauer got to make his Dodger Stadium debut on Tuesday night with the Dodgers. It was quite the opening act, tossing 7 shutout innings and allowing just 1 hit while striking out 9. If not for a slow dribbling groundball he might have had another shot to no-hit the Rockies. 
Bauer also rocked a pair of custom cleats for his Chavez Ravine debut. The Dodgers-themed cleats were adorned with familiar sights and phrases from the team, including Vin Scully's patented "It's Time For Dodger Baseball" across the back. 
Will be signing these and getting them to a lucky fan soon, so stay tuned for more info. That goes for every pair of customs I wear this year also https://t.co/K5yDf5ooRu

— Trevor Bauer (?????????) (@BauerOutage) April 14, 2021
Bauer also added to his donations to non-profits for the year by striking out 9 Rockies. That add's $9,000 that he has pledged to donate as the total for the year just 3 starts in gets up to $29,000. The Dodgers pitcher is donating $1,000 for every strikeout he racks up in 2021. You can read more about the organizations he is donating to on his website. 
The cleats also feature palm trees that have come to represent the stadium as well as the Dodgers scoreboard. The Los Angeles skyline also shows up on one of the cleats on the backside. Overall, pretty awesome cleats for a guy that grew up as a Dodger fan and watching games from the left field pavilion. 
Dodgers Ranked #1 in Revenue Losses for MLB During COVID-19